Watch YouTube Videos On the Move with Any Windows Mobile Device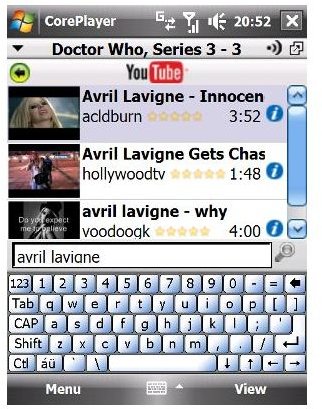 The Choices
Viewing YouTube content on your Windows Mobile device can be a troubling pastime – especially when your network provider has removed the dedicated software supplied by the phone manufacturer.
Thankfully, there are a number of solutions involving either browsers, third party applications or a combination of each, ranging from free to quite pricey.
I've listed here the best solutions for viewing the world of streaming content not just from YouTube but from other sites such as Google Video - so why not try out the Skyfire browser, Coreplayer, YouTubePlayer, Avot mV or TCPMP and bring the best in self broadcasting to your Windows Mobile device.
Skyfire
Skyfire is a marvellous new browser for Windows Mobile. Not only does it permit the user to view the BBC iPlayer and other online streaming, it reliably streams content from YouTube direct from the browser window.
Skyfire has recently become the browser of choice for many WIndows Mobile users, offering superb support for a number of websites that Internet Exporer Mobile and Opera Mobile simply cannot deal with at the moment - and YouTube is another of these.
With Skyfire, it really is as simple as either clicking the homepage link or typing in the YouTube.com url and then searching for the content of your choice.
Download from Skyfire.com (584kb)
Coreplayer
If you're using this superb (although a little pricey, coming in at a little under $30) Windows Mobile universal media player, then you should find that YouTube content is well catered for. It's simply a case of clicking on the YouTube link on the main Coreplayer screen and entering the YouTube screen.
Searching for content and viewing it is simple, however the search results only return videos optimised for mobile viewing. Thanks to the Menu > Open URL function however, if you know the URL of the video you're looking for then this can be opened. (Note that Menu > Open URL will only work for YouTube videos while in the YouTube screen.
The 1.6MB download is available from coreplayer.com.
YouTubePlayer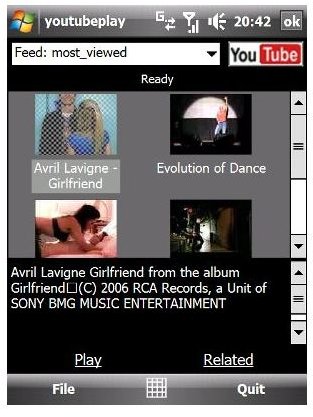 This is a handy dedicated Windows Mobile application that throws all of your YouTube search and display requirements into one single of piece software. Not so perfect for touch-screen handsets, YouTubePlayer really demands the use of a stylus. Nevertheless it makes light work of searching and displaying YouTube content.
Available from FreewarePocketPC.com, a 782kb download.
Avot mV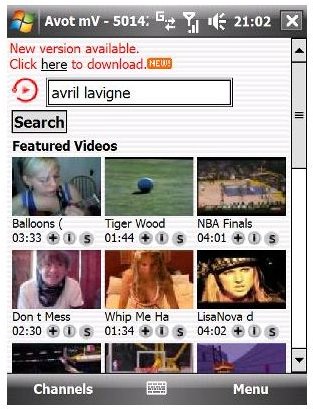 Avot mV allows you to search and browse a range of online media streaming services such as YouTube, Google Video, Dailymotion and others. Sadly it doesn't work too happily under Windows Mobile 6.1 and TouchFLO 3D, although searching and viewing the video content is reasonably smooth and seamless via earlier versions of the Windows Mobile OS.
This is of course quite a shame - the Avot mV user interface is preferable to the YouTubePlay UI, and it would benefit both the software and current Windows Mobile users if it was brought up to date with a new release. Sadly it looks as though the programmers have abandoned freeware streaming apps in favour of
The modest 253kb download is available from FreewarePocketPC.com.
The Core Pocket Media Player (TCPMP)
This is the open source version of Coreplayer, and as such unlike that application it's free. Less development work has been done on The Core Pocket Media Player in recent months however, but it is still a viable and cost-free alternative to Coreplayer. TCPMP must be used in conjunction with FlashVideoBundle in order to view YouTube and other online streaming applications, with a result staggeringly close to that of Coreplayer. It's a simple case of installing both TCPMP (2.85MB) and FlashVideoBundle into the same location (for instance in the same folder on your SD card) and restarting your device via Soft Reset.
Once restarted, view your Program Files menu and you'll see a webpage shortcut called Video Sites – this is an index of all sites supplying streamed content that your TCPMP installation will play, and at this point it's simply a case of browsing to your chosen video site and searching for a video. On selection, TCPMP will launch and play the YouTube file of your choice!
Remember that if you're using your Windows Mobile device to view YouTube or other streaming, a suitable and appropriate network data plan is vital.