Best Twitter Apps For Windows Mobile 6.1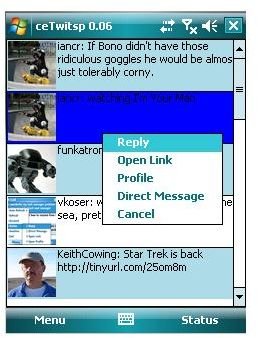 Introduction
Whether you want to fully manage your Twitter account, simply check on your friend's and website's tweets, or do both, the apps I've included below are, in my opinion, the Top 5 Twitter Apps For Windows Mobile. Feel free to take a look and send me any others you feel should have been on this list.
1. ceTwit For Windows Mobile (5 out of 5)
ceTwit - This WM Twitter App is probably one of the most advanced ways to manage your Twitter Account, the program runs off the .net compact framework and it comes jam packed with features. For instance ceTwit uses account storage which means once you log on once you can just boot up the program from that point on and always be connected to your account. It also features a merged and filtered timeline display option, allows you to update your status and see your friends updates, send direct messages, use a simple click to reply option and even include avatars in the timeline if you turn on local caching. ceTwit also supports auto refresh guaranteeing you always have the most up to date information available from Twitter. With CeTwit you can even follow/unfollow other Twitter accounts, use Twitpic support, receive audio or vibration alerts when information is updated and it even offers ping.fm support. The interface is very smooth on ceTwit as well and it has obviously been optimized because it's the fastest of the applications I've used from boot up to actual user interaction.
Here's a look at one ceTwit Screenshot:
2. Twitter Answers (4 out of 5)
There is so much more you can do with Twitter than simply micro-blog, and Twitter Answers proves that point, with this cool app powered by Mosio users can tweet questions and receive an answer back as another tweet. Its a really simple app, but the fact that it's so interactive put it on my list. Think of it like a Yahoo Answers or WikiAnswers for your Twitter account on the go.
Here's a look at the Twitter Answers setup. Notice the clean layout that's easy to follow.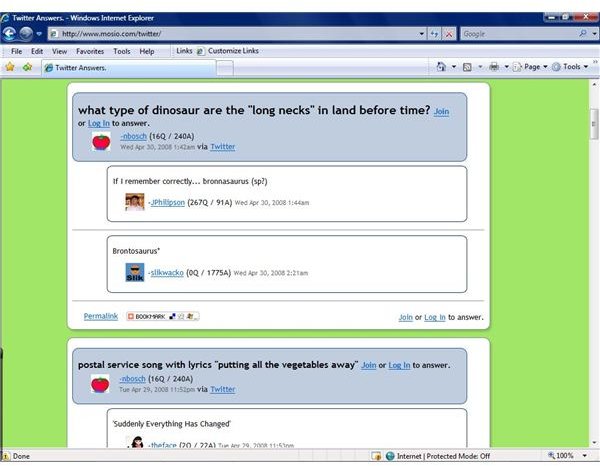 3. GPS Twit (4 out of 5)
GPS Twit - Geo-Caching was one of the main mobile buzzwords of 2008 and GPS Twit takes full advantage of this fact. The application works on Windows Mobile phones that come enabled with GPS. The program pulls your GPS coordinates and posts them in front of your tweet. This is a great application if you want to say "At The Club…Come Meet Up" or something along those lines. If you can't hear your phone where you are your friends can still find you, throw the coordinate in Google Maps or another GPS program and then they're on the way to your location. I like apps that do all the work for me as I go about my regular everyday business and that's exactly what GPS Twit does.
This app, for the iPhone and Windows Mobile, makes it easy for your friends to find you. GPS Twit answers the question, "Where are you and what are you doing?" by polling your GPS and posting it to the front of your tweets.
Here's a Screenshot, notice the nice clean and simplistic interface: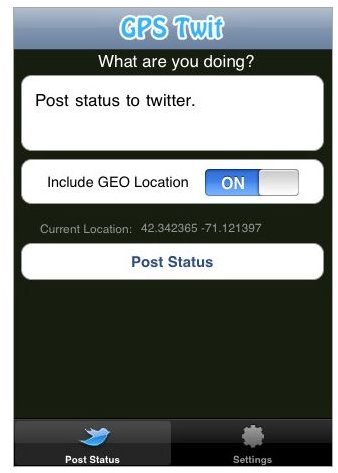 4. Twit Today (4 out of 5)
Twit Today is a Windows Mobile Twitter App that makes posting your tweets easier than ever, rather than booting up a mobile app the program sits directly on your Windows Mobile Today screen (that's the main screen of your Windows Mobile Device). Simply type in your Twitter message and it automatically posts to your account. I like this app for its convenience, it may not be as robust as the ceTwit app but it's functional and easier than any other Twitter application to quickly access and send a fast update to your Twitter homepage.
You can see from the image below that the Twit Today update box is easy to access right from your WM Today Screen: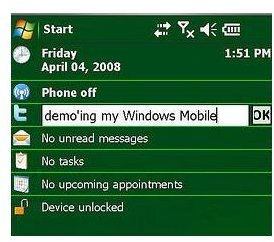 5. Quakk (3 out of 5)
Quakk isn't yet complete, which begs the question "why would I include it on this list?" and the simple answer is it will probably never be complete. Quakk is an open source Twitter application being developed by Anthony Burns in the U.K. The beauty of Quakk is that any programmer can take the source code and attempt to better the App, Anthony on his blog (click the link on his name above to see his blog) states that he's looking to soon add the follow features:
GPS
Auto-Update Main Timeline
Detect new software update
View X's timeline in menu
Unit Testing
Overall this is the least completed application, but in my opinion because of the open source nature of his app I believe it may become the most robust over time if adopted by enough competent programmers. Definitely keep an eye out for Quakk.
Take a look at the nice clean layout in the pic below, and Quakk is sure to only get better over time!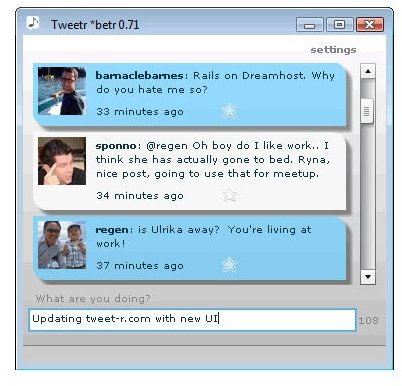 Conclusion
Those are my Top 5 Twitter Applications for Windows Mobile. I'm aware that there are hundreds of apps on the market, I simply tried to choose Twitter Apps that each offered a unique set of uses from GPS to Open Source to the all inclusive ceTwit. Some of the applications above even have options for other platforms, so even if you're not a Windows Mobile user they're still worth checking out.