Using Onenote and a Windows Phone Together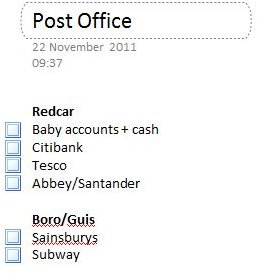 Have you ever been stuck for a shopping list, or needed an easy way to add data to your phone that you could check off as you completed a particular task?
Perhaps you would like to be able to safely record voice memos on your phone, safe in the knowledge that they will be safe in the event of your phone being stolen?
Or maybe you just want to be able to send something that you found on your PC directly to your handset without any fuss; you might read it later, or share it, but the process has to be slick.
All of this - and more - is available on a Windows Phone using the Microsoft Office Mobile version of OneNote, which can be synced to a PC running Microsoft Office 2007 or later or to a Windows Live SkyDrive!
Benefits of OneNote
When first introduced in Microsoft Office 2007, OneNote was promoted as the next stage in note-taking applications. The problem was that many businesses were unprepared for this and so continued to use the memo tool included in Microsoft Outlook (which in hindsight should really have been integrated with OneNote).
The result of this is that there are many people who are unaware of the strengths of this particular application.
On desktop PC, for instance, OneNote can be used to create any number of generic, day-to-day notes. It can also be used as an alternative to printing to paper or PDF – a great way of keeping an easily accessible record of online transactions!
In addition, various formatting options are available, there is a free drawing tool and the Microsoft Office dictionary is also available for spelling and grammar checks. There is little that you cannot do with this application after spending just a few moments exploring.
How the Sync Works
Syncing between OneNote on your PC and OneNote on your Windows Phone takes place via the Internet, specifically via your Windows Live SkyDrive; there is no USB-based sync available.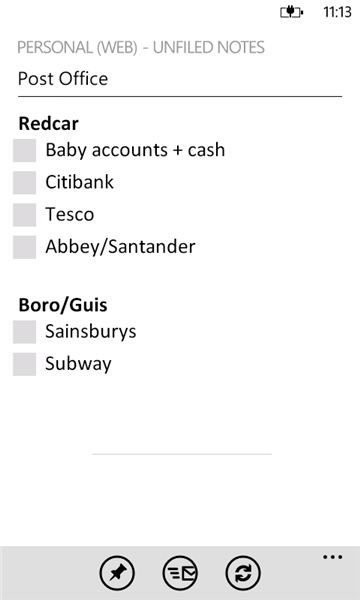 This syncing method affords better flexibility than if USB sync was available, however, as the data is saved in a central point on the server so it can then be edited by either device. The old Windows Mobile platform had a terrible problem with syncing data between phones and computers because of a lack of a third computer in the sync dynamic.
Using OneNote to sync data to your phone is remarkably easy. Begin by establishing an Internet connection on your Windows Phone (Settings > Mobile network > Data connection); if you have been using your phone for some time you should already have a Windows Live account set up on it, but if not, open Settings > Email + accounts > add an account > Windows Live to add an account ending @hotmail.com, @msn.com or @live.com (or any international variations such as .co.uk or .ca).
On your PC, open Microsoft Office OneNote select File > New. Here you will be able to create a Web based notebook, and add your Windows Live account details when prompted.
All you need to do next is create a new note via the Home tab – as long as your PC is online this should automatically sync with your SkyDrive. You can check this by opening the Office hub on your Windows Phone, swiping to Notes and then tapping the Notebooks icon, where you will find your new OneNote notebook listed. If nothing is listed, slide up the menu at the foot of the screen and select Refresh!
Late Promotion from Microsoft!
There are many ways in which this tool can prove useful. One good example is demonstrated in Microsoft's recent advertising campaign in which a father is shopping, using OneNote on his Windows Phone as a shopping list. He notices some changes to the list and begins running around the store looking for various confectionary before realizing that his children are using OneNote to update the list!
Possibly the biggest irony about the OneNote sync on Windows Phone is that Microsoft has only really decided to push it 12 months after the platform was launched, within weeks of the SkyDrive sync facility being added for Word and Excel.
While people knew that OneNote was the only element of Microsoft Office that could be synced prior to the Mango update, few were aware of exactly what could be achieved, thanks mainly to a lack of visual promotion and documentation. Arguably the presence of this type of data sync on Windows Phone could have worked as a major selling point on the launch day, and would certainly have provided an answer to people concerned that they would be unable to sync tasks from their PC to their phone as they might have done previously with the old Windows Mobile platform.
Ultimately, OneNote sync is an extremely useful aspect of Windows Phone that only increases the highly functional nature of the platform.
References
Screenshots provided by author.