Ultrasound on a Windows Mobile Smartphone: Futuristic & Dated, All at the Same Time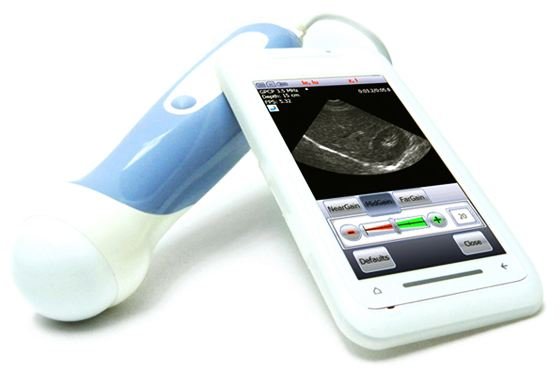 How would you feel if a trip to hospital resulted in your doctor scanning you with a Windows Mobile phone and then issuing a diagnosis? You'd probably think that the long hours had got to him or her and that a session at the golf course was in order. You would certainly be concerned!
It seems, however, that this sort of behavior could become the norm in the near future thanks to the efforts of Mobisante, a Redmond-based startup that has developed an ultrasound application for Windows Mobile that allows physicians and specialists to scan the human body and get an idea about the condition of organs and fetuses.
Intended for use in developing countries where a traditional trolley-based ultrasound might be too expensive or perhaps impractical, this app has been garnering attention as much for its versatility as for the platform that it is running on.
After all, Windows Mobile isn't exactly a priority for Microsoft these days – more an embarrassment.
A Collision of Future and Retro Technology
In fiction, "steampunk" is the name given to any story set in the early part of the 20th century or before that features technology that would have been impossible with the available resources. A prime example is Alan Moore and Kevin O'Neill's "The League of Extraordinary Gentlemen" series of graphic novels and the idea permeates many films, books and video games.
We can look at Windows Mobile and laugh with the benefit of hindsight, but just a few years ago it was the most functional smartphone platform around, offering apps before Apple had an app store, push email, mobile Internet and various time management and organization tools, not to mention a mobile version of Microsoft Office.
Since superseded by the superior Windows Phone platform, it therefore seems something of an awkward juxtaposition to see the term "Windows Mobile" associated with something as cutting-edge as an ultrasound device, not least because the whole concept of a portable medical scanning device is as futuristic as it gets thanks to the Tricorder devices of the Star Trek universe.
So why is Windows Mobile the platform of choice for this application?
The USB is the Key
Let's look beyond the operating system and instead turn our attention to the device itself, the Windows Mobile 6.5-based Toshiba TG01. As you can see in the accompanying image, it is a slick-looking handset not too far removed from some of HTC's Windows Mobile devices from 2008.
Also known as the Toshiba Tsunagi, the TG01 features a 1GHz CPU, 256 MB RAM and 512 MB ROM (making it just about able to run Windows Phone 7, as a matter of fact) but the most interesting thing about this phone is that it features a USB host, thereby enabling a device such as the ultrasound wand to be connected.
As things stand, the majority of mobile devices that feature a USB connector only do so as slaves – meaning that the phone itself becomes subordinate to the device it is connected to. This is best demonstrated by the problems that can be faced in trying to connect a USB keyboard to a mobile phone running Windows Phone or Android. The reason for this, it seems, is that host functionality is removed in the majority of handsets.
Mobisante's technology is pretty remarkable, although it is somewhat ironic that they should be based in Redmond on Microsoft's very doorstep and using the old and ignored version of their operating system. In truth, of course, Windows Mobile is a hugely versatile operating system based on the same Windows CE platform that is found in portable devices around the world such as those used in casinos, race tracks, by couriers and in warehouses.
Medical Benefits of Mobile Technology
So what benefits does a portable ultrasound device offer? Well apart from the reliance on a battery and the ease with which such hardware can be transported over long distances, Mobisante's software is intended for standard ultrasound imaging as well as analysis and measurement. In addition the images that are captured and analysed can also be sent via the mobile Internet and Wi-Fi for archiving, diagnosis or a second opinion.
Current legislation places various stumbling blocks in the way of new devices for healthcare and diagnosis, and the Food and Drug Administration has only recently cleared Mobisante's MobiUS device. However, as the only wireless device offering such functionality, its $7,495 price is likely to attract the attention of health authorities and trusts around the world.
We could be just a few years from Tricorder-like diagnosis devices!
References