Using Microsoft Office Mobile with Office 365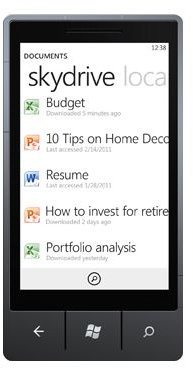 One of the great benefits of using a Windows Phone is the presence of mobile versions of the popular Microsoft Office. This isn't something new with Windows Phone – the old Windows Mobile platform featured mobile versions of Word, Excel and PowerPoint, and the same is true of the new Microsoft mobile phone platform.
In fact, Windows Phone also offers a very useful mobile version of OneNote, which single-handedly removes the need for the majority of list and note-taking apps in the Marketplace.
Microsoft Outlook is also present. However, this is completely integrated into the email provision offered on a Windows Phone, and used mainly as a means of connecting to Microsoft Exchange servers for email and calendar.
There is obviously a considerable amount of potential in Microsoft Office Mobile for Windows Phone. Following the release of Microsoft Office Web Apps (a free web-based service that allows the user to edit documents in a browser window, much like Google Docs) there has been close integration with documents created online and the Windows Live SkyDrive. The problem for Windows Phone users has been getting to them…
Three Ways of Using Microsoft Office Mobile Online
Following the release of the Windows Phone 7.5 update (known as "Mango") Microsoft Office Mobile has been given a shot in the arm, allowing users to sync their data with a Windows Live SkyDrive or an Office 365 account. Previously, this type of action was only available to corporate users with access to a SharePoint server.
However, SharePoint is rare for non-corporate users (and many corporate users, if truth be told), and this has led to some confusion as to the nature of Microsoft's plans for their mobile office apps and online syncing.
The decision not to make SkyDrive available as an option with the original Windows Phone release is a puzzling one, but one that has thankfully been resolved with Windows Phone Mango. SkyDrive is the "everyman option" – anyone with a Windows Live account has SkyDrive, and therefore somewhere to save and sync their mobile phone-based documents.
Office 365, meanwhile, is a relatively new service from Microsoft which offers online versions of Microsoft applications alongside Microsoft SharePoint Online and Microsoft Lync Online (for live collaboration). These can either be hosted on a corporation's own network or by Microsoft.
Connection options are available for all three of these mobile office syncing solutions in Windows Phone Mango.
Windows Phone Office Hub and SkyDrive
Originally with Windows Phone, you would open the Office Hub and find a list of mobile office apps that you could use: Word, Excel, PowerPoint and OneNote. Things have changed considerably with Mango – now when you open the hub, you are presented with a list of locations where documents might be saved.
The first of these is SkyDrive (the third option is Phone, useful if you are looking for documents saved locally that you would prefer were saved to SkyDrive) and by selecting this you will see a list of all of your synced documents and folders.
There are two ways to view the list of documents, either via the Office Hub or in the browser. The Office Hub is faster, and allows you to quickly browse and open files. Once selected, the file will open, so all you will need to do is tap the Edit button to start making changes via the software keyboard.
When you're done, drag the three ellipses (…) and tap Save as. You can opt to save the document on your Phone or on your SkyDrive, where it will be available for editing later either via your phone or your desktop computer.
SharePoint and Microsoft Office Mobile
Microsoft SharePoint is a slightly different proposition, available to corporate users either within the organization's network or if a Microsoft Forefront Unified Access Gateway (UAG) is available, from outside of the network.
A Wi-Fi connection to your corporate network will afford access to SharePoint in Windows Phone. Simply open the Office Hub, swipe to Locations and select SharePoint. All you need to do then is input the URL for the server hosting SharePoint, and tap the arrow. You may need to sign in, so use the username, password and domain that you would normally use to sign in to your corporate desktop.
With SharePoint you can open, edit and save documents that are stored on a SharePoint 2010 site. These sites are usually hosted within your organization, and once accessed allow you to also open any posts or general messages that have been left by other users.
Office 365 in Your Pocket!
Meanwhile, Office 365 users can also access their documents via the Windows Phone Office Hub. To do this, tap the Office button, swipe to Locations and select Office 365.
If you already have Office 365 set up on your phone (by using an Office 365 Outlook account) then you won't need to enter the details again. However, if this is your first time trying to access the account, tap Office 365 then Set up to open the Add an account screen. Here, select Outlook and then enter the credentials for your Office 365 account.
When you next swipe to Locations, the name of your Office 365 location will be displayed, so all you will need to do is tap this to open and view the documents and posts that are available, much as you would with SharePoint access.
As you can see, Office 365 and SharePoint are quite similar, and they are ideal for corporate use, whereas SkyDrive is perfect for single users!
References