Windows Phone - A Great Gaming Platform, But Multiplayer is Needed

Mobile gaming has come a long way in the last few years, thanks mainly to the Apple iPhone. On this platform, thousands of games are available, many being mobile versions of popular console and PC titles or simply games built specifically for the mobile market.
When Microsoft conceived Windows Phone as a successor to Windows Mobile, they opted to create not just a device that could offer a similar level of gaming graphics, sound and performance to the iPhone and existing Android devices, but also one that could integrate with their hugely popular Xbox LIVE service.
The result of this has been a new mobile phone platform that has gaming at its heart. Sony has tried to replicate this with the Android-based Xperia Play phone, but this hasn't had the same impact as Windows Phone.
One year on and it's time for Microsoft to really start pushing the platform to developers. The addition of new networking options for games developers on devices running the Windows Phone 7.5 Mango update has potentially opened the doors to a new type of mobile multiplayer gaming…
Single Player Gaming with Xbox LIVE
Various game types are available for Windows Phone, from the typical free puzzles that you would expect on a mobile phone platform to massive action adventure titles, and more are being added every week.
Some games are single player, others are multiplayer, but on the whole the best titles are those with Xbox LIVE integration. In particular, this brings a new dimension to single player games, allowing you to compete on a new level beyond the game – Xbox LIVE titles offer the ability to add to your Gamerscore and display your most recent in-game achievements. If you find it hard to find the time to get near your Xbox 360 then loading up a game on the train is a good way to stay in touch with your Xbox LIVE profile.
There is little to fault concerning the general single player gaming experience, but on the whole there is a problem with pricing on the Windows Phone Marketplace. I've discussed this before, and perhaps Microsoft could look at basing prices on the length and depth of the game in question, or even the number of achievements that can be completed. Going forward, Xbox LIVE gaming on Windows Phone needs to take advantage of its existing good reputation and introducing pricing that makes sense is surely the way to go.
Multiplayer Gaming on Windows Phone
As things stand on Windows Phone there aren't many multiplayer titles, and those that do exist aren't Xbox LIVE titles. For instance, chess and word games are listed on the Marketplace that offer online multiplayer options, but there are no Xbox LIVE or even proximity multiplayer games for the platform.
It seems like Microsoft is missing a trick. While Xbox 360 isn't the most multiplayer platform around (a quick look at the back of the box for most titles reveals that they're single player only, although this situation is improving) it is nevertheless capable of hosting countless players as well as allowing gamers to hook up for some online multiplayer gaming.
Therefore it makes sense for Microsoft to push this aspect of Windows Phone, something that they seem to be ignoring at present. When iPhones, Android and even Nintendo DS consoles are offering great proximity and online multiplayer gaming options it is clear that Microsoft needs to be following suit. With Windows Phone they have devices that are capable of this type of gaming. All of the handsets are light and easy to use with responsive touch screens, so this omission cannot be a hardware problem.
Come on Microsoft – more Xbox LIVE multiplayer games in the Marketplace please!
Why Is Microsoft Killing Popular Games?
Of course, it could be that Microsoft isn't listening to gamers as far as Windows Phone is concerned. One of the most popular launch titles, Crackdown 2: Project Sunburst – interestingly a title that could have benefited from some online co-op play – has had its life cut short after an unusual decision by Microsoft to cancel the title.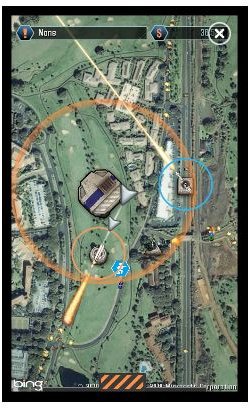 This doesn't just mean that anyone who wants to purchase the title cannot do so. Rather, everyone that has already purchased it (likely at the rather high $4.99 price point at launch) is unable to ever play the game again.
Why?
Well, Crackdown 2: Project Sunburst inexplicably relied on a remote server to run. Like the worst desktop DRM, without access to the Internet on your phone you would be unable to play the game.
However, this was a popular title nonetheless, so it came as some surprise when Microsoft Gaming Studio announced that the game would be coming to an end, and that owners would be unable to play it anymore. While new purchasers of the title were given the chance to get a refund if they had bought their copy within the 60 days before it was cancelled, long-standing players were royally ignored in what is one of the worst examples of Microsoft customer relations in a long time.
What's Next for Windows Phone and Xbox LIVE?
Microsoft is on the cusp of huge success with Windows Phone, and by extension their mobile gaming platform could be about to hit the big time.
But this depends on Microsoft getting things right, and at present there doesn't seem to be any sign that the Windows Phone 7.5 Mango update is influencing the gaming side of things enough. Virtually every shortcoming of the original Windows Phone release has been resolved with Mango, but while there is the potential for better gaming options, this remains theoretical rather than actual.
So what does Microsoft need to do?
First of all, they need to make sure that developers of games for Windows and Xbox 360 and Xbox LIVE are offering a smaller but integrated gaming experience for Windows Phone. This is something that was hinted at when Windows Phone was first launched, but as yet we have not had the pleasure of seeing it. These games might take the shape of special missions that result in an upgrade or bonus feature in the main title, for instance.
Part of this seems as though it could still be on the cards. The September 2011 Microsoft BUILD conference revealed that Games for Windows is likely to be rebranded as part of Xbox LIVE, and that close integration would exist between this, Windows 8 and Windows Phone 8. Hopefully we won't have to wait that long.
What Microsoft shouldn't do, however, is issue an Xbox LIVE phone. Recently filed patents indicate that something is in the offing, with a handset featuring a slideout keyboard with interchangeable keyboards that bears a striking resemblance to the Sony Ericsson Xperia Play. Microsoft has already established its mobile gaming platform and devices, so this device seems unnecessary.
Ultimately, a declaration of intent from Microsoft with regards to Windows Phone and Xbox LIVE gaming would be appreciated by their loyal user base.
Until then, we can only speculate.
References