Windows Phone Mango Review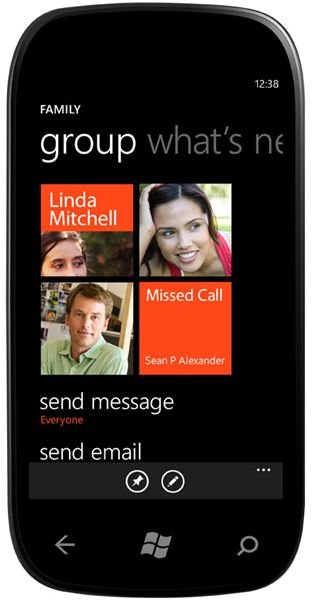 In October 2010 Microsoft ceremoniously binned 10 years of Windows Mobile development to unveil Windows Phone 7, a completely new approach to mobile phone platforms.
Whereas the old Windows Mobile resembled a cut-down Windows desktop operating system – complete with a hardware pointing device – the new platform boasted a tile-based, touch-screen user interface that was fast, slick and easy to use. With popular services such as Windows Live, Google Mail and Facebook integrated, access to the Windows Phone Marketplace and the addition of Xbox Live integration, Windows Phone 7 has spent the last 12 months slowly building its user-base.
However, the original release was far from the finished product. A minor revision was released in early 2011 that added copy and paste functionality, but the platform still had various problems such as missing APIs and a lack of a Windows Live Messenger app.
Windows Phone 7.5 is the official title for the update known as "Mango". It is available to existing Windows Phone users as an update and comes as the native OS on the new range of phones.
How far does it go in resolving the shortcomings of Windows Phone 7?
UI Enhancements
Although the original release of Windows Phone had little wrong with it in terms of the user interface, a couple of enhancements have been made regardless.
First of all there is the question of multitasking. The earlier version didn't feature multitasking, preferring to "tombstone" the apps that were no longer being used in order to prevent the device from using too many resources. While it seems that some sort of tombstoning is still in use – after all, the apps and games were programmed to act in this way – a new task switching option is now available. This replaces the endless tapping of the Back button on the handset to return to a prior screen, and is activated by tapping and holding the same button to display a scrolling list of screens and apps that you can switch to.
If there was one problem with the original Windows Phone UI it was the difficulty in finding apps – once more than a few had been added, the list would become cluttered and take a while to browse through. This is no longer a problem thanks to the use of an alphabetical grid that allows you to jump to a particular app just by tapping the first letter of its name. A similar feature has been introduced to the People Hub.
One other thing you may notice is the ellipses menu. This is the small menu at the foot of every app and hub in Windows Phone that can be dragged or tapped into place. Whereas in the first release this was grey and quite prominent (sitting about 1/3rd of an inch into the bottom of the screen) it is now much more compact and barely noticeable.
Updates to the People Hub
Barely an aspect of this mobile operating system has been left untouched by Microsoft, and the People Hub is where you will find many enhancements. Joining the integration of Google and Facebook with Windows Live you will find that accounts from LinkedIn and Twitter can also be set up, allowing you to group contacts from all services in one place as well as keep up with the latest news on these social networking services. New accounts can be added via Settings > email + accounts.
Most interesting here is the way in which you can create groups to store your contacts in. This is particularly useful for having family members in one place, for instance, making it easy to text, chat and send emails, as well as call them! If they're connected using a social network you can also view their recent photos more easily.
Browsing through status updates from Twitter, Facebook and all of the other services in one place certainly makes for an excellent integrated experience. Even the Start screen tile has been improved, and now displays images of people who have recently updated their social statuses rather than random portraits.
Brand New Picture Hub Features
New features here include the option to shuffle the hub background as well as the choice to manually select what image is used. One of the great things about the Pictures Hub was the way in which it also integrated with Facebook and Windows Live, and this has been extended to include folders for all of your social contacts' images.
What this means is that rather than selecting a friend via the Pictures Hub and browsing through their photos, their uploaded images can be downloaded to your phone by selecting that individual's folder.
Additional options include an auto-fix tool and new features for the camera, including new launch options, the chance to take a snap by tapping the screen and the ability to finally save the camera settings (these previously reset each time the camera was used).
Office Hub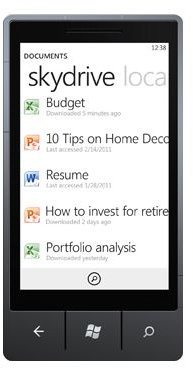 One of the key frustrations about the original Windows Phone was the state of the Office Hub. Featuring excellent new versions of Word, Excel and PowerPoint (not forgetting OneNote) the Office Hub allowed you to create, edit and save documents on your phone. The problem was with sharing – unless you had access to a SharePoint server, the only sharing option was email. This clearly is a little inflexible, but Microsoft has finally resolved this oversight bringing full SkyDrive and Office 365 integration to the phone.
If you're an Office 365 user you can sync your documents and email with your Windows Phone. If you're a standard Windows Live user with SkyDrive, you can save and sync your documents to the cloud!
Music + Videos Hub
Improvements to the Music + Videos Hub – where you can find tunes, videos and podcasts that have been synced to your phone with the Zune client – are largely UI based. To begin with, the alphabetical search grid seen in the Apps list and the People Hub can also be found here, allowing easy browsing of your favorite tunes, albums and artists.
Another new feature here is the shortcut button which takes you straight to the "now playing" view, where a revised playback screen is presented. The back/play/forward buttons have now been moved, and the artist backgrounds have been dropped.
A nice touch is to send the buttons to the lock screen – these are larger than those seen in the earlier release, making changing tracks easier while the phone is locked. The volume display has also been altered, displaying the numerical value of the volume more prominently. Both of these features make using your phone as a dashboard-mounted MP3 player much easier.
Enhanced API Access
Ease of use was very much the theme with the original Windows Phone, and it is amazing to see how Microsoft has made so many refinements that improve on this.
One area that was perhaps lacking for users and app developers alike was the provision of APIs, Microsoft provided standard controls for various functions such as the camera or the modem functions. The result of this is that apps such as barcode readers and tethering were unavailable in the original Windows Phone.
Fortunately, this has been fixed in the new Windows Phone 7.5, and barcode reader apps are already available for the platform.
Improved Browsing and Gaming on Mango

Big things are expected from Xbox Live integrated gaming with the release of Mango, but so far the much-anticipated live multiplayer doesn't seem to have arrived.
What we get instead is a much faster Games Hub, one that launches without delay and quickly lists your games and any special offers that are currently available in the Marketplace. Changes to your Xbox Live gamer avatar curiously require you to reinstall the Xbox LIVE Extras app if you have upgraded to Windows Phone 7.5; other than this the changes to the Games Hub are purely cosmetic.
Meanwhile, the native Internet Explorer browser has been upgraded to a mobile version of Internet Explorer 9, and this comes fully enabled with HTML5 for a Flash-free multimedia browsing experience. The browser itself has an improved UI over the previous version, notably in the shape of the address bar, which appears at the bottom of the screen rather than the top…
Instant Messaging Arrives!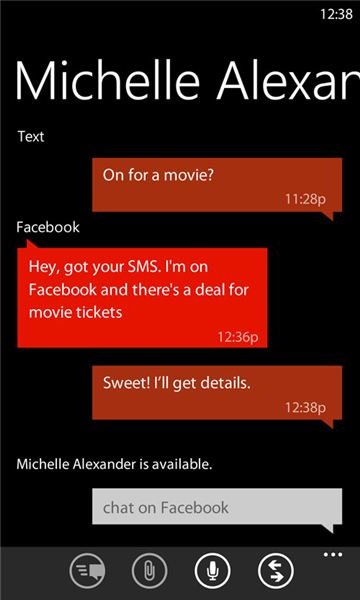 A couple of impressive enhancements have been made to messaging in Windows Phone Mango. The first is the combine inbox tool, which allows you to view all of your email messages in a single view, reducing the Start screen tile count. This works really well; combining inboxes is simple and they can be easily renamed.
The other improvement comes in the shape of Windows Live Messenger. Amazingly, this was missing from the original release of Windows Phone, but has been added here not as a separate app (I spent a while looking for it!) but as part of the Messaging tool. What this means is that conversations begun in SMS can be easily continued via Windows Live Messenger, and Facebook Chat is also included in this. All of this is tied together with a slight UI enhancement for threaded conversations.
Improvements to Voice Tools and Search
One of the key improvements to Window Phone Mango won't be found in North America, as there it was present from the start. Voice search is finally included for European users, meaning that hands-free browsing of the web is finally possible, at least when it comes to looking for local amenities. As with most of the voice tools, this makes using your phone while driving very safe indeed.
Bing is a key element of Windows Phone and with the release of Mango Microsoft has included some interesting new tools. Along with the standard text search, you can tap the Scout option to display any local eateries and businesses that you might be interested in, the Vision option to capture QR and Microsoft tags or even text and the Music button to out-Shazam the popular music-identification service. Finally, Voice search is also available, just as it is on iPhone and Android, and this allows you once again to stay hands-free and use your mouth to intone voice commands to Bing.
Voice tools also exist in the Messaging Hub, where you will find a small microphone icon. This "visual voicemail" tool is excellent, and largely works well.
Improved Call Tools
As if all of this wasn't enough (and the changes reviewed here don't even dip into the background where many more improvements can be found) Windows Phone 7.5 also features a revised phone call screen.
This results in a much improved call experience, where the in-call options are no longer hidden behind (one of the few) pointless menus.
Let's also not forget wireless tethering, the ultimate connectivity tool for any mobile phone owner. While this isn't yet available for the first generation devices running Mango, brand new Windows Phones come with this feature ready to run! It runs as effortlessly as everything else on this mobile platform, enabling instant Internet connectivity for any nearby wireless computers or tablets.
Why Are You Waiting Around for Android 4? (5 out of 5)
If you didn't have a Windows Phone already then the chances are that you were either unaware of the platform, had misgivings about the original release or were busy using another phone.
With the news that iPhone 5 is still some time away (if it ever comes) and that Android 4 looks set to capitalize where Apple appear to have stumbled in meeting the expectations of their aficionados, now is a great time to give Windows Phone a second look. Virtually everything that was missing with the original release has been added or resolved, with gaming, call tools, improvements to the hubs and the addition of Microsoft Office 365 compatibility all sitting nicely alongside the previously unannounced inclusion of tethering for native Windows Phone 7.5 devices.
My review of Windows Phone 7 last year enthused about how the platform was ready to step up and play alongside Android and iPhone; despite the missing features, this was a hugely usable experience that offered marvellous integration with apps and other services.
Microsoft has maintained the importance of the Metro UI and brought the platform's features up to date and up to scratch. We'll see how the new phones deal with Windows Phone 7.5 Mango, but from a platform point of view Microsoft has put Windows Phone squarely alongside Android and iPhone in virtually every single way.
There is now very little to choose between them.
References