Nokia Windows Phone 7 Device Preview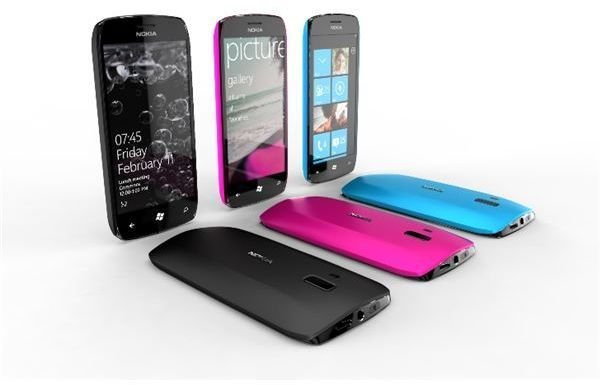 Expected in late 2011 is a new range of mobile phones from Nokia, the famous Finnish producer of mobile devices whose fortunes have been in decline over the past few years.
This decline is mainly due to the success of smartphones such as the iPhone and Android devices, and in order to combat this threat Nokia made an agreement in early 2011 with Microsoft to ship Windows Phone 7 on their new generation of handsets.
In order to do this, Nokia has had to discard (as far as US customers will be concerned) not one but two operating systems, Symbian and MeeGo, so that they can focus on building devices that play to the strengths of Microsoft's new mobile OS.
A quick look into the history of Nokia devices will reveal a rich seam of design successes, good quality handsets that were easy and fun to use. The intention now is to recreate this by providing high spec phones that are custom designed to run Windows Phone 7, itself an easy to use operating system with an enjoyable user interface.
News and rumors about these new devices continues to be sketchy, but there are a few details that we know about these phones that will make them immediately attractive to anyone looking to upgrade or buy a new Nokia.
Nokia Sea Ray
At present only one device from Nokia has been spotted. Codenamed Sea Ray, this handset resembles the Nokia N9 and features a similar narrow form factor. As expected of a Nokia Window Phone it is also equipped with a Carl Zeiss lens, which sits on an 8 MP camera. The device meets the minimum specs of a Windows Phone in having a 1 GHz processor and is believed to feature 1 GB of RAM (four times the amount required to run the OS) and a 3.9 inch display.
Other details about the device are as yet unknown. It may resemble one of the stunning multicolored devices in the accompanying image – a diversion for Windows Phone and indeed the smartphone sector as a whole – and will ship with the Windows Phone 7.5 "Mango" operating system, a feature-packed revision of the 2010 version of Microsoft's mobile platform.
At this stage we don't know if the device will be called "Sea Ray" when it hits the streets – but we do know that Nokia have ordered 2 million of the devices from device builders Compal, an order that is set to be fulfilled in September 2011, which may give us a clue to an October launch at the Nokia World conference.
Watch Out for Twelve More in 2012!
In addition to the possibilities of Sea Ray – which looks likely to be the first custom-built Windows Phone Mango handset – there are rumors of not one, but 12 other devices for launch in 2012.
If true, this would represent a virtual doubling of the current number of Windows Phones, not to mention confirm Nokia's dedication to the platform. You might wonder how 12 different devices from the same manufacturer could add any real value to the range, but it seems that Nokia might be planning to include the ST-Ericsson U8500, a dual-core processor, in some of these devices rather than the standard Qualcomm Snapdragon 1 GHz CPU found in current Windows Phones. Other phones currently using this processor include the Samsung Infuse 4G and the T-Mobile Sidekick 4G, and the component is capable of rendering 21 hours of continuous high definition video playback!
As of August 2011 the names of these devices and their form factors are unknown, but we'll let you know when these have been revealed.
When Can I Buy a Nokia Windows Phone?
As things stand, the current launch date of the Nokia Sea Ray is not yet known. What we do know is that the device is designed to run Windows Phone 7.5 Mango, as opposed to the basic Windows Phone 7, which means that the release of the Sea Ray or C-Ray (the correct spelling of the model has yet to be released; indeed, this might not even be the final product name) cannot take place until Mango is available.
In late August 2011 Microsoft announced that Mango was ready to ship, and that the delay in distributing the update to existing Windows Phones was purely down to the manufacturers. Nokia presumably don't have this problem – they have a slightly different arrangement with Microsoft compared with companies such as HTC and LG, and more importantly don't have hundreds of thousands of users waiting for an upgrade. Rolling out Windows Phone 7.5 Mango for Nokia simply means shipping their devices to stores and networks, something that they are apparently on the verge of doing as soon as they get the nod from Microsoft.
It seems extremely likely, however, that you will be able to pick up one of these smart looking new phones in time for the holiday season.
References