Resolving Windows Phone Album Art Issues with Zune Social Tagger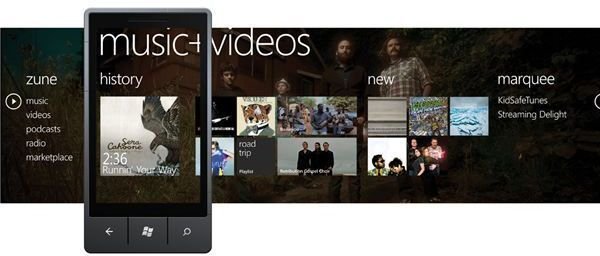 Enjoying music and videos on your Windows Phone 7 requires the use of the Zune player, essentially a Zune HD media player that is built into your phone. This software manages synchronization between your phone and your PC, as well as allowing you to select and play music, podcasts and videos, and features an inituitive user interface offering all of the usual playback tools and artist information.
However, problems can occur with the display of artist information. This appears in two ways:
Standard album art for each track you listen to.
Background art for the artist.
The background art is particularly useful as it brings the media player to life, and is a much better alternative to the plain black backdrop which appears by default.
Artist background art problems can occur for a number of reasons, from basic connectivity issues to problems with your Windows Live account.
Make Sure You're Connected
Before you get started looking into all of the other possible fixes for this issue, you need to make sure that you have everything set up correctly on your phone and with the Zune client on your Windows PC.
While your Zune client should manage the download and display of album art, delays in this can occur with a large library (see below). As a result you will need to make sure that your Windows Phone is connected to the Internet or a local Wi-Fi network. Head to Settings > System > Mobile network and switch Data connection and 3G connection to On, or if you're in range of a Wi-Fi network use Settings > System > Wi-Fi.
With this done, you will need to instruct your phone to connect with Zune and download information, such as artist backgrounds – do this via Settings > Applications > Music & videos.
You should also take a look at the settings on your Zune client, the desktop software that is used for managing synchronization between your phone and PC. Open Settings > Software > Metadata and Ratings to find the Media Info section; you should have the Automatically retrieve and update… option checked, with Replace all media information also selected.
With these settings activated, you should notice a change.
Zune Pass and International Use
Often, however, the problem might be more deep-rooted than simply activating various wireless connectivity options.
The Zune Pass is a system whereby users get to pay a monthly subscription and enjoy free music, some of which they can keep permanently. Available in the USA and Europe, this service is nevertheless restricted in some countries, a problem that can cause issues with background artist images and Windows Phone album art being displayed correctly. For the best results you should be using a Windows Live account on your Windows Phone that is appropriate for the territory that you are in. This will mean checking the country setting in your Windows Live account, and it may require you to set up a second account for use in other territories.
Even when switching between international accounts you may notice a difference, something attributed to differences in the source library of Zune for Europe and the USA.
Third Party Tagging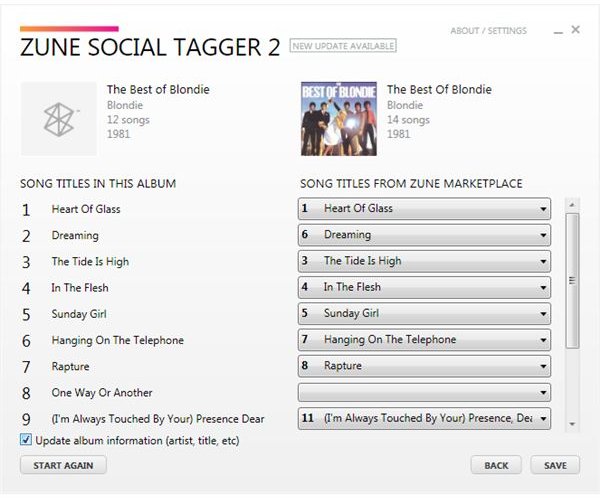 As a continuation of the differences between the different libraries, you might find that fixing the tags on your albums works wonders. This is because the Zune Marketplace (available via the Zune client) depends on the country of origin that you have your computer set to; for instance, users in France will see the French version of the Marketplace.
Using the Zune Social Tagger tool (from github.com/leetreveil/Zune-Social-Tagger) you can resolve issues that might have occurred by having mixed the various international settings between your phone, Windows PC and Windows Live account.
Once downloaded, unzip the contents and run the installer. All you need to do is search your computer for the tracks with the incorrect art associated with them, and click Next to match these up to the correct album cover and track listing (you can alter these if necessary). Once done, put a check in the Update album information box and then click Save; your tags will then be updated, and this should resolve any outstanding album art and background issues on your Windows Phone.
How Large Is Your Library? Completing the Sync
With all of the above settings configured you can still run into problems if your database of tracks is particularly big.
This is because the Zune client on your PC will be attempting to download album art while syncing tracks to your phone and syncing a large selection of MP3s will result in a delay. To optimize the user experience, Zune will sync the selected tracks first, and switch attention to the album art later on. As a result you should leave your Windows Phone connected for as long as possible if you want to take full advantage of enhancements such as album art and backgrounds.
You can tell when the sync has completed – with your phone connected to your PC, tap the Music & Videos tile; the message "Connected" will confirm that your device is successfully hooked up and syncing with the Zune client, while "Synchronization complete" confirms that all is successfully synced!
References