How Can I Sync a Movie from Itunes to My Windows Phone?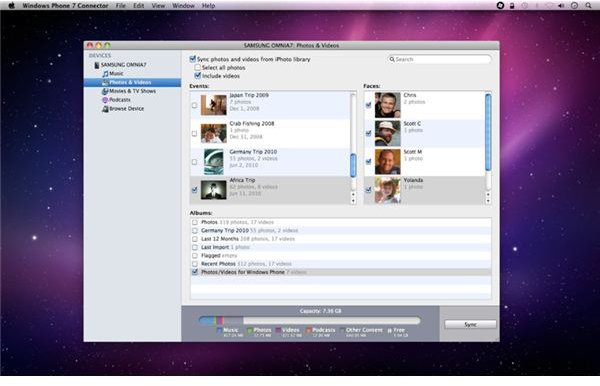 If you own a Windows Phone 7 device, you probably know all about setting it up with Zune and syncing media files from your PC via USB.
Except… this probably isn't much use to you if you own a Mac. Thanks to Windows Phone Connector for Mac it is possible to apply updates to your Windows Phone, and the tool can also be used to sync media, but what about transferring data from iTunes onto your WP7 handset?
While you can't sync this particular device with iTunes, the same MP3s can be detected by Windows Phone Connector for Mac and these can then be easily synced to your Windows Phone.
But what about movies?
Fortunately, these can be transferred to your Windows Phone in just the same way. It shouldn't take too long for you to be able to enjoy your favorite movie clips on your WP7 handset!
About Windows Phone Connector for Mac
If you're not already aware of Windows Phone Connector for Mac, this is a piece of software available via the App Store that you can use to sync a Windows Phone to an Apple Mac desktop or notebook. If you don't want to visit the App Store then you can also visit this Microsoft page to download a copy.
Free to use, the software also assists in downloading and applying updates to Windows Phone 7, but its most common use is to sync data. Installing the software is a case of double-clicking the downloaded file to mount and add it to the Applications directory.
When you next connect your Windows Phone via USB, the software will detect your device and automatically launch (if not, you can manually run it from the Applications folder), displaying your phone's model and serial number, and various configuration settings are available via the Device Options… button.
Preparing Movies for WP7
The key thing about syncing any movie to a mobile device is to take advantage of available tools to resize the file for the resolution of the target device. Windows Phone 7 devices are limited to either 8 GB or 16 GB of storage (unless you are able to remove your Micro SD card) and as such you should attempt to be efficient with the movie file that you are copying, particularly if you have other movies or a large collection of synced MP3s.
While the phone will play back a standard high definition movie, this will take up some space and utilize quite a bit of processing power – which means a big hit on your battery. As such, your best option is to prepare you movie beforehand. Various tools are available to shrink a movie before syncing, and you could be saving a lot of space by running a 2 GB movie file through a resizer – the resulting file could be as little 250 MB!
Managing a Windows Phone Sync
Whether you're syncing movies or music from your Mac to your phone, the process is pretty much identical.
Begin by selecting the Movies & TV Shows view in the left-hand pane; you should find it listed below your device name. The Movies & TV Shows view lists video and movie files, and you can use Windows Phone Connector to access files that are stored in iTunes using the Sync movies… check box in the main pane.
With this activated you can then browse your library and sync movies with your Windows Phone 7 by checking the box on the left of the movie title and then clicking the Sync button in the lower left corner of the window. The same process is used for syncing music, photos and podcasts too, so you should get familiar with it pretty quickly!
The Mac Movie Sync Hang
While in theory, movies can quickly be transferred to your Windows Phone, thanks to a bizarre syncing and conversion issue, the process usually hangs for a while. You might be expecting your movie to be synced within a few moments and find yourself still waiting 20 minutes later – hardly ideal.
This problem doesn't affect all users, but fortunately there is a handy workaround available which makes the issue bearable. This requires you to have both an AVI copy of the movie in question as well as an MP3 capture of the soundtrack. All you need to do is combine the two together using a utility such as MP4Tools and import the results into iTunes.
With the movie re-encoded, the Windows Phone Connector will be able to efficiently synchronize the data to your phone, enabling you to watch your video clip!
References
Author's own experience.
Image credit: Apple.com, https://itunes.apple.com/us/app/windows-phone-7-connector/id415571499?mt=12&ls=1