Perform a Hard Reset on Windows Phone 7

Windows Phone 7 devices, like any smartphone, can take a bit of a beating when it comes to installing apps and games, saving music, contacts and general data storage, and from time to time the best way of sorting these problems out might be to perform a hard reset.
Unlike a standard soft reset (the action of turning the phone off and back on again, often to resolve occasional issues), a hard reset involves the removal of all data and games that you have stored on your phone. This might mean a lot of time will be spent restoring much of the data later on, but if a simple uninstall doesn't help and applying a content reset via the Zune client (in order to delete all media files) fails to resolve whatever performance issue you are having with your phone, the hard reset might be your best option.
Backing Up Data with Windows Live
Before proceeding with a hard reset, however, you will need to spend some time looking into the available options for backing up data.
For instance, your emails may be lost if you perform a hard reset – this depends on the type of email account that you have. Exchange and IMAP email accounts will not completely delete the messages as they will be stored on the mail server, which means that when you set up your email accounts after the reset you will be able to quickly restore the messages to your phone.
As far as Microsoft Exchange goes, the same applies to contacts and calendar information, while your chosen contacts and calendar service (Google or Windows Live) will also keep a version of this information in the cloud, ready to sync whenever necessary.
With the original release of Windows Phone there is no way to sync Microsoft Office documents to a Windows Live account, so if you're using a pre-Mango device your best bet is to email any files that you wish to keep.
Photos, meanwhile can be both synced to your computer via Zune (check Settings > Phone > Sync Options to clarify the options here) or uploaded to the Windows Live SkyDrive cloud storage or Facebook, depending on your preference. This can only be done on a photo-by-photo basis, although you can also use the Settings > Applications > Pictures and camera > Auto upload to SkyDrive option to ensure that all future snaps are uploaded when they're created.
Meanwhile, if you have a lot of apps and games on your phone that you wish to restore to your phone after the hard reset, you can view a list of these via the Zune client. Open Settings > Account > Purchase History > Apps to check the list, a useful way to decide on which apps to reinstall on your freshly restored phone. Remember to jot down the list of apps or use the print screen button to create an image of the list that you can paste into a Word document or Microsoft Paint, as the list may not persist after the phone is reset and reconnected to your computer.
The Zune Content Reset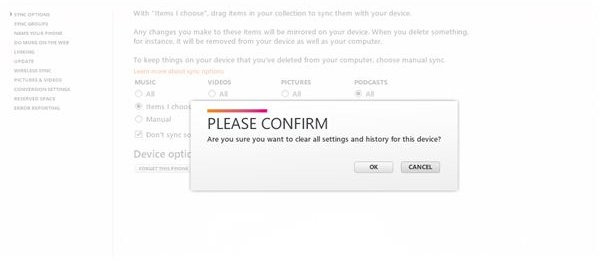 Before hard resetting your phone to its factory settings you might also consider performing a content reset in Zune. This is easily done via the Zune client, and involves disassociating the phone from the computer.
With your Windows Phone connected to your PC or notebook by USB, open the Zune client and find your way to Settings > Phone > Sync Options, and use the Forget this phone button. You will be prompted to confirm the action before the phone is disassociated.
Once this is done you can then remove audio and video files manually from your Windows Phone (tap and hold the items one by one in the Music & Videos Hub, selecting Delete from the context menu). Note that this step should really only be used if you have concerns about one or more media files and their effect on your phone.
Performing a Hard Reset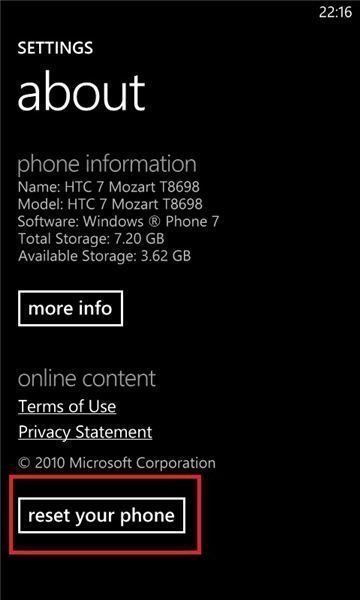 With data backed up, removed as necessary and plans for restoring it outlined and settled upon, you will be ready to perform the hard reset.
This action will restore your phone to its factory settings – it will once again appear as it did when you first received it. As a result, the default home screen arrangement will be applied, and the background and accent colors will be applied based on those specified by the company you purchased the device from.
All personal information such as contacts, Facebook integration, Xbox LIVE details, installed apps and games and any other changes that you have made to your phone will be completely lost, so do take care when performing this action.
A Windows Phone hard reset can be performed by going to Start > Settings > About > Reset Your Phone -- note that you will need to confirm the action before the reset occurs.
The process will take a few minutes to complete, but when it is over you will be able to start from scratch with your Windows Phone handset!
References