Windows Phone 7 HTML5 and Internet Explorer 9 Preview

You may have heard about the new HTML5 standard, the latest iteration of the content structuring and presentation language used in the creation of web pages.
Whereas HTML 4.01 and XHTML 1.1 developed the original language to be suitable for creating web pages as we know them today and allowing the easy integration of JavaScript, document object model references and other useful tools employed to make web pages highly functional, HTML5 incorporates all of this and more into a single specification.
The key element with HTML5 is the behaviour of rich media content, which is incorporated not by adding complicated code into a web page but by citing the and tags.
For non-developers, this means that a page viewed in HTML5 is capable of offering an experience comparable with a page that relies on Adobe Flash.
Microsoft has already released Internet Explorer 9 for Windows 7 which includes support for the HTML5 audio and video tags, and later this year a mobile version of the same browser will be released as part of the Mango update for Windows Phone 7.
What HTML5 Means to Windows Phone 7 Users
Easy integration of rich media content might sound like something that web developers might be excited about, but what does it mean for the rest of us?
Well for a start, concerns over the eventual arrival of Adobe Flash Player to Windows Phone 7 can be relaxed, as eventually HTML5 looks likely to deal a deathly blow to the Flash format. This would certainly suit some very big names in the industry, but from a Windows Phone 7 point of view this might result in a longer wait for access to services that currently use Flash and haven't yet upgraded to support HTML5.
Ultimately, however, with HTML5 supported in the Internet Explorer 9 browser for Windows Phone 7, users can get excited about possibly the best browsing experience on any mobile platform as the World Wide Web moves towards a new standard.
Internet Explorer 9 for Windows Phone 7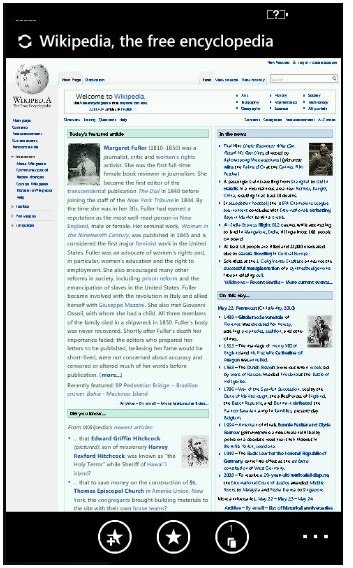 So, how do you install Internet Explorer 9 on Windows Phone 7?
Well, for the time being, you can't. The new version of the browser will be released as part of the Mango update in late 2011 (possibly mid-October) and alongside the HTML5 video and audio support, the browser will also include hardware accelerated rendering, a new user interface that makes the address bar available in landscape mode (currently it is only available in portrait), as well as geolocation support (via GPS) and a new JavaScript engine, which should bring some performance improvement to pages that rely on JavaScript.
Installing the new browser will involve updating your phone to what Microsoft are describing as Windows Phone 7.1. The update process is generally straightforward – when your phone is ready for the update a notification will be sent to the device to inform you. Once connected to your computer by USB cable, you will then be able to download and apply the update, either via Zune on Windows or Windows Phone Connector for Mac.
Other features in Mango include the ability to set custom ringtones, improvement to Bing search, integration of Twitter and LinkedIn and Windows Live Messenger and Facebook chat integration.
HTML5 Performance Comparisons
So what are the other mobile platforms doing with regard to HTML5? Well, it seems that both Android and iPhone devices already support the new standard, but while all three devices can admirably provide music and video, the hardware acceleration aspect of HTML5 has led to some interesting benchmarking tests between devices. Windows Phone devices running test versions of Mango top Android models and iPhone 4 handsets.
The results have been looking pretty encouraging for Windows Phone 7, with one such test, "HTML5 Speed Reading" providing an opportunity for devices to reveal how fast their animation rendering is.
According to this particular test, the iPhone 4 managed 2 fps (frames per second), the Android Nexus S displayed 11fps and the HTC Windows Phone device a massive 23 fps thanks to the provision of hardware acceleration to the Internet Explorer 9 mobile browser.
Early Days – But What an Advantage!
While it is still a few months away from release, Internet Explorer 9 could radically alter the way Windows Phone 7 devices are used, perceived and advertised.
This could give the platform a genuine boost, and make Mango a highly sought-after update for existing Windows Phone users.
Anyone purchasing a Windows Phone in the last quarter of 2011 shouldn't need to bother updating, however, as new Windows Phone 7 will ship HTML5-ready with the Mango update pre-installed.
References