How Do I Upgrade to Windows Phone 7?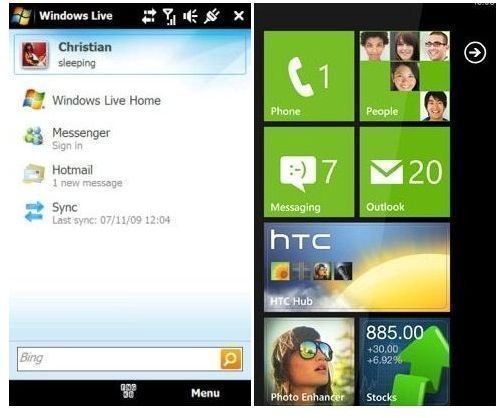 Is It the End for Your Windows Mobile?
Sometimes a system can get lost in time, ignored by the rest of the world but still used regularly by people in a particular situation. A case in point is Windows Mobile, discarded by consumer mobile users as archaic and difficult to use, there are nevertheless many WinMo handset owners out there, thanks either to persuasive salesmen, HTC's TouchFLO 3D user interface overlay or businesses looking for the easiest way to sync Exchange email and calendar to their users.
Windows Mobile users have been left behind by Windows Phone 7, so what is the best way to upgrade to the new mobile platform?
Choosing a New Device
There are many Windows Phones currently available, with devices from LG, Samsung, Dell and HTC. It can be reasonably argued that HTC and Samsung produced two of the most popular Windows Mobile devices in the HTC HD2 and the Samsung Omnia, and both of these handsets have been given revised releases as WP7 devices, although note that there are some differences in spec. While the HTC HD2 can be upgraded to Windows Phone 7, no other device can.
HTC provided the vast majority of Windows Mobile devices in the later years of the platform's life, and they are well-known for making good quality mobile devices, so you might opt for one of their devices.
Note, however, that certain functionality is restricted in Windows Phone, such as tethering, so choose your handset carefully.
Migrating Data to Upgrade to Windows Phone 7
You probably don't want to lose any personal data when upgrading to Windows Phone 7, so taking the time to make a few backups of any local data and preparing it for use on your new device is a good idea.
There is no official tool for preparing your data, but while Windows Mobile and Windows Phone share few similarities, they are both closely tied to Windows Live.
On your Windows Mobile 6 device, the first thing you will need to do is copy your contacts to your SIM card. This is tricky in WM6 as only one contact can be done at a time. An alternative is to sync your contacts via ActiveSync with Windows Live Mail, which in turn will sync them to your Windows Live account. As the Windows Live account is such an important part of Windows Phone – it is used for Xbox LIVE, downloading apps and music from the Marketplace and more – this is worth spending time on.
Alternatively, you might also use a tool such as Jeyo Mobile Companion (www.jeyo.com) to copy your contacts to your SIM in bulk. Although a paid solution, you can use it free for 15 days.
Preparing Other Data for Windows Phone 7
Windows Mobile already features a version of Microsoft Office Mobile, and any data that you have on your phone that you would like to be able to access in Windows Phone 7 should be saved to your Windows Live account. This is most easily done by copying the data to your PC and saving it manually to your Windows Live SkyDrive, although you can expedite the process from your Windows Mobile phone by downloading and installing the Microsoft My Phone app, which allows you to automate the backing up of all sorts of data (including contacts) from your WinMo handset to your Windows Live account.
With all of your data backed up and sitting in your Windows Live SkyDrive, it will be ready to access as soon as you purchase your Windows Phone 7 device, boot it up and sign in!
References
Author's own experience.
Image by author.