Expand Storage with Windows Phone 7 Compatible MicroSD Cards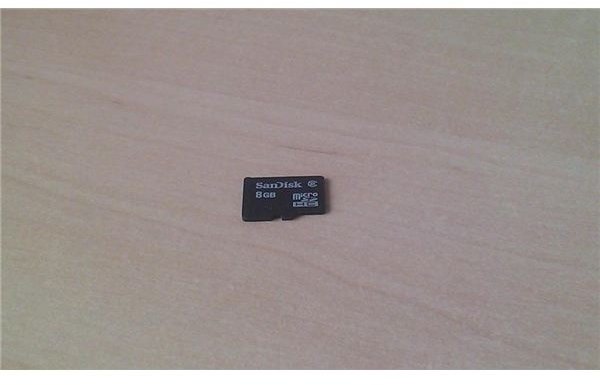 Don't Believe the Spec!
Most Windows Phone 7 devices are built to a very strict set of instructions. This minimum spec was put in place by Microsoft at quite an early stage to avoid the spectre of platform splintering that possibly affects various older Android phones, and certainly did a lot of damage to Windows Mobile over the years.
One of these specifications is that the SD card (in this case a Micro SDHC card) should not be removable. There are several reasons for this, which basically concern the continued safety of the device as a media player. It is also put in place to prevent software downloaded from the Marketplace from being pirated.
Initially it was thought that manufacturers LG, Dell, HTC and Samsung had all stuck to this requirement just as they had those concerning display quality, processor speed, three buttons and all of the others, but it seems that with some Windows Phones you can change the on-board storage…
Devices With Expandable Storage
Among the Windows Phone 7 handsets that will allow you to swap the existing Micro SDHC cards are the HTC HD7, Samsung Focus and the Dell Venue Pro. Each of these have different methods of replacing the card; for instance the HTC HD7 requires you to remove portions of the chassis in warranty-voiding manner, whereas the Focus has a slot beneath the battery.
Note that expandable storage doesn't mean that you can just slot a standard 2 GB Micro SDHC card into place and expect this to work as well as the one that was already present. Due to the degradation that is present in standard Micro SD media, flash storage that is specifically designed for use with Windows Phone 7 devices is needed.
Compatible cards are branded with the phrase "Windows Phone 7 compatible" on the packaging, but be aware that these will be more expensive than the standard cards, as these are Micro SDHC cards. You should be looking to purchase one of the following cards:
* Sandisk Class 4 8GB microSD – SDSDQ-008G-J35A
* Sandisk Class 4 16GB microSD – SDSDQ-016G-J35A
* Sandisk Class 2 32GB microSD – SDSDQM-032G-B35
* Sandisk Class 4 32GB microSD – SDSDQ-032G-J35A
Obviously expanding your storage is a great option if you are planning on storing a large MP3 library or lots of favourite movies on your phone for mobile media entertainment.
How to Expand your Storage
While Windows Phone 7 compatible Micro SDHC cards can be readily purchased, inserting them into your device is another matter entirely.
In order to prevent software piracy, Microsoft has rigged their phones to reset whenever the Micro SDHC cards are removed. As such, all personal data and apps will be removed, so if you're planning to add one of these cards to your phone, make sure you have taken the required steps of backing up any photos and videos, and checking your Windows Live account to check that your contacts have been synced.
With the new card inserted and your phone booted up, you will enjoy greater storage, but remember that you will have to set up all of your previous accounts and re-install any favourite apps.
References
Author's own experience.
Image credit: photo by author.