What to Do when Windows Phone 7 Won't Connect to Zune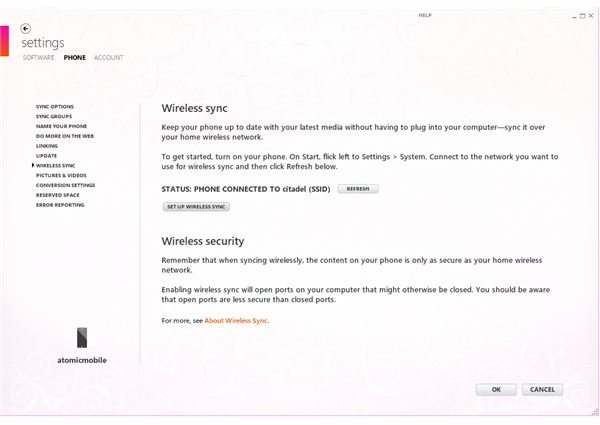 Zune - the Windows Phone Equivalent of iTunes
With a Windows Phone 7 device you can enjoy music, images, videos and podcasts synced from your computer via the Zune client application. This software is also responsible for providing desktop access to the Marketplace for buying games, apps and music, managing updates for your phone and it can even be used for burning and ripping discs.
In short, Zune is the Windows equivalent of iTunes, and exists mainly as a means of managing your WP7.
However, in order to do this you must be able to connect your phone via USB. In most cases this shouldn't be an issue, but if your computer or Zune won't recognise your phone, then you have a problem…
What Should Happen…
In order to sort out why your computer won't detect your Windows Phone, let's take a look at what should happen when one is connected to the other.
The USB cable that ships with your phone should be used in place of any others that you have, and when connected to a Windows PC with the Zune software installed, your computer should detect the phone, launch Zune and your WP7 handset will display a "battery charging" symbol. On the Zune client, your phone should be displayed as connected, appearing in the lower-left corner of the application.
Additionally, you will be unable to access the Marketplace via your phone.
Now if none of this is happening then clearly there is an issue. Troubleshooting the problem means establishing just what that issue is.
Checking Your USB Ports
If your PC will not even detect your phone then the question of having the correct drivers installed doesn't come into the scenario. As it happens, any required drivers are included on the phone and with the Zune software, so all you need to do is make sure that you have downloaded and installed Zune.
In many cases the issue will be with your USB ports, and the amount of power that is being distributed from them.
This will differ depending on your type of computer and its specification. For instance, if you're trying to sync your phone with a laptop, lower voltage to the ports might prevent the computer from detecting your phone. The best solution here is to unplug all USB devices, restart your computer and phone and see if the device is now detected.
Was the Windows Phone Previously Detected?
If you managed to sync your phone with your computer when it was first purchased, the problem could be that the device drivers have corrupted or failed to install correctly.
In order to troubleshoot this, on your Windows computer click Start and right-click Computer > Properties > Device Manager and look for Portable Devices (your phone may alternatively be listed as an Unknown Device.)
This item will only be listed if your phone is connected and has previously been installed; if there is a problem, an exclamation mark in a yellow triangle will be displayed beside the name of the phone, so right-click and select Uninstall, check the Delete driver software for this device box and click OK.
Next, go to Action > Scan for hardware changes and wait for your phone to be detected; it should be listed either under Portable Devices or Unknown Devices. Expand the list and right-click the device, selecting Driver > Update Driver. Use the Browse my computer for driver software option to find the drivers, which should be located in Program Files/Zune/Drivers.
This will allow you to Install the drivers, so follow any prompts until you reach the end of the process, and restart your PC if instructed. Your drivers should now be installed.
Software to Use if Your Windows Phone 7 Won't Connect to Zune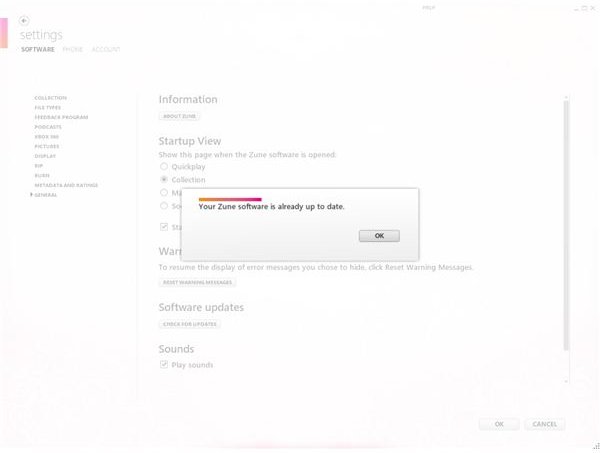 It is possible that even after making these checks that the Zune software will not detect your phone. Luckily there is a solution provided by Microsoft, but before you try that, open the Zune software manually from the Start menu and go to Settings > Software > General and click Check for updates to ensure that you are running the right version of the software.
Microsoft has provided some online tools to assist with troubleshooting any connection issues you have between Zune and your phone. If your Windows Phone 7 won't connect to Zune, use the Microsoft Fixit tool which is designed to resolve problems detecting and syncing data between your WP7 and your PC.
References
Author's own experience.
Screenshots by author.