Using Windows Phone 7 as USB Storage Device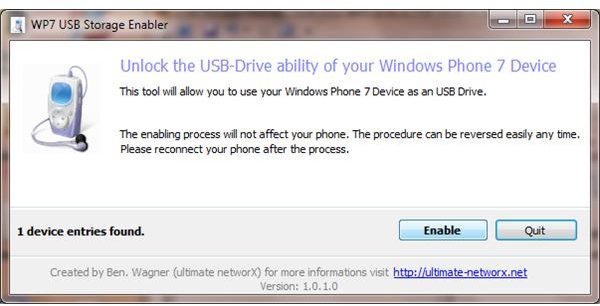 At Least 8 GB of Storage!
Thanks to the minimum 8 GB storage on a Windows Phone 7, it is possible to enjoy a large number of MP3s, movies and photos on your handset, as well as install lots of apps and games. The Xbox LIVE games in particular take up a lot of space, which is why that amount of storage comes in useful.
However, beyond syncing this type of data with your phone via Zune or saving documents created in the Office Hub, there is no easy way to use your WP7 device for mass storage.
This is because Microsoft has restricted how we access the phone, preventing unsuitable data from being saved and synced.
Having an 8 GB (or more) storage device in your pocket would be pretty useful, though, and it turns out that there is a way of persuading Windows to accept your phone as a mass storage device…
What You Can Do with Mass Storage
It might be that you are pretty happy with the current arrangement whereby you save data to your phone via emails or sync it from Zune, but with your phone running as a mass storage device you can effectively reduce the amount of hardware that you are carrying.
For instance, you can save Microsoft Office documents that have been emailed to you, just as you can any PDFs. A common method of storage for any files found on a Windows Phone is to take advantage of an online solution such as DropBox, but with actual mass storage now available you might copy operating system images or utilities to your phone that might be used in Windows, for instance.
Basically what this solution does is make your phone as flexible as an Android or any other device that you can save data to as an external disk drive.
Configuring Windows Phone as a Mass Storage Device
The first thing you will need to do is download the tool that makes using your Windows Phone 7 as a USB mass storage device possible. Once installed, this will force Windows to detect your phone as a storage device, just as it might detect a BlackBerry, Windows Mobile or Android handset.
No software is added to your phone; no Marketplace app is required. All you need to do is visit ultimate-networx.net to download the software, which basically installs a registry hack in Windows that allows your phone to be viewed and browsed in Windows Explorer. While this is happening, connect your Windows Phone to your PC and if Zune opens, close it.
Once you have downloaded the file and saved it to your PC, unzip the contents, and right-click Wp7UsbStorageEnabler.exe, selecting Run as administrator.
The utility will then run, and should detect your device. Select Enable to apply the change, and then Quit.
Next open Windows Explorer and look for your phone, which should be listed with other storage and attached devices! You will then be able to save data to your device and even access some of your personal folders. If you have difficulty viewing any folders (i.e., the view is blank when you open your phone in Windows Explorer) restart your phone, once again closing Zune if it opens.
If at any point you decide you don't want this facility you can run the tool again and Disable mass storage.
References