Windows Phone 7 Tethering with the Dell Venue Pro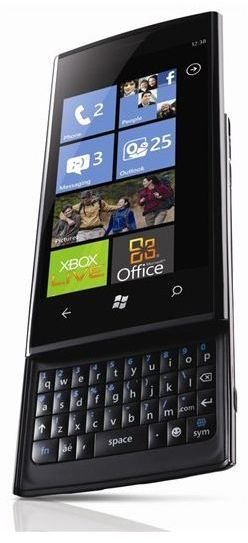 Windows Phone 7 was conceived to be very different from Windows Mobile. While the previous operating system for phones and palm tops was designed for business use, Windows Phone 7 is designed for everyone, particularly the tech savvy.
The result of this was a series of very sexy devices from HTC, LG and Samsung. Officially devices from these manufacturers cannot be tethered, but as we've seen in this series of articles, there is a way around this prohibition on all devices.
Dell's Venue Pro device is a little different. While looking cool, it has a pop-up keyboard slider, giving it an almost instant transformation from trendy WP7 device into business handset. As a result, there is an inherent need to be able to tether the device, lest it be overlooked in favour of an iPhone…
_Image credit: https://en.community.dell.com/dell-blogs/Direct2Dell/b/direct2dell/archive/2010/10/11/meet-the-dell-venue-pro-smartphone-with-windows-phone-7.aspx_
Windows Phone 7 Tethering on the Dell Venue Pro
Begin my making sure that you have your Dell Venue Pro Windows Phone 7 device charged up, and the USB cable to hand. Also check that your carrier offers you a generous amount of data, or else this might end up as a very expensive project.
Next, download the HTC USB Modem drivers. Unzip the contents of this to a folder on your PC, and then in a raw text editor such as Windows Notepad or Notepad++, edit the HtcUsbMdmV64.inf and HtcVComV64.inf files as follows:
In HtcUsbMdmV64.inf edit:
VID_0BB4&PID_0EFF&REV_0000&MI_00
To read:
VID_05c6&PID_3199&MI_00
Meanwhile in HtcVComV64.inf edit
VID_0BB4&PID_0EFF&REV_0000&MI_01
To read
VID_05c6&PID_3199&MI_01
Finish by saving your changes and then close the files. Note that you will need these on any device that you plan to use the Dell Venue Pro with.
You will then be ready to access the secret engineer screen on your Dell Venue Pro, by dialling ##634# and select Composite Mode from the Service Center. Enter *#301# as the password, and the device will restart with tethering enabled. If not, reboot the phone manually.
Getting Ready for the Internet
Although your Dell Venue Pro is now ready to be used as modem, tethered to your PC or laptop, there is still the matter of configuring the device and getting Windows to recognise it as such.
Go to Start > Computer, right-click and select Properties > Device Manager and expand USB. Find VID_0BB4&PID_0EFF&REV_0000&MI_01 and right-click, select Update Driver and use the edited HtcUsbMdmV64 driver. Repeat the process for VID_0BB4&PID_0EFF&REV_0000&MI_00, using the HtcVComV64 driver.
You are now safe to connect your Dell Venue Pro to your PC or laptop.
With the HTC USB Modem now listed in Device Manager, right-click and select Properties > Advanced and add the following:
+cgdcont=1,"ip","APN"
(Note that APN = your carrier's APN – find a list of them at modmyi.com)
Finally, create a new connection in your version of Windows using the HTC USB Modem, using *99# as the dial number, making sure that you have disabled IPV6. You will then be ready to connect!
References
This post is part of the series: Guide to Tethering Windows Phone 7
Find out how to tether your WP7 device so you can enjoy the Internet wherever you may be. This guide to tethering Windows Phone 7 explains the process for each of the different manufacturers of WP7 handsets.