Sync Media with Windows Phone Connector for Mac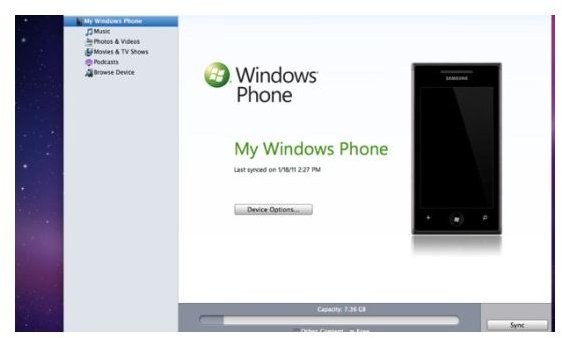 How Do I Sync Media from a Mac to Windows Phone?
Windows Phone 7 users who own PCs have the benefit of the Zune client for syncing and copying data from their Windows PC to their WP7 handset – but what about Mac owners? How do they sync podcasts and photos to their Windows Phone with no compatible copy of Zune?
The answer comes in the shape of the Windows Phone 7 Connector for Mac, a free application available from the Mac App Store which is designed to manage the installation of updates to your Windows Phone as well as sync movies and music!
Possibly the simplest Microsoft app for Mac OS X ever, Windows Phone 7 Connector for Mac will effortlessly sync your data quickly and efficiently.
Installing and Setting up Windows Phone 7 Connector for Mac
The tool for syncing media files from your phone to your Mac is available free from the Mac App Store via this iTunes link.
Intended for Mac OS X 10.6 or later computers, the utility is a meagre 2.7 MB and so shouldn't cause you any problems with downloading and mounting. Once downloaded, double-click the icon to mount it and add it to the Applications directory.
Windows Phone 7 Connector for Mac is extremely easy to use, and will effortlessly allow syncing of your favourite media files between your Apple desktop or notebook and your WP7 handset.
Syncing Data from a Windows Phone to Your Apple Mac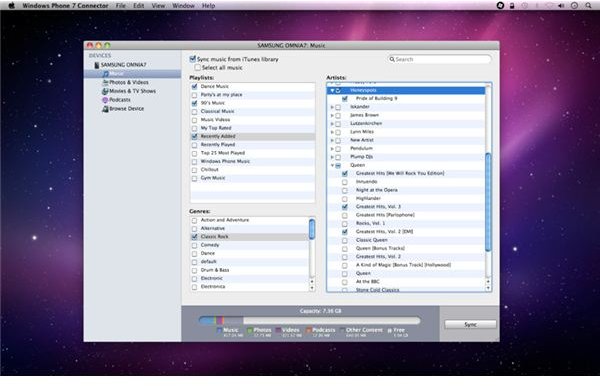 By connecting your Windows Phone 7 handset with a USB cable you will be able to set up a sync relationship with your Mac, and begin syncing video, pictures, music and podcasts.
After installation of Windows Phone 7 Connector for Mac, connect your phone to your Mac via the USB cable; this should launch the sync software (if it doesn't, open it from the Applications folder).
You will see the main Windows Phone 7 Connector for Mac screen, displaying the model of your WP7 handset, the amount of free space and a couple of buttons, Device Options… and Sync.
Via the Device Options… screen you can assign a name for your Windows Phone, as well as specify various sync settings. For instance you can instruct the software to Sync automatically when the device is connected, or automatically Import photos and videos from your phone to your Mac.
Any photos and videos you have recorded on your phone will then be automatically synced whenever you connect your Windows Phone 7.
Sync Music from iTunes to Windows Phone 7
While iTunes is unsuitable for syncing music to anything other than an iPod or iOS device, the Windows Phone 7 Connector for Mac app can be used to sync music from iTunes to your WP7 device.
You can do this via the Music view, accessed in the left-hand pane under your mobile device name. The Music view features an option in the top left corner, Sync music from iTunes library which when activated will allow you to browse your library for genres, artists and playlists that you can sync with Windows Phone 7 by checking the appropriate box. The same method is used for syncing movies, photos and podcasts, and a quick click of the Sync button (available in all views) will prompt Windows Phone 7 Connector for Mac to sync the chosen data to your phone!
So there you have it: an easy to use, lightweight app from Microsoft that allows you to sync data between an Apple Mac and a Windows Phone 7!
References