Using the New Feature on Windows Phone, Copy & Paste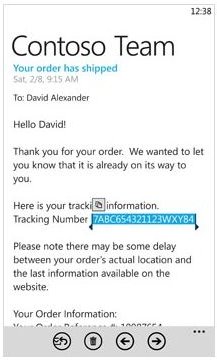 A Key New Feature
Windows Phone 7 early adopters were up in arms when it was announced that the platform would not feature copy and paste, an announcement that was backtracked on by lead developer Joe Belfiore at the Windows Phone 7 device launch in October 2010. Instead of dropping the feature, Microsoft lined it up for inclusion in the first update, scheduled for early 2011.
The NoDo update is now available and brings with it a host of performance improvements alongside the addition of the copy and paste feature.
It came as some surprise that Microsoft should have left the feature out, especially when you consider how easy Windows Phone copy and paste is to use.
Image credit: https://www.windowsteamblog.com
Benefits of Copy and Paste
There are plenty of uses for copy and paste, and the benefits are obvious. While the jury is still out on why Microsoft omitted the feature from the initial release of the platform, their eventual inclusion is seen as the first step down the road of embracing the user community, something that has come as a surprise to many commentators.
With copy and paste present on any device you can quickly and easily move data from one app to another. A key example is copying a postcode from the web browser to Bing Maps, or copying an e-mail address to forward by SMS. There are plenty of uses for copy and paste, and thankfully in Windows Phone it is incredibly easy to use, integrated effortlessly with the already impressive keyboard.
Using Copy and Paste in Windows Phone 7
If you're familiar with the Windows Phone 7 keyboard already, you'll probably know that you can make changes to incorrectly typed words by tapping the word and selecting a correction from the list, or just delete the word and type it again.
Copy and paste works in a similar way. By tapping a word that you wish to copy, the word is highlighted, and two arrows appear at each end of the word. These can be dragged to include the beginning and end of the sentence or text you wish to highlight for copying.
Once you have finished dragging text, tap the small Copy button above the highlighted text. This will then copy the text to the clipboard!
Pasting and Cutting
Pasting your text is a simple task, requiring you to simply find the space or app where you wish to place it, and tap the Paste button above your keyboard to drop the text in. If the app that you are copying from doesn't have or require a keyboard, you will see a menu appears when you tap and hold the item, with the Copy option present.
Although copy and paste is now present in Windows Phone 7, many users are fans of the ability to cut text. This is actually possible as well if the text is being moved or deleted within an e-mail or OneNote or Word. To cut text, select it as above and after copying, tap the backspace button on your Windows Phone keyboard to remove it.
Microsoft have introduced a copy and paste method to Windows Phone 7 that is so easy to use it makes you wonder why they left it out in the first place…
References
Author's own experience.