Get the Windows Phone Update: Mac User Guide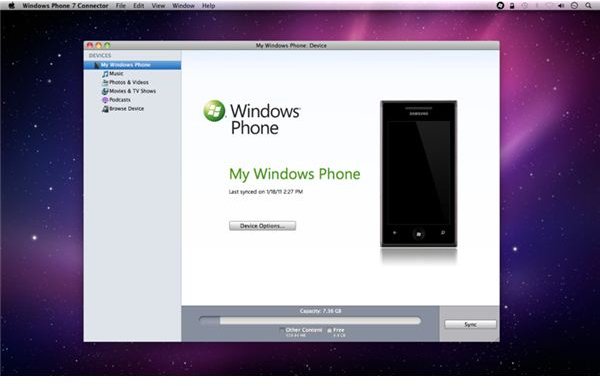 Install Windows Phone Connector for Mac
Syncing and updating a Windows Phone 7 handset is pretty easy if you're using a PC with the Zune client - but what if you don't own a PC?
While options are limited for Linux owners, Apple Mac users have the advantage of the Windows Phone Connector for Mac application, which syncs media and facilitates Windows Phone updates.
Using Windows Phone Connector for Mac to apply an update is extremely easy, allowing you to apply the NoDo update (and any subsequent updates that may be announced) and get the benefit of copy and paste and other enhancements.
Get a Windows Phone Update, Mac Users!
To take advantage of this excellent piece of Microsoft software for your Mac (yes, such a thing does exist!) visit www.microsoft.com/windowsphone/en-gb/apps/mac-connector.aspx to download a copy.
The resulting .DMG file is suitable for Intel Macs running Mac OS X 10.6.6 or later, and as with the Zune client for Windows will require you to connect your Windows Phone to your Mac via the USB cable that shipped with your device.
Windows Phone Connector for Mac has two main purposes. The first is to act as a synchronization application, allowing you to sync movies, music and images between your Mac and your Windows Phone.
The second is to facilitate the download and application of Windows Phone updates. Mac users cannot use the Zune client for this purpose, which is why the connector application was developed.
Applying Updates with Windows Phone Connector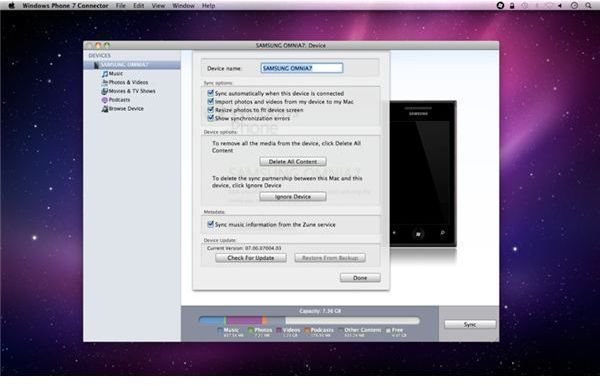 When updates are ready for your Windows Phone 7 handset, you should be notified on the device that this is the case. Head to Settings > Phone Update and check the Notify me when new updates are found and Use my mobile data connection to check for updates boxes to make sure that your phone will notify you. Note that these options will not download the update to your phone – you will need a computer connected to the web for that to be possible.
Updates will display notifications once or twice a day while they are available, and you can choose to ignore these and apply them later if necessary.
If you are able to apply the update straight away, however, connect your Windows Phone to your Mac via the USB cable. Windows Phone Connector should open – if not, open it from the Applications screen.
In the Devices pane on the left, click the device name, and select Install Updates. Alternatively you can open Device Options… and select Check for updates.
(Note that a device name can be set up in Windows Phone 7 Connector for Mac via the Device Options… screen.)
With the update detected and downloading, you must keep your Windows Phone 7 device connected to your Mac. Follow any onscreen instructions that are displayed, and very soon your update will be downloaded, installed and applied!
References