Details of the March 2011 Windows Phone 7 Updates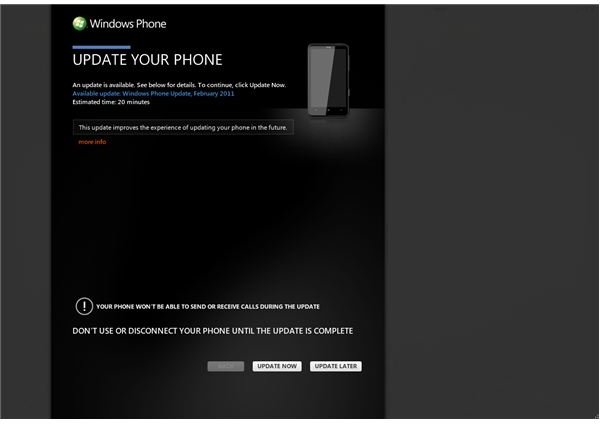 Celebrating the NoDo Update
It's finally here!
The NoDo update for Windows Phone 7 extends the features of the increasingly popular mobile platform and is also intended to resolve a few issues with the initial release, such as revising the Zune Marketplace search and speeding up application launching.
Most notable, of course, are the addition of copy and paste and the fuller integration of Windows Live SkyDrive, enabling the easy syncing of Word, Excel and PowerPoint documents to and from your phone.
This is Windows Phone 7's first major update, and the changes NoDo brings will affect every user for the better!
Note that the pre-NoDo (February 2011) update will need to be installed before NoDo. If you don't have this installed already you should find that Zune will attempt to install both.
Upgrading to NoDo, the March 2011 Windows Phone 7 Update
In order to download the NoDo Windows Phone software update you will need to check that your phone is set to detect updates. This can be done via Start > Settings > Phone update – select the Notify me when new updates are found option. You can check this screen to see if phone updates are available if you suspect that you have missed a notification.
You should also ensure that you have plenty of space on your phone and on your PC. If your phone storage is low (something you will be able to see by opening the Zune client and selecting Phone) then remove some of your music or video files, or even uninstall some apps.
To begin the update, connect your phone to the PC that you have Zune installed on. The software should launch automatically – if not, start it manually.
The Zune software may also need to update, so proceed with this first. Once that has completed, click Update Now to begin updating your Windows Phone 7 handset.
Screenshot by author
What Improvements Does NoDo Bring?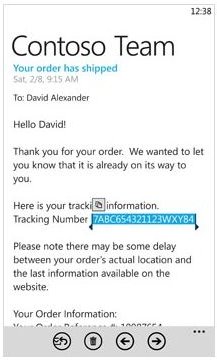 Along with greater stability when launching apps and games, the NoDo update restores some key features to Windows Phone 7 that were left out of the original release.
In addition to the copy and paste feature, the update includes improvements to the device camera software, better handling of email attachments, improved Facebook integration and also changes to networking.
There are also improvements to the Windows Phone Zune Marketplace in terms of performance, a new user interface, and better support for buying apps with a non-USA credit card.
Basically, NoDo is a much bigger update than anyone thought, with additional device-specific updates also thrown in by the manufacturers!
Future improvements will come with the Mango update, currently expected in late 2011.
_Image credit: Windows Phone: What's Next, https://www.microsoft.com/windowsphone/en-us/features/whats-next.aspx_
Where's My Update?
Sadly despite NoDo being available since mid-March there currently seems no sign of universal availability for the update. Random Windows Phone 7 owners around the world seem to have been graced with an update, usually on SIM-unlocked handsets, but devices tied to a particular carrier or network seem to be restricted in when they can get the update – namely when the carrier says so.
There are obvious reasons for this, chief among them the fact that carriers need to check that the updates will work with their software and services.
Initial ignorance of the problem users are having with acquiring the update led to a small PR offensive with the Windows Phone 7 development team chief Joe Belfiore admitting that the current situation wasn't perfect, and the team issuing a regularly updated progress map of where in the world updates were available and where they would likely to be picked up next.
References