Choosing an Alternative Windows Phone Browser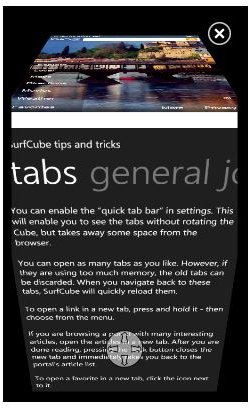 Choosing an Alternative Windows Phone Browser
Most mobile platforms come with a standard, default browser and then other developers come along and release their own web browser which attempts to offer something different.
This hasn't been the case with Windows Phone 7, because it was expected during the platform's development that Microsoft would be restricting browsers to their own specialized version of Internet Explorer Mobile.
However, since the platform was released several new browsers have materialised. While these don't hail from the expected sources (for instance, Opera are yet to release a Windows Phone browser) they offer an interesting alternative to the default browser.
SurfCube Browser
This unusual Windows Phone browser is accurately named – SurfCube allows you to surf the web and presents pages in a cube layout, allowing you to access other pages and controls by rotating the cube, which is done by simply swiping your finger across the edges of the display. Further to this the browser adds easy to use onscreen menu overlays and it features typical browser settings for privacy and the ability to set a custom search provider.
You can download SurfCube browser and try it for free; purchasing the full version will cost £1.99 (UK price).
Metro Web Browser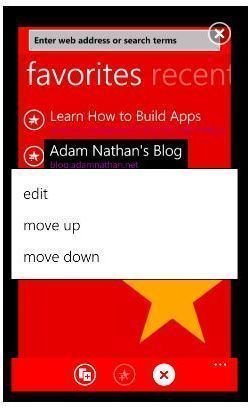 Offering an unlimited number of tabs and full screen desktop browsing, Metro Web Browser attempts to beat the competition into submission with an integrated URL/Search bar, Zune Marketplace search and various configuration and customization options.
In addition to the standard mobile browser tools, Metro Web Browser also offers page sharing via SMS text messaging and Twitter, complete with URL shortening.
A free trial of Metro Web Browser is available from the Zune Marketplace. You also can download the full version for £1.99 (UK price).
Browser Plus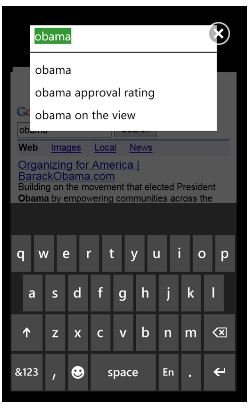 Also with unlimited tabs is Browser Plus, described by one reviewer as "the best browser experience available on the phone". Google and Bing are provided as search options and you can save your most visited websites as favourites.
Privacy options are also available; however, note that Browser Plus is little more than an overlay for Internet Explorer Mobile, using the same rendering engine and adding few additional features.
No trial version is available for this app – however, it is relatively cheap, available at just 79p in the UK.
7 Tab Browser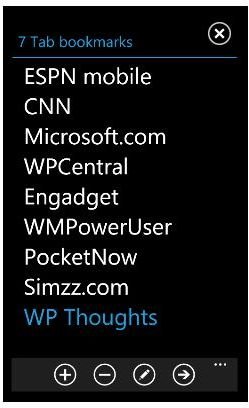 Another candidate to drag your mobile web activity away from the default browser is 7 Tab Browser, whose key selling point appears to be the odd ability to "split-screen" two tabs, allowing you to view two websites at the same time.
This is potentially useful in some cases – for instance when keeping track of text updates for sports games – but many sites offering these services use Flash, something that is yet to come to Windows Phone 7.
Otherwise, 7 Tab Browser's functionality is pretty much what you would expect, although it might also be described as slow compared to the others.
7 Tab Browser is available in two versions, Free (ad-supported) and Pro (79p).
References
Author's own experience.
Other references and screenshots from Zune Marketplace.