Access the Cloud with Windows Phone Dropbox Client KickBox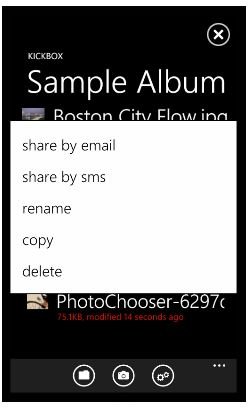 Access the Cloud with Windows Phone 7
More and more cloud solutions are working to make life easy for us, providing online storage solutions for those of us concerned that our photos, documents and other vital data might be accidentally damaged, erased or stolen.
Such an example is Dropbox, a popular cloud storage system that can now be accessed from a Windows Phone with the Kickbox client app.
By being able to access your Dropbox account from your Windows Phone you will be able to view photos and access any documents that are stored remotely, protecting the content from loss or accidental erasure while streaming it to your phone!
Install Dropbox
Before using the Kickbox app, you will need to ensure that you have the Dropbox client installed on your PC and that you have data backed up to it. To do this, head to www.dropbox.com/downloading and follow the download instructions.
Once installed, the Dropbox client will run. If you have an account already, proceed to login, or select the Create a new account option. This will then allow you to select a size for your Dropbox storage. 2 GB is free, while 50 GB is $9.99 a month. For a massive 100 GB you would pay $19.99 a month.
After making your choice, you will see the Choose setup type screen, which displays two options, Typical and Advanced. The first option will proceed to configure your Dropbox automatically, while the second lets you choose an installation location. Once you have completed the setup of the desktop Dropbox client you can begin syncing data to your cloud storage!
Install and Configure Kickbox
With Dropbox installed, you can install and setup Kickbox. To do this, open the Zune Marketplace on your Windows Phone and tap the Search button on your device to search for kickbox. When you find Kickbox: A Dropbox Client, open the listing and tap Buy – note that the app costs £3.49 (UK price), so you might opt to stick with utilising Windows Live SkyDrive as your cloud storage solution.
After installation of the mobile app, you will be ready to link to your Dropbox account. Note that successful access of your data from the cloud means that you should already have synced something from your PC. If you haven't done then use the Dropbox icon in your Windows desktop system tray (the area around the clock) and find some pictures or documents to sync in preparation for using them on your Windows Phone.
Setting Up Windows Phone Dropbox Access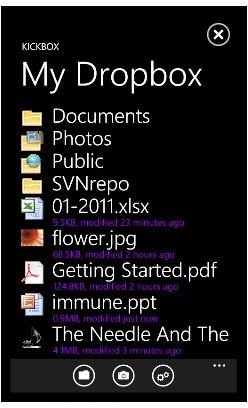 Once the app is installed you will be able to access your Dropbox account from your phone, which is done via Settings > Link Account > Link your account. Just enter the username and password that you used to create your Dropbox account and within a few moments you will be able to browse your online Dropbox cloud storage.
Open documents via the My Dropbox view, making sure that you have suitable apps on your phone for viewing them. For instance you will need Adobe Reader installed in order to open PDF files.
That's all it takes – now you can access your documents and photos, and even share them by SMS and e-mail thanks to the Kickbox app!
References
References and screenshots from KickBox app for Windows Phone 7.