Should I Get a Windows 7 Phone? Nine Convincing Reasons to Buy a Windows Phone 7 Phone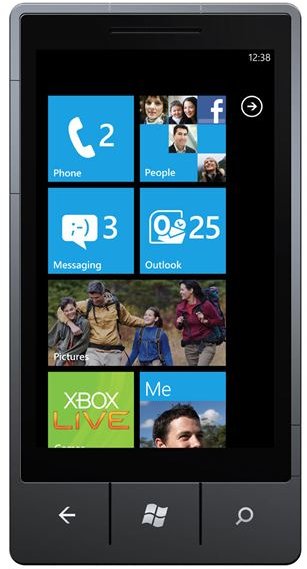 Since its launch in October 2010, Windows Phone 7 has been a popular topic of coverage on many technology sites, and is now one of Microsoft's main focuses alongside Xbox, Kinnect and Microsoft Office.
While the technology press might be happy with devices – and in particular the platform – the most popular phones remain Apple iPhones, Androids and BlackBerry handsets.
So what single reason is there to switch to Microsoft's Windows Phone 7? Why would a new or seasoned mobile user want to decide to buy that particular phone when others with far more users and apps are advertised and displayed on shelves in mobile phone stores around the world?
Well there isn't a single reason – there are dozens, and here are 10 of them.
1. Easy to Use
No one wants a phone that they cannot use – which is one of the reasons that Microsoft began development of Windows Phone 7 after the realisation that Windows Mobile had become archaic. Even propped up by HTC's Touch FLO 3D user interface, Windows Mobile was tricky to adapt to for new users.
Windows Phone 7 is the polar opposite, however. The Metro user interface is a work of art, designed for fingers and thumbs, is fast and responsive, and crucially everything is arranged to allow you to perform common tasks as quickly as possible.
2. Social Media Integration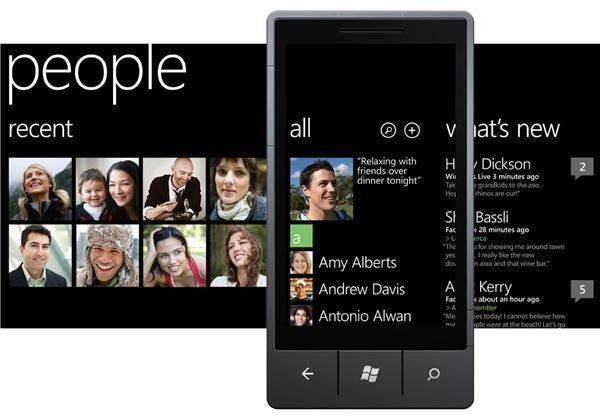 While other platforms have widgets that allow integration between the phone, contacts and a key social networking service (typically Facebook) Windows Phone 7 actually includes this functionality within the operating system, giving you the chance to check your friends' latest online status updates while you browse through the People Hub (the platform's contacts list) looking for a number.
With the Mango update in 2011, meanwhile, Twitter integration will also be added to the platform, while Windows Live is already included.
3. Sales Figures
Windows Phone 7 is becoming an increasingly popular mobile solution for many users – in the UK, at least. Following news that the platform has already surpassed 10,000 apps, it now seems that the Windows Phone platform is the fastest growing in terms of app availability, reaching the magic number in just 4.5 months.
Furthermore, the Apple App Store took 4.7 months to reach the same stage, while Android took 11 months. Embarrassingly for RIM, the BlackBerry App World which launched back in April 2009 has only chalked up 20,000 apps to date…
4. Fast Keyboard
One of the areas where many mobile platforms fall down is text entry speed. While Android devices have recently been given better software keyboards and the iPhone's keyboard pioneered comfortable on-screen text entry, Windows Phone takes things further by providing what is probably the fastest keyboard of them all, offering both quick text entry and fast spell checking and corrections.
5. Office Integration and SkyDrive
Along with Xbox and Kinnect, Office is one of Microsoft's key properties, and naturally Windows Phone 7 offers a version of Microsoft Office Mobile allowing you to type and edit Word documents, Excel spreadsheets and PowerPoint presentations, not to mention OneNote voice and typed notes. You can use your Windows Phone as a mobile office.
All of this is held together with integration with the SkyDrive online storage; the initial Windows Phone release made use only of OneNote/SkyDrive integration, while the NoDo release (due Spring 2011) brings full SkyDrive integration to the platform.
6. Xbox LIVE Integration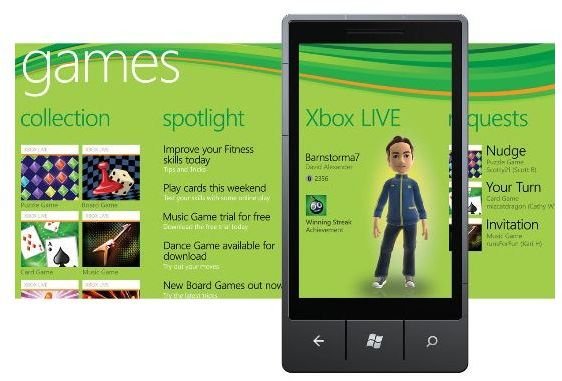 Games are a key element of Windows Phone 7 thanks to integration with Xbox LIVE. What this means is that the games downloaded from the Marketplace that provide integration allow you to improve your Gamerscore by completing achievements and acquiring points.
This is ideal for Xbox 360 owners on the move, but even better still is the fact that if you're a gamer but you aren't interested in having Xbox LIVE integration, this feature can be disabled – and there are plenty of games that you can still play!
7. Developer Take-up
Even pre-launch, Windows Phone 7 was wowing developers who were impressed by the framework that Microsoft had created to make programming for the platform easy. Set to surpass 10,000 apps inside its first 5 months of availability (the Apple iPhone and Android platforms took longer to hit that stage), the quality of the apps available for the platform is a good draw for many buyers.
Amazon Kindle, eBay, Facebook and Twitter all have official apps on the Zune Marketplace, thereby validating it as a serious platform.
8. Zune Client and Multimedia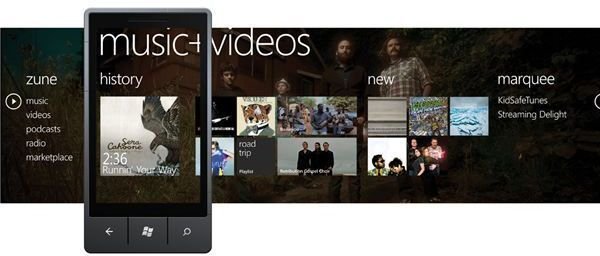 All Windows Phone 7 models are designed with media in mind (they come with a version of the Zune HD player as part of the operating system) and they are more suited to watching video or listening to music than most of the devices on other platforms.
Whatever media type you plan to enjoy – and you might also select to sync photos and podcasts – the Zune desktop client is provided to enable you to manage and synchronize your favourite media content as well as provide access to the Zune Marketplace to purchase video, music and apps.
8. Connectivity Options
Top mobile platforms offer a range of connectivity options, and Windows Phone is equipped with the expected mobile Internet 3G connection (and other same-generation speeds) and Wi-Fi as well as Bluetooth and a USB cable connection to enable media syncing via Zune.
Additionally, CDMA support is arriving in the near future which will enable the phones to be used on mobile networks that use this protocol – something that other platforms have held off from providing for some years.
9. Bing and Voice Search
Last but by no means least, is the integration of Bing with Windows Phone 7. Providing fast search functionality combined with (optional) localization, Bing can help you get out of a tight spot while in transit to an unknown venue, or give you information about a local washing machine repair man.
Combined with voice tools for searching and calling contacts and launching applications, the presence of Bing rounds off a fully-featured mobile device that is easy to use and offers access to Microsoft's strongest products.
References
Sources:
Image credit: Windows Phone Newsroom, https://www.microsoft.com/presspass/presskits/windowsphone/imageGallery.aspx