Windows Phone 7 Internet Explorer Issues Resolved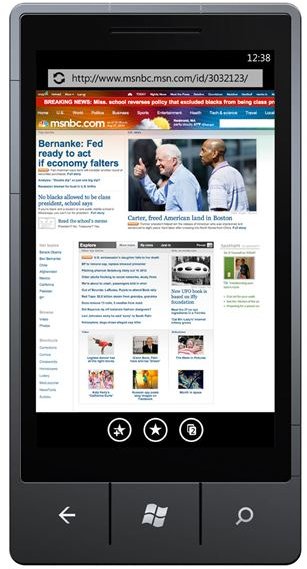 Internet Explorer Issues on Windows Phone 7 Explained
One of the benefits of Windows Phone 7 is a very fast version of Internet Explorer Mobile which allows quick browsing of the majority of websites, as well as fast web search via Bing. These web tools can allow you to enjoy a variety of websites on your phone, viewable in landscape or portrait mode.
Of course when you have a mobile device that will allow you to browse the web on the move, you want to be able to do so reliably. Windows Phone 7 features very easy to use connectivity tools – rarely will you have difficulty connecting to wireless networks, for instance.
However, as with all platforms, nothing is perfect – luckily any problems will be easy to resolve.
Troubleshooting Connection Issues in Windows Phone 7
If you're experiencing connection issues in Windows Phone 7, first identify the type of connection you are trying to use. For instance if your phone is connected to a local Wi-Fi network, you will need to confirm that your passkey is correct. Go to Start > Settings > Wi-Fi and confirm that wireless is switched on – then select the network you want to connect to. Tap the Show password box so that you can see the code as you enter it, looking out for any mistakes, and then tap Done (don't forget to hide the password first).
Your wireless connection should then be established. Continuing problems will need to be addressed by checking the router (if possible) or connecting to another network.
Meanwhile mobile Internet issues can also prevent connection to the web. This is best dealt with by going to Start > Settings > Flight Mode – activate flight mode, wait for a few minutes and then disable it again, entering your SIM card PIN if you have one.
After this, if you launch the browser and try to open a web page you should find that it works without a problem. Otherwise, try a different web page for a very popular site such as Google or Amazon – problems opening these might indicate that your mobile network is experiencing problems.
Windows Phone 7: Internet Explorer Won't Connect
The first thing you should do after confirming that your network settings are all OK is to clear your Internet history. This is easily done via Start > Settings > Applications > Internet Explorer > Delete history.
Unfortunately there are several other reasons why Internet Explorer Mobile will not connect in Windows Phone 7, and these are largely thanks to other apps.
While it isn't possible to specifically outline why this occurs, apps available from the Windows Phone Marketplace are causing conflicts with the phone browser. If you suspect that your Internet connection is working fine (you might be able to get email, for instance) but Internet Explorer Mobile still doesn't connect, then you should take a look through any recent apps that you have installed and try to identify any likely causes for the problem.
For instance a game is unlikely to prevent your browser from working, whereas WP7 Search Centre – which features a browser of its own – might very likely be the cause of the problem. This can be removed in Start > Apps by tapping and holding the icon and selecting Uninstall.
References
Source: author's own experience
Image credit: Windows Phone Newsroom,https://www.microsoft.com/presspass/presskits/windowsphone/imageGallery.aspx