Knowledge on the Move: Windows Phone Wikipedia Search App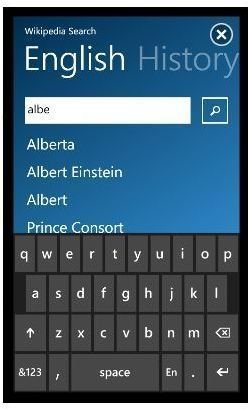 Search Wikipedia on Your Phone!
As humans, we're addicted to facts and figures, whether they be related to sport, TV, gossip, music, movies, weather, history, geography… if it is an item of knowledge, we're interested in it!
This is why encyclopedias have sold so well over the years, and why Wikipedia is one of the web's most popular destinations, detailing facts and figures for almost any subject you can imagine. These details are added by an army of reliable contributors, making Wikipedia a collection of user-submitted information. Most of the details feature citations, and the end product is a free-to-use encyclopedia that is copyright-free.
As a result of this legal position, many mobile apps are available (across all mobile platforms) that tap into Wikipedia and present its contents on your phone. One such example for Windows Phone 7 is Wikipedia Search.
Available from the Marketplace, Wikipedia Search allows users to search the site, set favourites and share pages, as well as providing offline reading and multiple languages.
Using Windows Phone Wikipedia Search App
Once installed (the app is free to try and 79p to buy in the UK) you can launch Wikipedia Search from the Apps list.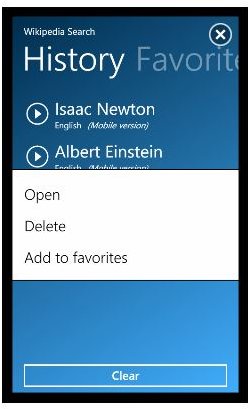 The first thing you will see is a search box – all you need to do to get started is type your search term in here and tap the search button. You will notice as you type that the search box offers suggestions for what you are typing, which is a useful feature.
The resulting Wikipedia entry is styled to allow you to easily read it on your Windows Phone and offers some nice additions.
A menu is available at the foot of the page – this offers the ability to set the current entry as a Favorite as well as displaying the page Contents so that you can jump to a particular section. If you select a link on the page you can head to another Wikipedia page – the Previous and Next buttons help you browse back and forth.
It is also in this menu that you will find – by dragging the three ellipses […] – the Share by e-mail and Share by SMS options. Tapping either of these will allow you to share the page with anyone you choose.
Other Features of the Wikipedia Search App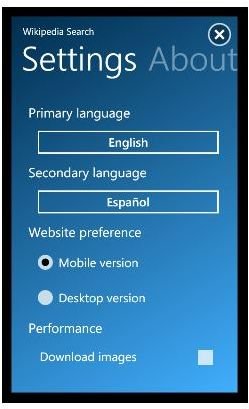 After viewing a Wikipedia entry, tap the Back button on your phone to return to the main app. By panning right you can view your History of viewed entries and any Favorites you might have added; these can both be emptied by hitting Clear.
The Special tab will display the kind of information you would see when visiting Wikipedia on your PC – a Featured article, In the news summary report and a Random Wikipedia entry.
Meanwhile you can also choose a secondary language to view your searches in. On the search screen you will see at the top of the screen that English is selected by default. This can be changed by double-tapping or sliding the word up to select the default alternative, Spanish. Many other languages are available in Settings, where a Primary language and Secondary language can be set form a choice of dozens of international languages and dialects.
A fully functional and useful app, Wikipedia Search offers all of the convenience of Wikipedia in your pocket!
References
All references and images: Wikipedia Search app for Windows Phone 7