Win Auctions on Windows Phone: Ebay App User Guide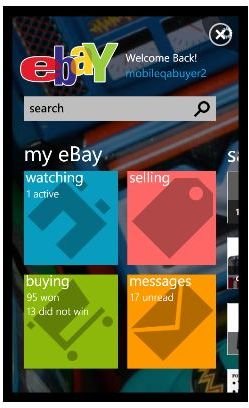 Win Auctions on Your Windows Phone 7!
One of the most popular online shopping experiences known to man is the popular auction website eBay, which is just as well-known as a standard online store, as it is a place to go and find a last-minute bargain.
While not alone in providing an online shopping app for Windows Phone 7, eBay is probably the biggest name and will remain so until Amazon's app is available worldwide (currently you can only use it in North America).
Before getting started, you will of course need an eBay account already set up if you wish to bid, and you can do this by heading over to eBay.com and selecting Register. Once you have done this, visit the Windows Phone Marketplace and search for the eBay app – you'll find it listed in Lifestyle.
Windows Phone eBay App First Use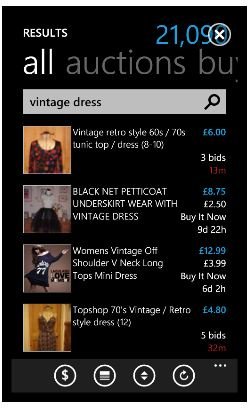 After installation you will need to first Accept the terms of use for the app before deciding whether to activate Notifications for outbidding, best offers or watched items coming to an end, although these options can be set later in the Settings screen.
Once this choice has been made, you can either start searching eBay or tap Sign In. One thing to note, however, is the implementation of the app with the Metro UI. Whereas the various screens on most Windows Phone 7 apps can be viewed by panning left and right anywhere on the display, the eBay app makes this possible only in the lower two-thirds of the screen. The top third will display the eBay logo at all times, so panning left and right can only be done below this area.
My eBay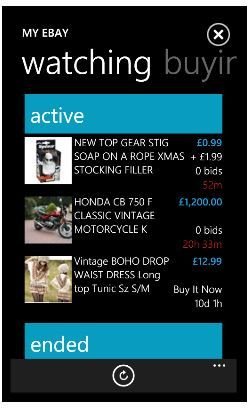 The eBay app focuses around two main areas – Search and My eBay.
While the app offers some good search options, My eBay (found by panning to the right) offers access to items that you are Watching, Selling or Buying; it also displays a list of Messages that might be sent to you by eBay or other users.
For instance, if you click on Watching you will see a list of items that you have previously marked Watch this item, something you might have done in your desktop browser or within this app by clicking Watch in the Item Detail screen (see below).
Meanwhile items that you are Buying and Selling are listed; you can't list items for sale with the app but it will allow you to take a look at what you have in your sales inventory, particularly useful if you're a regular seller.
Searching with eBay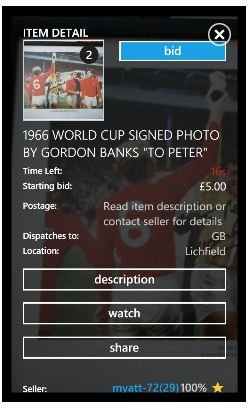 To start shopping with eBay, use the Search box to look for something you're interested in. For instance you might be interested in a desktop caddy or dock for your Windows Phone, so you would search for "windows phone dock".
The search results will display an image, title, price, postage cost, number of bids and a time to the end of the auction; by panning right you can split the search results into items that are Auctions and those that are Buy it now.
Meanwhile by dragging the three ellipses […] to reveal the menu at the foot of the screen you can specify a Price range for your search as well as choose a Category, Save search and Sort and Refresh after making changes.
Buying with eBay
Selecting an item to view in more detail can be done by tapping the photo or title of the listing, where you will see photos of the item (if provided by the seller) as well as options to view a full Description, Watch, or Share with a friend who might be interested.
To purchase an item using the eBay app for Windows Phone 7, use the options next to the image displayed on the Item detail screen for instance for a Buy it now item you would tap the corresponding button. The app will then require you to confirm your choice and commit to buying the item before requesting payment from you.
All of this can be done in a café, while lying in bed or even on a train – you can shop from anywhere with the Windows Phone eBay app!
References
All screenshots and references: eBay app for Windows Phone 7