Viewing an IP Cam Windows Phone 7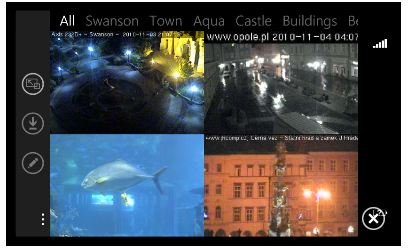 Using IP Cam Apps with Windows Phone
Many of us have security concerns. Whether they are computer-based or physical security concerns, there are various ways of dealing with them thanks to technology.
For instance, one way to protect your home is to install security cameras around the property, although this could be considered an expensive option for some. An alternative is to use webcams, connected to your PC and record footage to hard disk. However, this would only provide you with information of any intrusion after the event…
With a webcam connected to your PC and some basic IP cam software installed, you can use an app on your Windows Phone 7 handset to monitor activity at your property remotely!
Setting Up Your Windows Phone 7 IP Cam
In order to take advantage of an IP cam app to view your home webcam security system, you will first need to set up a web camera on your home PC. Any webcam should be sufficient for this, but you will also require a webcam broadcast application.
A good option is Webcam7 which can be installed on Windows 7 (and Windows XP and Vista PCs under the title WebcamXP) and provide you with a feed from your webcam to the Windows Phone 7 app that you choose.
Once downloaded and installed (find it at www.webcamxp.com), you will need to activate the camera and take note of the URL that is displayed in the lower-right corner – this will be required for setting up your Windows Phone 7 IP camera app.
The next step is to head to the Marketplace and choose an IP camera viewing app.
Choosing an IP Cam App for Windows Phone 7
There are several IP cam apps available for Windows Phone 7. For this tutorial we've used the IP Camera Viewer app which is available free from the Windows Phone Marketplace, although you might try Trendycam or PrivateEye.
Each of these is either free or has a trial version that can be used to view a single camera.
With IP Camera Viewer installed and running on your phone, drag the three ellipses […] and tap Add new camera and then complete the form, with the MJPEG or JPEG URL field completed with the URL displayed in the corner of the Webcam7 application.
Whichever option you try, you should be aware that there are far more expensive tools available that do everything explained in this guide for between $10 and $30 – as such while you might opt for a trouble-free experience with the paid option, the free option is just as effective.
Note also that an additional benefit of all of these IP cam apps for Windows Phone 7 is the ability to view camera footage from various public cams around the world.
References
Screenshots and references from IP Camera Viewer and www.webcam7.com