Guide to Using Your Windows Phone Camera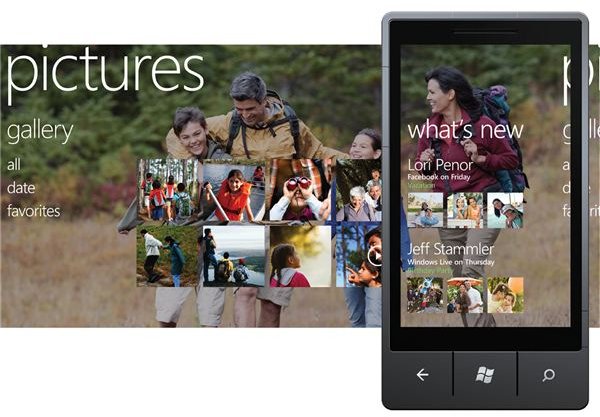 Snapping Photos with Windows Phone
Owners of new Windows Phone 7 handsets have good quality cameras at their disposal, capable of snapping images in a variety of resolutions and zoom levels, as well as video recording capability.
While there are some differences from phone to phone – the platform demands minimum specification rather than a uniform specification – almost all handsets have a good camera. Differences in the quality of lens and camera software are non-existent, although one handset might offer a stronger flash than the next.
Using the Windows Phone camera can be intimidating at first, as with any new camera. The camera includes various features that will remain inactive or hidden unless you go looking for them.
Launching the Windows Phone Camera
You can get started very quickly with your Windows Phone camera by pressing and holding the camera button on the side of the device.
The first thing you will see on your Windows Phone 7 display is a view from the camera lens and a set of tools down the right-hand side. In order, these are:
Switch between still and video camera.
Zoom tool.
Settings.
For basic photography with your Windows Phone camera, line up the shot and press the camera button. The snap will be taken and you will be able to review it by panning your finger across your phone's display from left to right.
Photo Options
While reviewing a photo, you can drag the three ellipses […] on the right to display a list of options. These allow you to add the photo to your Pictures Hub favourites, Delete the image, upload the image to your Windows Live SkyDrive, share…, via e-mail, Facebook, SkyDrive or text messaging, use as wallpaper or access any extra features you might have available thanks to third party apps such as the HTC Photo Enhancer.
The upload tools are phenomenally fast – you will find that you can snap a photo and upload it to Facebook in around 5 seconds on a mobile Internet connection!
Camera Settings
There are various options available for both Windows Phone camera modes. For instance the stills camera mode will allow you to snap pictures in 640x480 all the way up to 5 megapixel, while the video camera can record in 720p.
Both cameras also offer different effects, such as grayscale and negative, sepia and solarize, while the stills camera also offers a range of scene types (sports, beach, candlelit, macro) which are used to control the quality of the snapped image.
For creating better quality recordings, both cameras have a metering mode function, which by default is set to Center, and a flash is available for the stills camera and a lamp for video recording. The strength of this illumination will depend on your device; the HTC HD7 for instance has two strong LEDs, while other devices have just one.
References
Sources: Author's own experience
Image Credit: Windows Phone Newsroom,https://www.microsoft.com/presspass/presskits/windowsphone/