A Guide to Using Audioboo: Windows Phone 7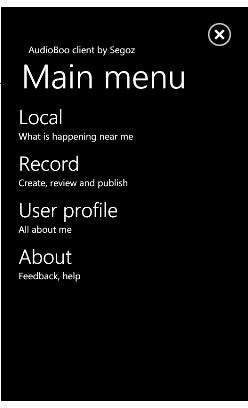 Tweet Audio with Audioboo for Windows Phone
In a world of social networking and statuses, geolocation and providing updates, there is something missing. Twitter and Facebook offer the facility to quickly update your status - and with the help of plugins inform friends and followers as to your current location. But, when something is a little more interesting than could be conveyed in 160 characters, or expressed via your mobile phone keyboard, what do you do?
Well, one thing you can try is Audioboo; an audio social networking tool that can also be used to create a podcast. A new mobile version of the tool has just been released for Windows Phone 7, and is available from the Marketplace.
Getting Started with Audioboo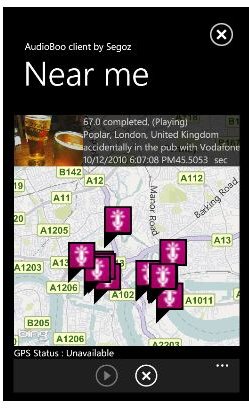 There are two ways in which you can use the Audioboo app. Once launched, you might choose to login to your main Audioboo account or sign-in with Twitter. If you don't have either account, open your browser and visit www.audioboo.fm or twitter.com to sign-up.
If you have a Twitter account already, and are using the official Twitter app for Windows Phone 7, selecting the Sign in with Twitter option, will sign you in with your Twitter credentials.
Once logged into the app, you have several options:
Local – displays nearby Audioboo activity.
Record – allows you to begin recording your Audioboo.
User profile – presents some settings for review.
Upload queue – displays a list of Audioboos waiting for upload.
About – provides a feedback facility to send to the developer.
Recording and Reviewing and Audioboo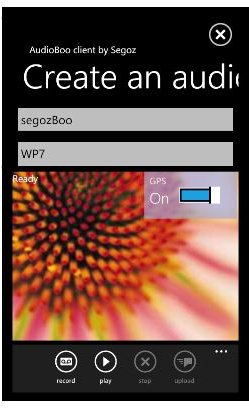 Audioboo was originally used as a means of making audio clips of events that could then be uploaded and shared on Twitter, however the system is now widely used as a mobile podcasting tool. By visiting the Audioboo website you can investigate how to set this up, but we're going to concentrate on using the app to create a recording for you to use later, however you see fit.
Before starting, make sure you are using your local Wi-Fi connection – the Audioboo for Windows phone app seems to require a persistent internet connection which might not be available via your mobile provider.
To create an Audioboo, go to Record and enter a Title, along with some appropriate Keywords. By default, Audioboo will record your GPS location, which will allow people to find your recording using localization tools, but this can be disabled, if you wish.
When you're ready, tap the Record button at the bottom of the screen. Of course, you will need to be certain about what you're going to say, or else you might go wrong – as there is no editing facility, you probably want to avoid mistakes. Once you're done, tap Stop and then review the recording by pressing Play.
Uploading Audioboos with Windows Phone 7
Once you're happy with the recording, tap the Upload button – this will then take you to the Upload Queue. Your recordings will remain listed here until they're uploaded to the Audioboo website.
It shouldn't take too long before your Audioboo is live on the site to listen to, and then you can share it with friends and family!
References
References and screenshots from Audioboo for Windows Phone - www.audioboo.com