Buying Groceries Online with the Windows Phone Tesco App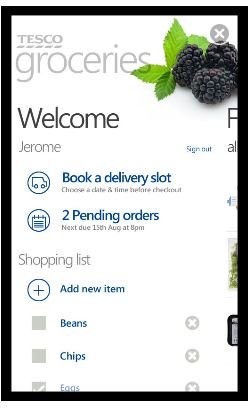 Grocery Shopping on Your Phone
If you're tied up at the gym or work and find that you're too busy to go shopping, there are various supermarket shopping apps available for Windows Phone 7 that could make the whole task much easier by making the supermarket come to you.
One such example is the Tesco Groceries app, which allows UK users to browse their online catalogue of food items and buy what supplies they need, with Tesco providing a direct-to-door delivery service.
Using this app is easy, and it provides a great way to prepare for a dinner party, for sorting out the next day's lunch, or the monthly shop.
Note: While this article focuses on the Tesco Groceries app, similar apps are available for Windows Phone 7 across Europe and North America for regional supermarkets.
Getting Started with the Windows Phone Tesco App
Available free from the Windows Phone Marketplace, the Tesco Groceries app can be found in the Lifestyle category.
Download and install shouldn't take long, and once the app is on your phone it can be launched from the Programs screen where you will find it listed as Groceries.
Upon launch, the app will request you to sign in. You can either use your existing Tesco account details (for instance you might have a loyalty "Clubcard" that you administer online) or create a new account via the Sign up here link.
Once you are signed in you will have access to four main screens:
Welcome - here you can Book a delivery slot before you begin shopping, check any pending orders and use the Shopping List tool.
Favourites - this lists your favourite food and items.
Shop - the main element of the shopping app, providing a Search tool and food split into categories.
Basket - displays the current items that you have in your basket.
Shopping at Tescos with Windows Phone 7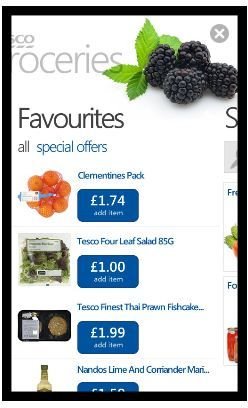 The Windows Phone Tesco app is ideal for forgetting about the whole 2 hour shopping trip that takes up so much of our time. It places the onus on the retailer to deliver your goods. This is a service that many retailers around the world (including Tesco) have been providing for some time via their websites - making this available on your Windows Phone is just another way of shopping, but one that you can spend some time on while laying on the sofa, in the library or even in a meeting or seminar.
To use the app, after selecting a slot for delivery (i.e. choosing a period when you or someone else will be home to receive the items) you should then proceed to the Shop screen. If you wanted to order some croissants, you would tap Bakery, then Croissants & Pastries and then Continental. Here the list of available croissants, brioche and pain au chocolate is listed, and you can either tap the item to see more detail (including nutritional information) or tap the Add Item button.
WIth your items selected, tap the back button on your phone until you reach the main screen of the app and then check the basket to confirm that your choices have been added. Once you have added all of the intended items, click the Proceed to checkout button where you will be required to pay!
References
All references & screenshots: Tesco Groceries app for Windows Phone 7