Using Windows Phone: Live Services Integration

Take Advantage of Windows Live
Windows Live accounts and Windows Phone 7 devices go hand in hand, offering a wide range of services, from e-mail to calendar, online storage and the ability to sync your contacts with your phone, not to mention a means to edit documents created on your phone.
In fact, the integration is so good that you would be forgiven for not realising how all-encompassing it is – with Windows Live you can even track your Windows Phone 7 device if it is lost or stolen.
Windows Live Accounts and Windows Phone 7
Basically, it is very hard to use a Windows Phone 7 handset without taking advantage of a Windows Live account. While you can use a Google e-mail account and take advantage of useful synchronization with the phone's calendar, Windows Live offers this functionality and more.
After setting up a Windows Live account (Settings > Email & accounts > Add an account > Windows Live) you will find that a variety of additional functionality is introduced, although you might also need to check various services that you use to ensure they are linked, such as Windows Live, Hotmail, Zune, Xbox LIVE, etc.
Windows Phone 7 and Windows Live – Hubs
One key element of Windows Phone and Windows Live integration is with the various Hubs on your phone.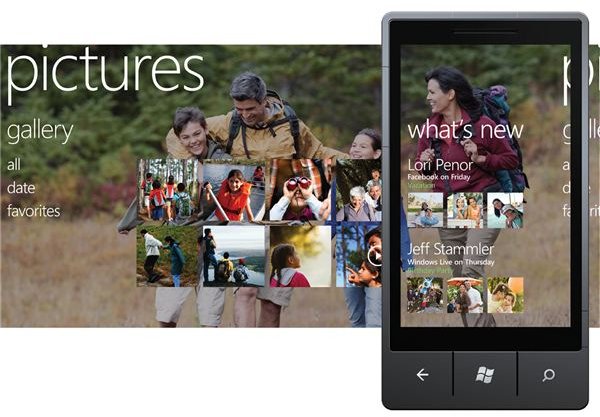 For instance the Pictures Hub can be used to automatically backup photos so your Windows Live account can also be used as your default social network for uploading selected images to share with friends.
Meanwhile the People Hub is effectively an index of your Windows Live contacts, with profile images, phone numbers, e-mail addresses and some integration with the Windows Live social network, an extension of Messenger.
In addition optional Xbox LIVE integration can be set up in the Games Hub using a Windows Live account linked to an Xbox LIVE login, while the Office Hub also provides Windows Live integration for anyone wishing to sync their documents with Windows Live SkyDrive online storage.
Finally, the Windows Phone 7 Marketplace requires a Windows Live account to be set up on your phone, with a connected credit card used to make purchases.
Windows Phone 7 Security – Find My Phone
Meanwhile thanks to the useful Find My Phone tool at windowsphone.live.com, you can take advantage of GPS and cellular triangulation to track down a lost or stolen Windows Phone 7 handset.
All you need to do to access this service is login to the link above with your Windows Live account and use the Map It, Ring It, Lock It and Erase It tools as required – for instance, a special ringtone will be used with the Ring It option, allowing you to find the device even if it was set to silent or vibrate. Similarly, you can lock the phone to prevent anyone else using it, with a "please return" note on the screen.
See our full guide to steps on using Find My Phone for further information.
References
Sources: Author experience
Images: Windows Phone Newsroom www.microsoft.com/presspass/presskits/windowsphone/