Using VoIP for Windows Phone - GTalk and Voxofon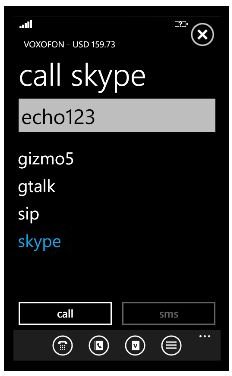 Save Money on International Calls with Windows Phone 7
Various mobile apps are available for Windows Phone 7 that allow the calling of overseas numbers using the phone's data connection rather than the standard cellular connection.
More and more of these apps are coming to Windows Phone 7, mainly taking advantage of Google Voice in order to provide a low-cost means of calling international numbers. While there might be one or two familiar names, there is plenty of room for expansion, with one major name in domestic VoIP (Voice over Internet Protocol) yet to issue an app.
No Skype for Windows Phone?
Curiously despite the platform shipping 2 million handsets since launch, there is no sign of a Skype app for Windows Phone 7.
The reason for this seems to be related to the level of access to the system hardware that Windows Phone 7 – and Microsoft – will allow developers. In order to support Skype, a Windows Phone 7 phone has to provide access to certain ports, something that requires the increased access described above.
A previous Skype app for Windows Mobile 6.x was pulled/cancelled despite appearing to be pretty stable (although it is still available to download) and no less problematic than those seen on other platforms, something that has led to suspicions of a conflict between Skype and Microsoft.
Indeed, the following apps only appear to offer VoIP for Windows Phone – in actual fact they use a similar technology that isn't strictly voice over IP.
Save Money with VoIP for Windows Phone Apps
Several Windows Phone 7 apps are available that take advantage of non**-**standard means of making phonecalls, such as routing calls via their own VoIP solutions.
**
Voxofon
Available free from the Windows Phone 7 Marketplace, Voxofon offers cheap international calls with good call quality, allowing you to contact Skype, SIP and GTalk users for free using your standard mobile data connection.
As such a generous network plan is recommended, although you might also use Voxofon over a wireless connection.
Although Skype is one of the networks that you can call with Voxofon, it sadly isn't free, although on the plus side new users to this app will get free call credit.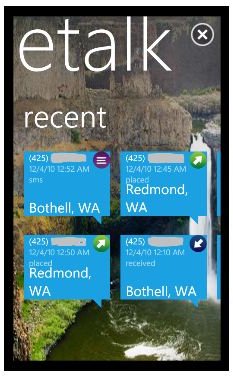 FreeTalk
An alternative is FreeTalk, an app that takes advantage of Google Voice to offer free SMS, visual voicemail and phonecalls as well as including a translation service.
Initial reception of this app hasn't been great but it does seem to be an attractive alternative to Voxofon, offering its own set of features (including using the daily Bing background). FreeTalk is also available free, which is another feather in its cap, and can be downloaded via Zune or the Marketplace app on your phone. Note, however, that it requires a Google account.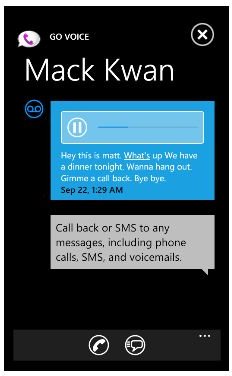 GoVoice
Finally, GoVoice is another app that takes advantage of Google Voice, however, there is a slight difference here – calls are placed via the cellular connection rather than the data connection, which might prove a bit of a turn off for some.
Featuring a typical Windows Phone UI and offering Google Voice SMS and voice texts, GoVoice is available as a free trial or can be purchased for £2.49 (UK price), and is available exclusively via the Windows Phone Marketplace via your phone or Zune client.
References
Image source: Windows Phone Marketplace