Mobile Blogging with the Windows Phone 7 Tumblr App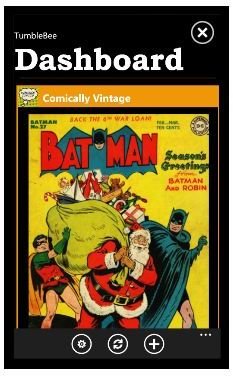 Can I Blog on Windows Phone?
Mobile blogging is an increasingly popular activity, with apps available on almost all mobile platforms that enable bloggers to leave the confines of their PC or laptop behind and head for the hills – or at least a new town.
A new environment can inject a blogger with a new sense of passion or excitement for their writing, something that would be wasted without the right mobile app. While there are mobile blogging apps for Windows Phone 7 that are designed to be used with WordPress and other blog software, the TumbleBee app is one of two Windows Phone 7 apps to be made available for the Tumblr blog platform (the other being an official Tumblr app).
Download and Sign-in
Available from the Windows Phone 7 Marketplace, TumbleBee is recommended as the mobile Tumblr blog app of choice, simply due to its superior performance and lack of bugs (the official app might well be improved with updates at some point in the future).
To download to your phone, browse the Marketplace on your phone or via the Zune client and search for "tumblebee", then follow the onscreen instructions. TumbleBee can be installed as a trial app with limited functionality, or purchased for a low price (£0.99 in the UK).
Once installed, browse through the Programs screen to find TumbleBee and tap to launch the app. The first thing you will see is the settings page – enter your Tumblr blog account username and password and click Save settings. If you don't already have a Tumblr blog, visit www.tumblr.com to sign up.
Blogging with the Windows Phone 7 Tumblr App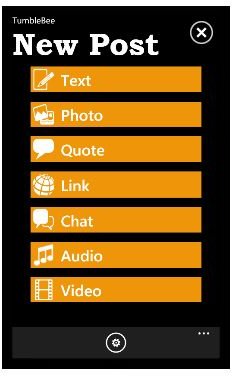 Tumblr is often described as a cross between blogging and microblogging, and as such offers the ability to make blog posts, upload photos, audio or video, highlight quotes, add a link or even start a conversation.
All of these tools are available in the app and can be reached via the Dashboard which itself can be opened from the Settings (login) screen by the unusual step of pressing the back button on your phone.
To add a standard text blog, tap the + symbol to open the New Post screen; here, tap Text and enter the Title and Body Text before going on to express yourself, update your readers, etc. When you have added everything you want to say, tap Post to upload the blog to your Tumblr account.
Posting Photos and Other Media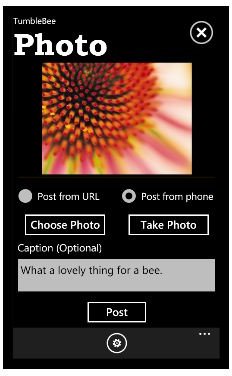 As with the desktop browser version of Tumblr, you can upload images and other media to your blog. The process for doing this is pretty uniform for all types of media, so we'll focus on the one you're probably most likely to use, uploading a photo.
On the New Post screen, tap Photo – here you have a simple choice of Post from URL or Post from Phone.
Until the first Windows Phone 7 update is released, the first option of Post from URL will be difficult to achieve without copy and paste unless you know the URL. If Post from Phone is selected, however, you will have the choice of Choose Photo and Take Photo, where the former displays a list of all images you have snapped and synced with your phone, while the latter will open your camera for you to instantly snap and add an image.
All that is left to do is to add a caption or some thoughts and tap Post, and the image (or media) will be uploaded to Tumblr!
References
Screenshots and references via Zune Marketplace entry for TumbleBee.