Using Apps by HTC: Windows Phone 7

Manufacturer Apps for Windows Phone 7
One of the concessions Microsoft made in the design of its minimum-spec Windows Phone 7 platform was that individual device manufacturers would have the opportunity to supply their own apps through a mini Marketplace on the handsets.
This basically means that on a Samsung phone you will find Samsung-only apps, on an LG phone there will be LG-only apps, etc.
HTC Windows Phone 7 apps include a nice selection of utilities, such as an improved YouTube app which puts the official version to shame, and tools for adjusting sound quality and photos.
HTC Windows Phone Apps
Available via the Marketplace on the HTC HD7, HTC Surround, HTC 7 Mozart, HTC 7 Pro, and HTC 7 Trophy handsets, the HTC Apps sit in their own sub category, alongside Applications, Games and Music.
Thirteen apps are available in total, ranging from the whimsical to the extremely useful.
The HTC Hub is essentially a weather app that also features a Sense UI style interface, which, while attractive, seems somewhat alien to Windows Phone 7. Meanwhile Love is an amusement, allowing you to pluck the petals from a flower in true romantic manner.
HTC's exclusive apps really take off with YouTube, a superbly executed app that plays back content within the app rather than booting you out to the browser (as per the official app) and lets you view in landscape mode. Sound Enhancer affords various enhancements to audio playback and features a preset equalizer, vital for getting the most out of multimedia, while Photo Enhancer performs a similar task with your camera snaps.
Connection Setup is intended to allow HTC phones to be used anywhere in the world, while Attentive Phone can be used to add some interesting new responses from your device when a call is received, such as increasing volume on the ringtone when the phone is in your pocket.
Finally among the HTC apps are a Stocks tracker, a Notes app, a unit Converter, a typical Calculator app and a useful Flashlight.
Benefits of Manufacturer Apps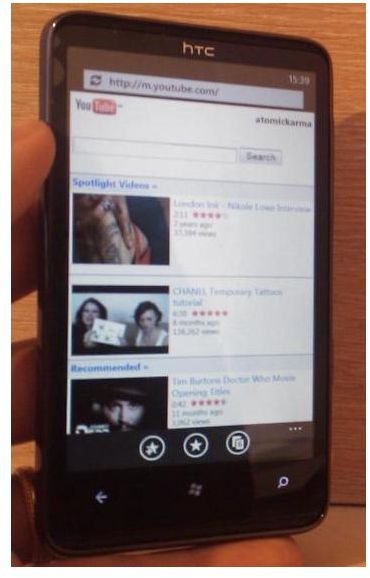 While some might bemoan the presence of apps produced by the device manufacturer, WP7 presents these as optional extras – they don't come pre-installed, and are available only via the HTC Apps link.
Additionally, these apps are available free of charge. Comparable apps are currently available via the Zune Marketplace which range from 79p to £10 in the UK, so there is an obvious benefit in taking advantage of HTC's generosity to its customers.
Arguably there is a case for such apps to be made universally available for all Windows Phone devices, particularly the YouTube app. Hopefully this won't be necessary; users have been sold short with the substandard pre-installed YouTube app which is in dire need of an update to bring it to the standard expected of WP7 apps.
Ultimately, these HTC apps showcase just what a versatile platform Windows Phone 7 is.
References
Author's own experience.
Images by author.