Improve Presentations with a WP7 PowerPoint Remote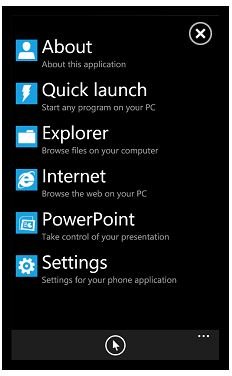 PowerPoint and Windows Phone 7
PowerPoint is one of the world's most used applications, it is intended to allow effective and stunning presentations to be designed, edited and displayed to an audience around a desk, in a meeting room or in an exhibition centre.
With a range of functions and support for different media, it can create a very impressive image – something that can be quickly lost when the speaker stoops down to tap the left mouse button to progress to the next slide.
Perhaps a useful mobile app on a Windows Phone 7 handset could be used to remote control the presentation…?
Available for just 79p on the Windows Phone Marketplace, Win+Ctrl+7 can also be used as a general PC remote control.
Setting Up the WP7 PowerPoint Remote
The first thing you will need to do to set up your WP7 PowerPoint remote is to download the app from the Windows Phone 7 Marketplace, either via your phone or the Zune client on your PC.
Following installation of the app, on the computer that you will be running your PowerPoint app on, browse to winctrl7.com/Download to download the desktop client for the app. This is only 1.5 MB so shouldn't take long to download or install. Note, however, that it will install Microsoft Visual Studio 2010 Tools.
Once you have done this, you will need to find the IP address for your computer. Do this by pressing WINDOWS+R to open the run dialog and enter cmd to open a command prompt. At the prompt enter:
ipconfig
With a list of IP addresses listed, find the one that corresponds with your wireless network, and make a note of it.
Returning to your phone, activate your wireless network (via the Settings menu) and input the Computer IP Address, then click Test connection!. When the connection is established, click Save – the Win+Ctrl+7 app will then display an alphanumeric security confirmation code on both devices for you to confirm.
With this done, you're ready to use Win+Ctrl+7 to control a PowerPoint presentation!
Launching Your Presentation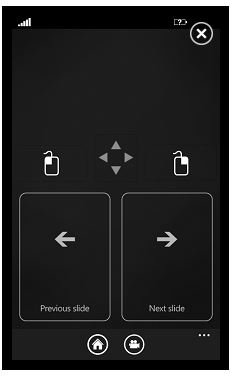 With Win+Ctrl+7 you can launch a presentation via the Home screen, where you will see PowerPoint listed. Tap this to proceed – if PowerPoint isn't already open, use the Show recent presentations button to list available documents and open it from there, or launch the presentation manually.
Now that the presentation is running, you can use the Full Screen button to begin displaying it, the Back and Next buttons to cycle through the slides, and the WinMouse button to switch to a slightly more user-friendly collection of buttons as well as a small mouse pad, if necessary.
Using Win+Ctrl+7 can give you a much more professional appearance when giving a PowerPoint presentation, although be aware that the app uses Wi-Fi to operate so make sure you have good reception on both your PC and your Windows Phone. Also, you may wish to put your phone into Flight mode (see the Settings menu) in order to avoid receiving calls while the app is in use!