What is the Best Password Manager for Windows Mobile?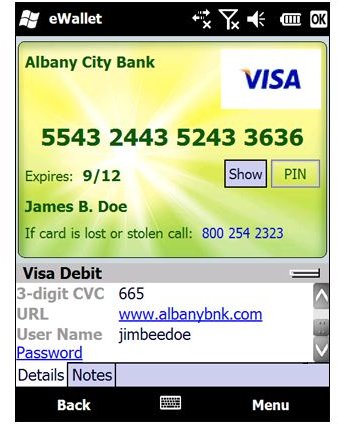 Windows Mobile Password Storage
Wandering around with passwords written down on a piece of paper isn't a great idea, just as engraving PIN codes into the back of your watch might see your watch and cards stolen at the same time.
Many people have more and more passwords to remember these days – so why not take advantage of a secure password vault on your mobile that will allow you to store and retrieve passwords for all sorts of different accounts, getting rid of the need to remember many passwords.
There are various suitable password manager apps available for the WinMo platform, some free and some available for a small charge.
EWallet Password Manager for Windows Mobile
Passwords, credit card details and more can be stored in the EWallet password manager, a great utility that not only stores your sensitive account details securely, it also allows you to apply graphics and logos to virtual cards so that you can quickly identify the card you want to use.
All of this is protected with 256-bit AES encryption and the app is protected with a master password that will auto-lock after a certain number of failed attempts.
You can get your copy of EWallet from the Windows Phone Marketplace, which you will find pre-installed on Windows Mobile 6.5 devices (it can also be installed on Windows Mobile 6.1 handsets). For more information on EWallet, visit marketplace.windowsphone.com.
EazyWallet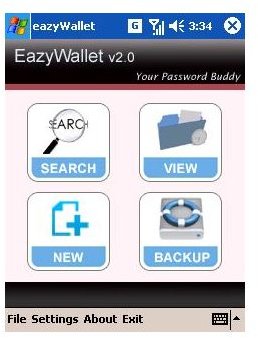 One good freeware alternative to EWallet is EazyWallet. While it doesn't include the ability to design virtual credit cards it does utilise 3DES encryption to keep your passwords safe, with a master password required to access the app.
A text search feature is also available, and EazyWallet also allows an unlimited number of categories to be created for easy browsing of your saved passwords.
If you need to add a new account but don't have a password for it yet, you can also use EazyWallet to create one, and you can keep your passwords backed up on your PC. This app is available free from www.freewarepocketpc.net.
slimPASSWORDS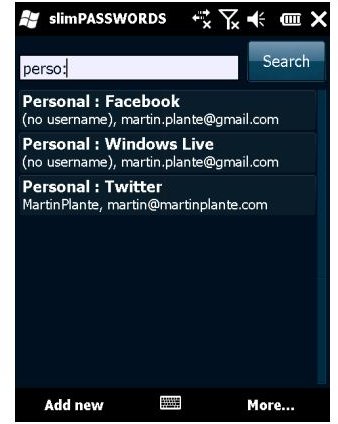 Employing strong AES 256-bit encryption, slimPASSWORDS for WM 5 and later employs a list-based user interface for storing email accounts or website URLs with their associated passwords. While offering more basic functionality than EazyWallet or EWallet, slimPASSWORDS makes up for this by allowing you to tap secure URLs to launch them in your Windows Mobile browser and automatically login.
This app can be downloaded from www.slimcode.com – note that it also requires Microsoft .NET Compact Framework 3.5
KeePass PPC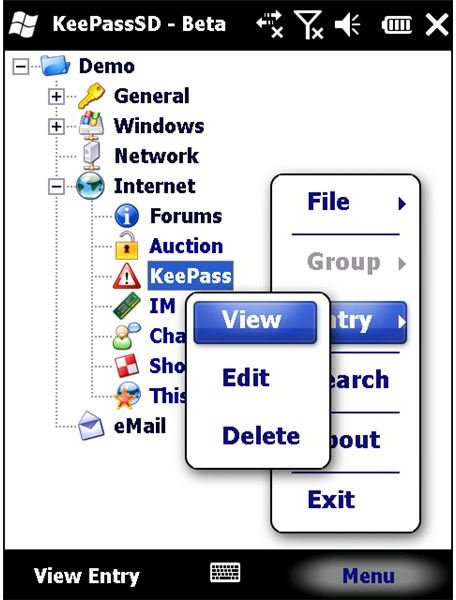 Finally, KeePass PPC is an extremely popular choice for WinMo users from 2003 SE to the various Windows Mobile 6.x releases. This password manager provides a single master password or key file with AES and TwoFish encryption to allow access to passwords and user account details that you have stored in the app.
KeePass PPC is a mobile version of the full Windows utility, a popular desktop password manager.
KeePass PPC is free and can be downloaded from keepass.info.
Which One Will You Choose?
As you can see, the options for password vault applications on this platform are considerable. While some are paid and some are free, the best thing that you can do is check the reputation of each app and make an informed decision based on this and the WinMo version that you are using.
Whichever you use, however, remember to remove the app and its vault (the database) from your phone if you sell it!
References