Top Windows Phone 7 (WP7) IM/Instant Messaging Apps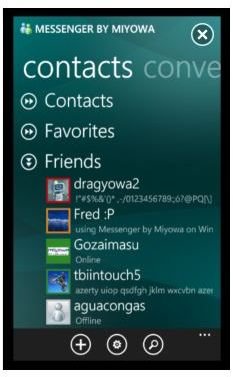 Free WP7 Instant Messaging (IM) Apps
Windows Phone 7 users might be forgiven for thinking that there are no suitable messaging apps for the platform – after all, Microsoft themselves seem to have shied away from providing a Windows Live Messenger app!
However, as time goes on – and there are now over 5,500 apps on Windows Phone 7 via the Marketplace – the likelihood increases of a suitable app being developed. This is exactly what happened with instant messaging (IM) apps, with dedicated apps now available for Windows Live, Yahoo and Facebook IM.
Sadly there is no unified Windows Phone 7 app that handles a variety of IM networks at present, but this is surely something that can be expected to be developed and released over the coming months.
Messenger (Windows Live)
Taking a bit of time to be released and then developed into a usable state, the Windows Live Messenger app for Windows Phone 7 is available free from the Marketplace and is a great way to stay in touch with Windows Live contacts. Note, however, that some users have experienced difficulty, so check the Marketplace reviews for anything relating to your device. For the purposes of this review, Messenger for Windows Live has been tested on an HTC HD7 over 3G and Wi-Fi, without any problems.
This is possible via a standard index of your contacts; the app also displays avatars and statuses, but do keep in mind that this app is limited to text chat.
Messenger's user interface is a blend of the Windows Phone 7 Metro UI and the old Windows Live desktop app, making it a real mobile WP7 IM app.
Messenger (Yahoo!)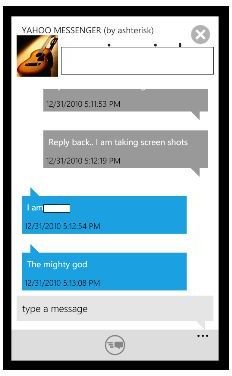 Again limited to text chat rather than taking advantage of the voice or video chat capabilities of the host network, the Yahoo! Messenger IM app for WP7 devices displays chat in a threaded conversation view and stays running when your device is locked.
The contact list can be refreshed as well as used to start a conversation and there is also an option to send feedback about the app to the developer.
Naturally a Yahoo! account is required for using this particular messenger app, and you can download it free from the Windows Phone 7 Marketplace.
FIM Windows Phone 7 IM for Facebook Contacts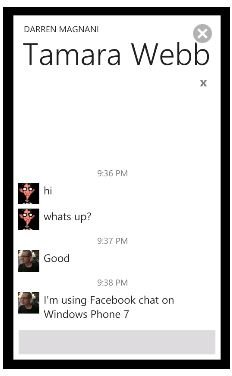 Arguably the largest chat network in the world now is Facebook chat, available via any desktop browser that is currently logged into the popular social network site. With little to lose in terms of features (Facebook doesn't offer voice or video chat) this free app (available from the Windows Phone 7 Marketplace) presents all of your currently signed in contacts in a list and lets you start text chat conversations with them.
Thanks to this stripped-down attitude to chat, the Facebook IM for WP7 doesn't really lose anything, making this a pleasurable and usable mobile chat app to have on your phone.
Other Facebook features are of course available via the Windows Phone 7 Facebook app.