How to Use the Windows Phone 7 Zune Player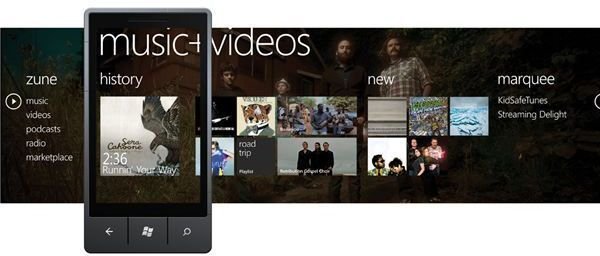 Built-in Zune HD
One of the most excellent aspects of Windows Phone 7 is the inclusion of Zune software. Like the iPhone and the iPod, Windows Phone 7 handsets effectively have a Zune HD media player built into the operating system so that you can get the most out of your MP3 collection and download and enjoy music on your phone.
Like a Zune HD media player – a similarity that extends to various elements of the user interface – Windows Phone 7 also allows you to watch video content on your phone, either synced to your device from your PC or downloaded from the Marketplace.
Listen to Music on the Windows Phone 7 Zune Player
Certain Windows Phone 7 handsets are more suited to playing music, such as the HTC Surround and the HD7, but all of them are equipped with the excellent Zune software to enable synchronisation with music files on your PC and access to the Zune Marketplace to allow you to download and enjoy albums and tracks.
When you sync your phone with the desktop Zune client you can begin dragging MP3 tracks to your device, and with a credit card added to your Windows Live account, purchases can be made either on your Windows Phone 7 or via the desktop client.
With MP3s on your phone, you can listen to them via the Music & Videos hub on the Start screen. In the Zune player you have a choice of Music, Videos, Podcasts, Radio and Marketplace. To listen to Music, tap the link and browse Artists, Albums and Songs – to listen to them, just tap the play button!
View Videos on Windows Phone 7
You can also sync video clips to your Windows Phone 7 device, and these can be accessed in the Music & Videos hub. Video clips can be synced from your Windows PC and are sorted as Television, Music, Films and Personal, depending on how the clips were tagged on your PC.
Playing a video clip will require you to switch your phone around to landscape mode; some handsets such as the HTC Surround and HTC HD7 have a kick stand to enable the viewing of videos in this way. The play button is displayed along with the search buttons to enable you to browse through the clip if necessary.
Enjoy Podcasts with Windows Phone 7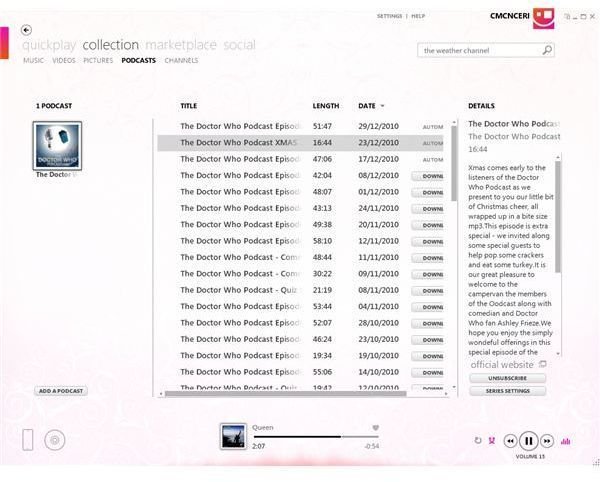 Along with music and video clips, Zune player also provides support for enjoying podcasts. This is again something that requires the Zune desktop client to be installed on your PC.
When installed, the client will detect your default music and video directories, and in the Collection > Podcasts tab you can add URLs for your favourite podcasts so that they can be automatically downloaded to your PC and synced with your phone when you connect.
With a podcast subscribed to, use the Zune desktop client's Series Settings button to decide how the file will be synced to your phone – this allows you to set a limit on the number of episodes that are synced, which order they should be played back in and which episodes should be synced.