Using Windows Phone 7 & Bing Maps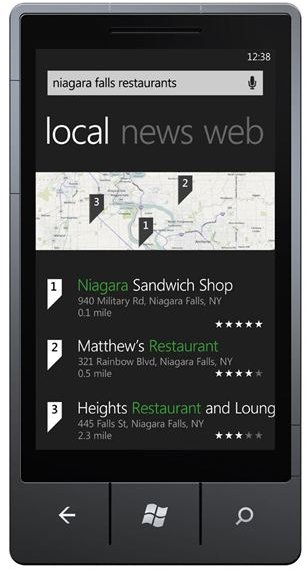 Maps for Windows Phone 7
The popularity of Google Search and Google Maps has seen their use increase thanks to integration on the Android platform, and the same is true of Windows Phone 7.
Along with Search, one of the key on-board applications in Windows Phone 7 is Maps, an interface to Microsoft's Google-challenging Bing Maps that provides users with a selection of options for finding directions and also with some added integration with Bing search, tracking down useful locations and items of interest in the immediate area.
As a result, Bing Maps is a vital addition to the Windows Phone 7 platform that can turn basic satellite map images into a far more powerful resource.
Getting Started with Windows Phone 7 Bing Maps
To get the most out of Bing Maps, you need to have your phone correctly configured, which means activating the Location services. This relies on Assisted GPS (also known as A-GPS) a system for ensuring that the subject's position is correctly detected by utilising data from multiple satellites and triangulation from cellphone towers.
With Location services active, Bing Maps can then correctly determine your location and therefore feed relevant data to your handset.
Activate Location services in Start > Settings > Location. You might also wish to read the Privacy Statement that explains how the collected information is used.
Using Bing Maps on Windows Phone 7
Launching Bing Maps is easy – simply swipe left or right from the Start screen or tap the arrow to get to the Programs list. Here, scroll down until you find Maps. You can create a start screen tile for the Maps application by tap and holding the button on the Programs screen and selecting Pin to Start.
Note that this isn't a Live Tile and therefore will not send any regularly updated information to your Windows Phone start screen.
Maps offers three main controls – Directions, Me and Search, each available from the menu at the foot of the screen (see below for details on other functions in the menu).
Directions will allow you to calculate a route between two locations, with Start defaulting to your GPS location, so all you need to do is enter a town or address for the program to calculate a route, which can be toggled for journeys by car or foot.
Tapping the Me button will centre the map on your current location, while Search will allow you to enter an address or business name which will then be displayed on a map!
Further Menu Options
By dragging the ellipses (…) you can access further menu options. The first of these, Clear map, is best used after performing a search and removes all of the recently displayed location flags and routes.
Aerial view on/off toggles between a map view and a satellite photo; the satellite photographs often seem to be out of date on services like Bing and Google Maps so you might opt to stick to the standard illustrated map.
If you have performed a route search with the Directions tool, in the ellipses menu you will see the Route details option which will display all of the roads and junctions you need to take to your destination. Finally, Settings will allow you to Delete history of your previous map searches as well as switch off location services for the Maps app, while leaving it activated for other apps.
(Screen captures by author)