Roundup of Windows Phone 7 Weather Apps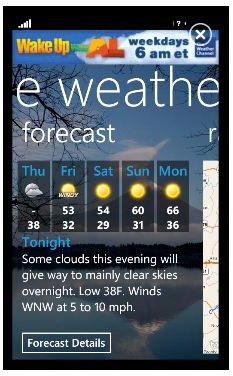 Keep Track of the Weather with Windows Phone 7
You can never second guess the weather: it might be sunny one day and snowing the next or you might be caught in a hailstorm the same day you spent three hours on the beach.
With this in mind a good selection of Windows Phone 7 apps is available for checking up on the weather, taking advantage of your device's GPS and mobile internet connection to determine your location and the current and expected weather.
Such apps are available on the Windows Phone 7 Zune Marketplace for many countries and territories in Europe and North America; some are free while others are premium apps.
The Weather Channel
Probably the first stop for anyone looking for a weather app for a Windows Phone 7 handset, the Weather Channel app will display weather in Fahrenheit and Celsius as well as display the current temperature and weather activity, humidity, sunrise and sunset times and even the windspeed. A quick forecast screen is available, as is a radar map, although this doesn't display anything of any value until you view the map separately to see the overlay on Bing maps.
Better still is the fact that The Weather Channel app uses a "Live" tile, displaying weather updates on your Windows Phone 7 Start screen!
This app is available for free (ad supported) and can be used in the UK and Europe.
Your Weather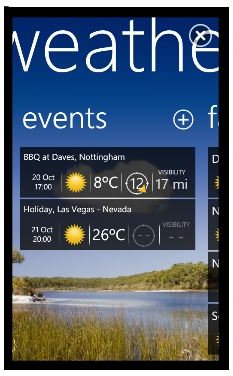 Featuring weather for the UK only and based on Met Office data that offers 5,000 locations around the British Isles, Your Weather can be downloaded for just 79p.
Using GPS to detect your location, Your Weather is so-called because of the options to personalize the information it displays. As well as receiving localised weather status and forecast information, Your Weather allows you to program in dates for special events which it will then provide forecast data for. You can also add weather information for around 4,000 locations overseas.
Weatherframe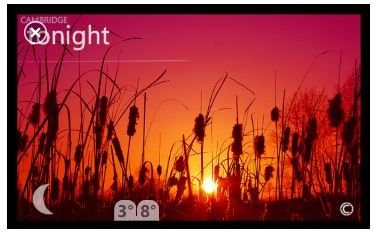 A little different to some of the other weather apps, Weatherframe mixes displaying the current weather with a selection of interesting images inspired by the weather!
This free application will display beautiful images of the snow if snow is forecast for the following day, with minimal space used to display the expected temperature range. Locations for the weather can be added, but on the whole this app is about looking good and relating relevant information quickly and attractively.
Weather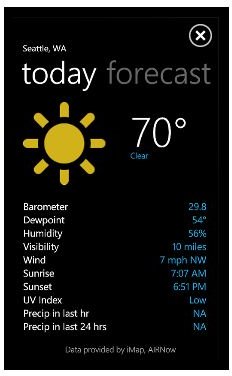 Making use of your location (as acquired via GPS), this simply-titled Weather app will display summary information of temperature and weather type for your own and other locations as well as a fully detailed list of information such as wind, temperature, air pressure, humidity, recent precipitation and much more.
A ten day forecast is also available with this app which is available from the Marketplace for free.
Fresh Weather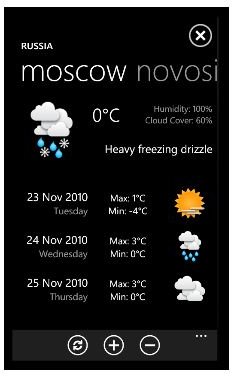 Available for 79p in the UK, Fresh Weather makes good use of the Windows Phone 7 Metro user interface to deliver clear and informative weather information for all major cities in the world.
Current weather and forecasts are featured, while you can add new cities using a text search feature. This application is particularly useful to anyone who regularly travels abroad or is planning to make their way in the near future, or who has contact with someone abroad and wishes to know what the weather is doing overseas.
(Screen captures by author)