Change Your Windows Phone 7 Background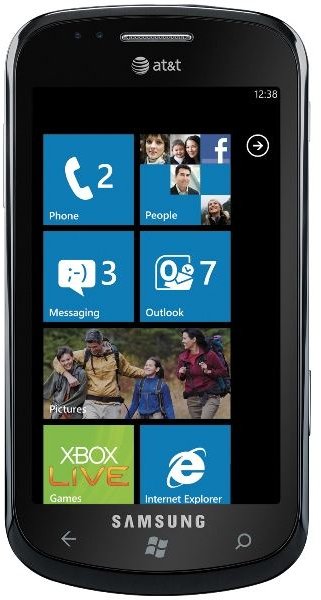 Liven Up Windows Phone 7
There is no need to stick with your boring default Windows Phone 7 backgrounds – like all aspects of the phone it can be customized, allowing you to choose any other image to act as a screensaver/lock screen or a Pictures tile background.
Such an alternative image might be one of the eight included images that ship with your handset, or it might be a photograph you have taken with your phone. You might even sync photos from your PC using Zune and set one of these up as a background.
Another way to add new images to your Windows Phone 7 handset is with a dedicated app that includes pictures designed to be used for the lock screen.
Finding and Changing the Default Windows Phone 7 Backgrounds
The default selection of Windows Phone 7 backgrounds can be viewed via the Pictures tile on the Start screen.
(If you have taken additional snapshots since purchasing your phone, you will see these listed first, and you can view the original selection via the Date option – just scroll to the earliest selection of images).
To change the Pictures background, tap and hold a bare area of the screen and select either Change background or Change it for me. The second option will prompt Windows Phone 7 to select for you a new background image for the Pictures screen and the Pictures tile on the Start screen, while Change background will let you select from any images saved on your phone.
Note that the default pictures are grouped in a folder called 7. Images snapped on your camera will be grouped under Camera Roll while images sent to you and saved to your handset are grouped under Saved Pictures. Note that there are several image manipulation apps for Windows Phone 7 that can be used to customize your photos.
Set a Lock Screen Image in Windows Phone 7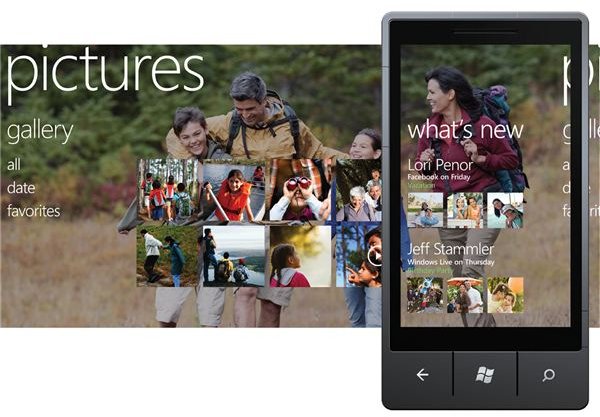 Images saved to your phone can also be used as wallpaper for the lock screen. The lock screen is the "screensaver" that automatically activates when you switch off the display on your phone or your screen times out to save battery power.
Setting a new background is easy, and can be done by opening an image in the Pictures hub.
With the image open, drag the ellipses menu up and select Use as wallpaper. You will then see the image with a white rectangle highlighting a portion of it, in proportion to the dimensions of your Windows Phone 7 handset display.
For landscape images you may need to adjust the view slightly, although for portraits it should be a case of just tapping the tick button to confirm your choice.
Finding New Images for Windows Phone 7
There are many ways in which new images can be used as Pictures hub backgrounds and lock screen wallpapers. For instance you might have Facebook set up on your Windows Phone, and images can be picked up from here.
You can also acquire more backgrounds thanks to several new apps. Backgrounds 10,000 Wallpapers is a free option available via the Marketplace and features some amazing examples, while Background Pictures also offers a vast selection, this time at 79p. Finally Wallpapers HD also offers a free selection of background and wallpaper images.
(Images from microsoft.com)