How to Use the Windows Phone 7 WordPress App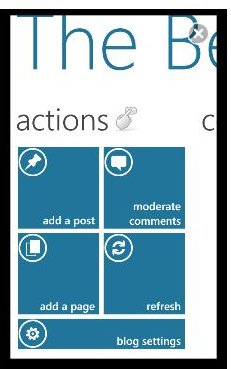 Windows Phone Blogging!
Managing a popular blog is a great way to network and develop a community around your chosen blog topic – but staying welded to your computer all day long can prove restricting to other activities. While WordPress users are able to schedule posts to run at a specific time, there is something liberating about being able to hit the road with your phone by your side, ready to update your blog, moderate comments or publish posts by other contributors.
While there are several blog apps for Windows Phone 7 already available that can provide access to your WordPress dashboard, the Windows Phone 7 WordPress app is a dedicated tool specifically intended for WordPress users.
Connect to a Hosted WordPress Blog
To begin, you will need to download the free WordPress app from the Windows Phone 7 Marketplace. Once installed, launch the app from the Programs menu; you will be prompted to either:
Start a new blog at WordPress.com.
Add blog hosted at WordPress.com.
Add self-hosted WordPress blog.
There is a different procedure for connecting to each of these options.
If you choose to Start a new blog at WordPress.com, the Windows Phone 7 browser will launch and take you to the WordPress.com sign-up page for you to setup an account and name your blog.
By choosing Add blog hosted at WordPress.com, you connect to a previously set up blog hosted at WordPress.com. All this requires is your username and password.
Connect to a Self-Hosted WordPress Blog
Add self-hosted WordPress blog meanwhile allows you to connect to a WordPress blog that you have hosted on your own server or that you contribute to and have a suitable account with. To connect to such a blog you will require the full file path to the xmlrpc.php file (used by the app to communicate with the blog). For instance this is typically www.myblog.com/xmlrpc.php; you will also require a username and password.
Whether you are adding a blog hosted at WordPress.com or a self-hosted blog, tap the Save button to confirm your details and save the connection preferences. The app should now connect to your blog.
Using the Windows Phone 7 WordPress App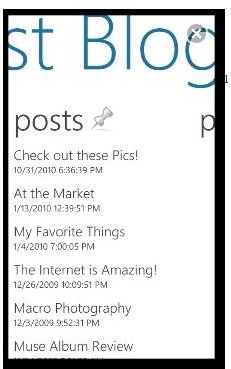 Writing and managing your blog is very easy with the Windows Phone 7 WordPress app, which gives you a dashboard from where you can Add a post, Moderate Comments, Add a Page and check your Blog Settings. You can also check your blog Stats.
If you have used WordPress already, the Add a post tool should be very familiar to you, with a post Title, Content, basic HTML view formatting options, tools to add Media and select Tags & Categories, and ultimately Publish your blog; the Save option will allow you to store the post as a draft.
Elsewhere the Posts screen displays all posts; currently these aren't listed as published or draft or pending but a list of options (View Post, View Comments, Edit Post, Delete Post) are all available by tapping each. Pages are edited in a similar manner.
Meanwhile the Moderate Comments view allows you to Delete, Reply, mark as Spam and Approve and Unapprove posts.
Settings & Stats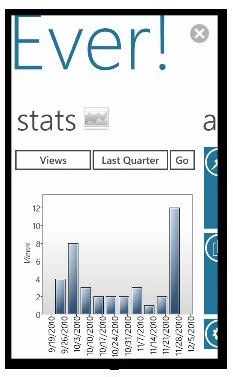 Finally the Blog Settings screen allows you to change your username and password as well as set an API key (available by creating an account at WordPress.com) in order to view blog stats. Blog stats use the WordPress.com servers for processing whether you have a hosted or self-hosted blog and this is one of the most popular WordPress stats options.
You can view blog posts and views data via the Stats tab when an API has been entered on the Blog Settings screen.
Using the Windows Phone 7 app to manage your blog can untie you from your desk and by extension inspire you to blog wherever in the world you are!
(Images by author)