Top Windows Phone 7 Social Apps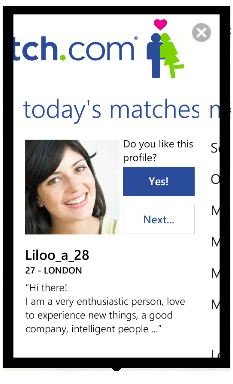 Get Chat, Text and Date on Your WP7!
Mobile phones are essentially social devices – you make calls with them, you send SMS messages with them and many people email or video call with their phones.
While the aim of Windows Phone 7 is to make all of your mobile phone related tasks quicker in order for you to spend less time on the phone and more time in real life, there are still plenty of additional social applications that you might consider. Some of these Windows Phone 7 social apps include dating, online chat and even ways to centralise some bright ideas to improve the platform!
Remember that all WP7 apps are available exclusively via the Zune Marketplace on your phone or via the Zune desktop client.
A Top Windows Phone 7 Social App for Dating: Match.com
The popular dating website Match.com has its own app for Windows Phone, enabling you to enjoy the same level of stripped-down matchmaking as you would on the main web application.
Photos and profiles are available to be viewed, you have access to your Match.com account messages and you can quickly find single men and women in your immediate area. With a Match.com account you can use the app to send messages to people you might want to date, and the app is free to download and use. If you're a new user to Match.com you will need to take their "affinity test" to pair you off with suitable potential partners.
My WP7 Idea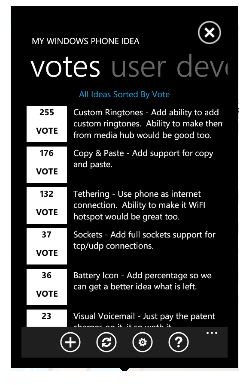 Possibly the most remarkable social app, My WP7 Idea allows users with bright ideas about how their phone could be improved to log their thoughts.
If you don't have any ideas of your own, however, you can feel free to contribute your opinions to other ideas, and vote for them!
Naturally this app doesn't cost anything, but if you're interested in helping the WP7 community to improve this remarkable new mobile platform then you should download it now and start offering your thoughts!
Chat and Messaging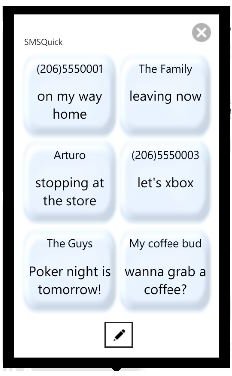 There is a terrible lack of chat applications on Microsoft's new mobile platform at present. Besides the obligatory Facebook chat application and a very poor Windows Live Messenger third party app (surprisingly there is no official Microsoft chat client) you will be lucky to find anything that is reliable to use.
Whether this is because there is a multitasking element to chat clients that connect to different chat networks or because Microsoft are holding off on a Windows Live client until the upcoming update isn't clear. However there are plenty of SMS apps – one particularly useful one is SMS Quick which allows you to send messages to single or groups of recipients as well as save regularly sent messages so you don't need to repeatedly type them out.
SMS Quick is available for just 79p in the UK.
References
Screenshots and references via Zune Marketplace.