Nokia E5 Review: Specifications, Design and Hardware
Nokia E5 Review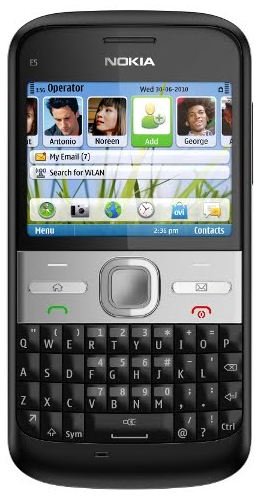 Nokia has taken quite a beating in the high end smartphone segment since the launch of the Apple iPhone and devices based on Google's Android. However, it still has a large share of the budget smartphone pie. Also, most new smartphones are largely touchscreen ones, so the QWERTY smartphone segment is controlled mainly by Blackberry (RIM) and Nokia.
Even so, RIM's offerings are priced substantially higher than Nokia's, so Nokia clearly has the upper hand here. Its E series range of QWERTY smartphones - the E63, E71, E72 offer QWERTY devices in all possible budget ranges. Now, the Nokia has launched the new E5, another QWERTY smartphone which will be priced lower than $299. It has specifications which are very similar to the Nokia E72, but will be priced lower. It will run the same OS - Symbian S60v3 FP2. In this review, we check out whether the Nokia E5 is a good deal for anyone who wants a budget QWERTY phone.
Also check out our list of the Top 10 Nokia Smartphones
Nokia E5 Specifications
Dimensions: 115 x 59 x 13 mm
Weight: 126 gms
Display: 2.4 inch TFT display, 320 x 240 pixels
OS: Symbian OS S60 v9.3, FP2
Processor: ARM 11 600 MHz processor
RAM: 256 MB
Memory: 250 MB internal, up to 32 GB microSD support
Camera: 5 MP camera, 2592 x 1944 pixels, LED flash
Connectivity: GPRS, EDGE, 3G HSDPA, Wi-Fi 802.11 b/g with UPnP and DLNA, Bluetooth 2.0 with A2DP
GPS: GPS with A-GPS, Ovi Maps 3.0
Battery: Li-ion battery, 1200 mAh
Design (4 out of 5)
The Nokia E5 is a very compact and sleek phone. It has dimensions of 115 x 59 x 13 mm and weighs around 126 gms. It is quite stylish, in its own way, and is perfect for office executives looking for a business phone. It is not as stylish as the E71, but looks much better than the E63. The build quality is quite sturdy; the body is composed mostly of plastic and metal.
It has a 2.4 inch TFT display with a resolution of 320 x 240 pixels. The display quality is good with nice brightness and contrast. The sunlight legibility is also quite decent.
On the front face, below the display, there are the soft keys, D pad and the Call, End keys. Below that there is the QWERTY keypad which is very comfortable to use. On the right side, there is the volume rocker. On the top, there is the audio jack, charger slot and the microUSB port. On the back, there is the 5 MP camera and the LED flash.
Hardware and OS (4 out of 5)
Underneath the Nokia E5's hood, there is a 600 MHz ARM 11 processor and 256MB RAM. It runs the Symbian S60 OS v9.3 with Feature Pack 2, which is very intuitive and easy to use. It has almost all the features you can expect from a smartphone. The UI is very responsive and fast with no lag. Almost everything else is similar to other Symbian v3 smartphones. You can install many 3rd party applications and games on the E5 from the Ovi Store; though the number of options is much less than you have on the iPhone App Store and the Android Market. It has 250 MB internal memory and supports up to 32 GB microSD cards.
Multimedia (4 out of 5)
Compared to other business phones, the Nokia E5 performs decently well when it comes to multimedia.
It has a nice image gallery with good visual effects and animations. It is fast and is packed with features. It also has a good default music player which supports the MP3, AAC, eAAC+, WMA formats. Using a good set of headphones with the 3.5 mm audio jack, the audio playback quality is great. It also comes with a default video player but for the best video experience, you should install apps like Smartmovie and Core Player which support many more formats. It also has an FM radio with RDS.
The Nokia E5 also has a 5MP camera with an image capture resolution of 2592 x 1944 pixels. It is a fixed focus camera with LED flash. The image quality is decent, but definitely not among the best 5 MP cameras we have seen. The camera interface is easy to understand and offers many advanced options. The video recording is mediocre, it can handle VGA video recording at 15 FPS.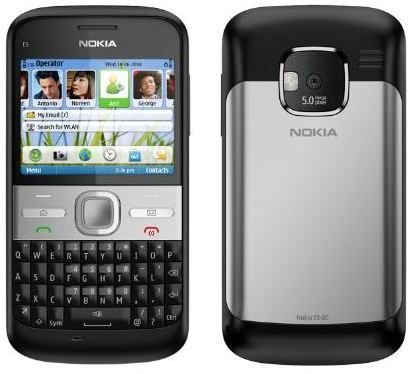 Connectivity (5 out of 5)
The Nokia E5 gives you all the basic connectivity options - it offers GPRS, EDGE, 3G HSDPA, Wi-Fi 802.11 b/g with UPnP and DLNA, Bluetooth 2.0 with A2DP and microUSB 2.0 connectivity. It also has a GPS transceiver with A-GPS support. Ovi Maps is pre-installed on the E5 and voice navigation is also free now. The default Symbian web browser is quite good, but you can also use 3rd party browsers like Opera, Opera Mini, Skyfire and UCWeb.
The Nokia E5 is powered by a 1200 mAh Li-ion battery which lasts for about 2-3 days with moderate usage.
The Verdict (4 out of 5)
The Nokia E5 is one of the best budget QWERTY smartphones available currently. It is priced around the $299 price point without contract. I would definitely recommend it. If you want a better camera, try the Nokia E72. If you are looking for a touchscreen smartphone, check out our list of the best Android smartphones, especially the Samsung Galaxy S.