Review of the Nokia X5-01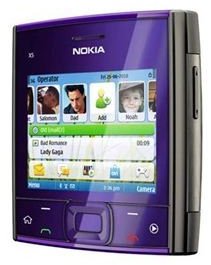 This Nokia X5 review covers a phone that comes out looking awkward at first. Well, with its practically square chassis, vibrant and happy color scheme and slider with a full QWERTY keyboard, the Nokia X5-01 is a phone everyone would love to pick up and have a second look at. The Nokia X5-01 is expected to be released in the 3rd quarter of 2010. It is basically optimized for messaging and music and should appeal to the young at heart. The phone is a great size and will not be difficult to handle comfortably in spite of the size. With a shape like this the Nokia X5-01 should fit easily enough wherever you want to place it.
Design (5 out of 5)
The Nokia X5-01 comes in a wide array of colors including Pink, Azure, Graphite Black, Yellow Green and Purple. The most noticeable feature of the Nokia X5-01 is the square chassis with its dimensions being 74.3 x 66.4 x 16.9 mm and it weighs in at 129g.
The front side of the Nokia X5-01 has the earpiece, then below it there is the 2.36 inch long display with a landscape resolution of 320 x 240 pixels.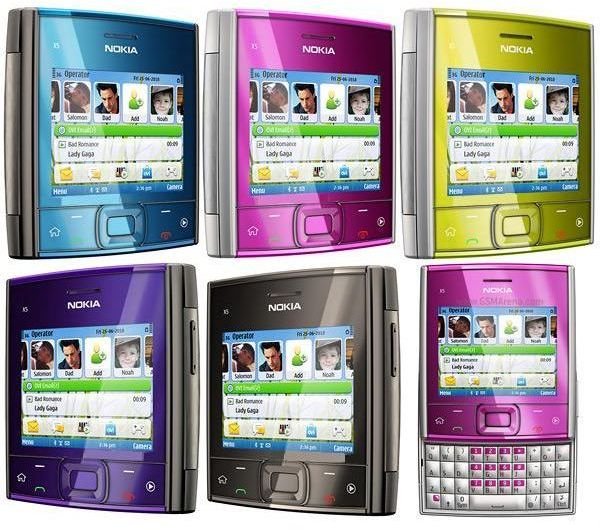 Below the display is the softkey panel which houses the two main softkeys which default to menu options on the left and camera operations on the right. There is the five-way scroll key also known as D-pad or Navi-key for navigating the menu. Also included in the softkey panel are the call begin and the call end buttons as well as a dedicated homescreen key and a media play button.
Behind all this there is a full QWERTY keyboard which can be revealed by sliding up the display panel.
The right side of the Nokia X5-01 is reserved for the volume up and volume down buttons while the left side is left pretty much plain.
At the back there is the 5MP camera with auto exposure flash.
User Interface (4 out of 5)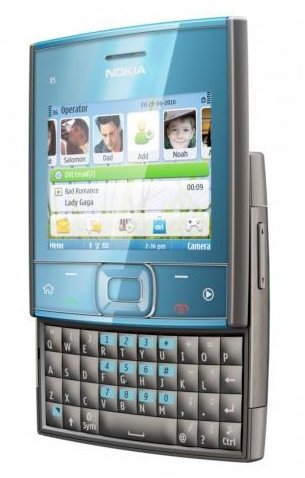 The Nokia X5-01 user interface is based on the Symbian OS 9.3, Series 60 v3.2. Because this is a messaging and music optimized phone, the Nokia X5-01 reflects that fact by having some added value address book shortcut icons on the home screen.
With the Nokia X5-01 you can customize shortcuts with images of your contacts for easy access when communicating with any of them. There is also tight integration with Ovi mail and other Ovi related services. Getting music to play is a one click process on the Nokia X5-01 via a dedicated key.
The Nokia x-01 has fluid transitions between applications and supports multitasking. Text can be input into the phone using the full QWERTY keyboard. To navigate around the phone, you only need to use the D-pad for scrolling and clicking. Enhancements and upgrades to the OS can be downloaded from Nokia when the updates are made available.
Features (3 out of 5)
The Nokia X5-01 comes with a display that is not quite as sharp on the color front - it supports only 256K colors. One thing it does have is an accelerometer for auto rotate.
In addition to the 3.5mm audio jack there is the speakerphone which can be used for both voice calls and music listening. The Nokia X5-01 supports playing MP3/WMA/WAV/eAAC music formats and has a MP4/H.264/H.263 video player. Also included on the Nokia 5-01 is a Stereo FM radio with RDS.
With 200 MB internal storage and support for up to 32GB external storage the Nokia X5-01 has got plenty of room to store all your multimedia files.
In addition to the music and video player, there is a single 5MP camera in the Nokia X5-01. This camera supports 2592 x 1944 pixels resolution for still pictures and 640 x 480 pixels resolution at 15fps for video recording.
Connectivty wise the Nokia X5-01 supports GPRS, EDGE ,3G, Wi-FI and Bluetooth version 2.0. USB connectivity through microUSB is also supported.
Messaging and Internet features include SMS, MMS, Email, Push Email and IM, There is a preinstalled WAP 2.0/xHTML, HTML web browser.
For viewing office documents there is a document viewer and for rich applications the Nokia x5-01 supports Flash lite 3.0.
Performance (4 out of 5)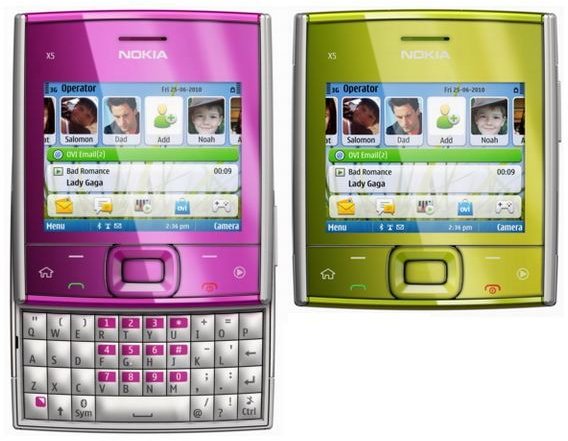 The Nokia X5-01 not only looks good but has some aspects about it that make it very appealing as far as performance goes. There is an ARM 11 600 MHz processor which is one of the fastest processors Nokia uses today other than what is on the Nokia N8. This processor is backed up by 256MB of RAM.
There is no GPS on the Nokia X5-01 to eat up battery lifetime. This gives the Nokia X5-01 a stand-by time of up to 384 hours on normal use. Talk time is up to 5 hours normal and up to 3 hours 30 min on 3G. There is the capacity to play music for up to 24 hours. All in all this phone has got reasonably good performance potential.
Verdict (4 out of 5)
The Nokia X5-01 is certainly a phone you will need to get used to as it does not quite fit the norm as far as physical design goes. This is a phone you either love or hate. There is no in between.
The Nokia X5-01 would have been a far better phone had it had a GPS receiver, an FM transmitter and the secondary video call camera. Despite those shortcomings, this is still an awesome phone and we can only wait to see what price tag the Nokia X5-01 will come out with.
Another Nokia X-series smartphone worth looking at is the Nokia X2.