Nokia 5233 Review: Budget Symbian Smartphone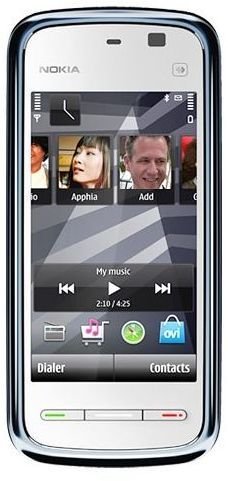 Nokia entered the touch-screen smartphone arena with the Nokia 5800 Xpress Music which was quite a hit among Nokia fans who wanted a touch-screen phone. It was a great budget option for those who couldn't afford the iPhone. They also launched the Nokia 5230 soon after that for budget shoppers who wanted a good touch-screen phone but weren't all that bothered about features. The new Nokia 5233 is an even cheaper version of the Nokia 5230 which is very similar to it, except that it doesn't have GPS and 3G.
Nokia 5233 Specifications
Dimensions: 111 x 52 x 14.5 mm
Weight: 113 gms
Display: 3.2 inch TFT resistive touchscreen display, 360 x 640 pixels, 16M colors
OS: Symbian OS 9.4 S60v5
Processor: ARM 11 434 MHz
RAM: 128 MB RAM
Memory: 70 MB internal memory, upto 16 GB microSD card support
Camera: 2 MP camera, 1600 x 1200 pixels
Connectivity: GPRS, EDGE, Bluetooth 2.0 with A2DP, microUSB 2.0
Radio: Stereo FM Radio with RDS
Battery: Standard Li-ion battery, 1320 mAh
Design (3 out of 5)
The Nokia 5233 sports the same form factor as the Nokia 5800 and the Nokia 5230. The body is composed of plastic and looks durable. It has a 3.2 inch TFT resistive touch screen with a resolution of 360 x 640 pixels that supports 16 M colors. The display quality is pretty good with decent brightness and good contrast levels. The sunlight legibility is also quite good. You can easily watch videos and movies on this display.
Below the display are the three keys: Call, Menu and End. Above it are the earpiece, the light sensor and the proximity sensor. On the right, there is the volume rocker, the phone lock and the camera key. On the left, you will find the microSD slot. On the back, there is the 2 MP camera and the stylus slot with the battery compartment. No complaints on the design side considering its low pricing.
Hardware and User Interface (3 out of 5)
The Nokia 5233 is quite capable when it comes to hardware. It sports the same internal hardware as the Nokia 5800 and the Nokia 5230. It runs the Symbian OS 9.4 S60v5 UI. It has an ARM 11 434 MHz processor and 128 MB RAM. The UI is very intuitive; Symbian users will feel right at home with it. The resistive touch screen is pretty sensitive and the interface is fairly responsive. However, a capacitive touch screen, like the one in the Nokia X6, would have definitely been better.
The OS, and therefore the UI, is the same as in the Nokia 5800 and the Nokia 5230. It supports third-party apps which you can download from the Ovi Store. Again, the Ovi Store doesn't have as many apps or games as the iPhone App Store or the Android Market but the numbers are steadily rising.
Features (3 out of 5)
The Nokia 5233 is quite decent when it comes to multimedia features. It has a basic 2 MP camera which can capture images at a maximum resolution of 1600 x 1200 pixels. It doesn't have autofocus or flash and the image capture quality is mediocre. It can record video too, but even that isn't much to speak of. The camera interface is very detailed and allows access to a lot of advanced options.
It has a nice image gallery which allows you to view your images in a grid of thumbnails. You can view them in fullscreen mode as well. The gallery is a bit slow, especially when there are a lot of images.
It comes with a video player which can play 3GP and MP4 videos at low resolutions. You can use third-party apps like Smartmovie or Core Player to play other formats. The display is quite good for watching videos and movies.
The music playback is quite good with excellent audio quality, when used with good headphones. The music player interface is also quite attractive. It also has a stereo FM radio with RDS with nice reception.
The Nokia 5233 is sorely lacking when it comes to connectivity options. It only has GPRS, EDGE and Bluetooth connectivity. It lacks 3G and even Wi-Fi. It also doesn't have a GPS transceiver. It does have microUSB 2.0 connectivity though.
It has the default Nokia Webkit browser which is quite fast. You can also install browsers like Opera Mobile and Opera Mini for a faster and better browsing experience.
Performance (3 out of 5)
The call quality of the Nokia 5233, like all other Nokia phones, is very good.
It is powered by a standard 1320 mAh Li ion battery which has a rated talk time of 7 hours. It lasts for about 2 days with moderate usage.
The Verdict (3 out of 5)
The Nokia 5233 is a decent budget option that provides some basic features at a very low price, around $150. If you want GPS and 3G, you can get the Nokia 5230 for about $20 more. It delivers good value for its price and you can't expect too much from a phone this cheap.
References