Which is the Best? Nokia PC Suite vs Nokia OVI
About Nokia Ovi Suite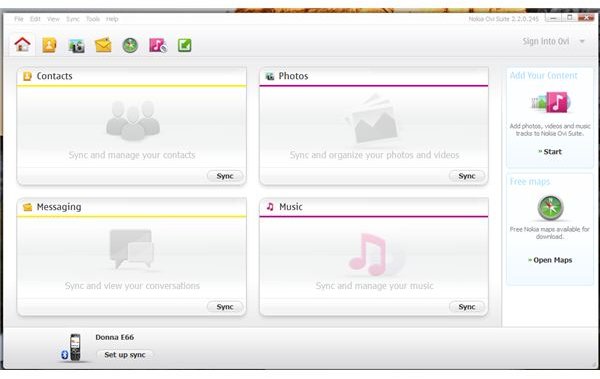 The new Nokia phone application in managing phone contents is called Nokia Ovi Suite. It will replace Nokia PC Suite as per the vendor and since I'm a Nokia fan, I wonder which one is better to keep using, so I decided to review Nokia Ovi and compare it with the stable and latest version of Nokia PC Suite. Let us see who will win, Nokia PC Suite vs Nokia OVI.
Before we proceed, it's best to check if your phone and computer's compatibility with Ovi Suite. Noka Ovi Suite will run in XP, Vista and Windows 7 and it is compatible with many Nokia devices but not all Nokia phones. You should also know that with Nokia Ovi Suite, you can use the following free stuff when you sign-up a free Nokia account:
Ovi email account.
Backed-up contacts is accessible anywhere, at any time.
Access to Ovi Store to download free and paid Nokia software or music using your phone or a PC.
User Interface of Nokia Ovi (1 out of 5)
The user interface of Nokia Ovi suite is not what I like. I'm maybe an old timer (not to mention that I'm not fond of using pink UI or anything pink!) but I find Nokia PC Suite's UI much more professional looking and useful. I am disappointed with Ovi Suite's UI because it is missing the following neat options that are available in Nokia PC Suite:
To simply drag and drop files from the PC to Nokia phone without having to open another window in the suite interface.
To display the calendar contents of the phone in the main UI.
The battery level is no longer visible in the main UI.
There's an option to sign-in to your Nokia free account within the UI of Ovi Suite but you have got to try, twice or thrice to succeed with the login.
Another thing that I did not like with Ovi Suite is the program icon in the notification area in Windows. There's no handy menu in using the program from its program icon other than to open or exit the software. In Nokia PC Suite, you have a handy menu pop up providing access to most features or options.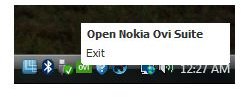 Backup, Restore and Sync in Nokia Ovi Suite (3 out of 5)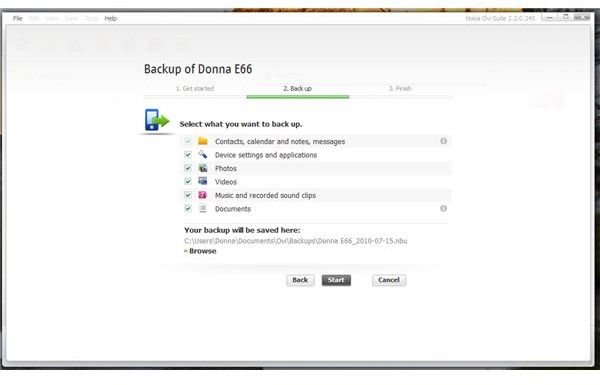 I like the integration of the backup and restore in Nokia Ovi suite without opening another window. The said features, when used will just display another interface on top of the Ovi suite's main interface.
Nokia Ovi Suite allows Nokia phone customers to easily backup and restore the contents of the phone to PC. I tried using both functions and it worked without issue. The contacts, photos, messages, notes, device settings, documents and others was backed-up in no time.
I did not have a problem syncing between the phone and outlook calendar, contacts and notes except when I cancelled a sync job – I find Ovi suite slow in cancelling the task and some items are duplicated e.g. calendar events and notes. Some users have reported issues in using the sync feature of Ovi suite and the recommendation of Nokia is to install KB952142 from Microsoft.
File Explorer and Multimedia Transfer using Ovi Suite (1 out of 5)
Another surprising move by Nokia is they did not include the File Explorer function that is quite useful and available in Nokia PC suite. Adding multimedia files (photos, videos and music) from or to phone is still available in Ovi suite or you can simply add a folder that will allow the Ovi suite to automatically transfer or view the media files. The problem is it failed to add a folder where I have some music stored in my PC. No matter what I do, it won't let me add a folder. The only one that works is by manually adding it via the menu of Ovi suite.
Maps, Music Player and Software Updater in Nokia Ovi (2 out of 5)
I like the free Nokia Maps application for Nokia and PC but it can't beat Google Maps for Nokia phone and PC. With Nokia Maps, it's quite easy to download the maps to your device by simply choosing map country or location. You have the option to store the downloaded maps in your phone's memory card. The music player is called Nokia Ovi player which is not included in Ovi Suite, you have to download to start using. Unprotected media files in the following format will be played in Nokia Ovi player: .MP3, .AAC. If you have MPEG2, it will not be played by Ovi player. I find the old multimedia player for Nokia PC suite to play and convert songs properly.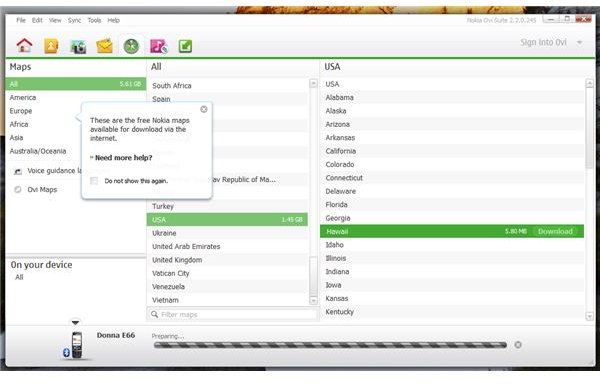 The Nokia Software Updater is now included in Ovi Suite. It will check for program update and Nokia device's firmware. It has a problem all the time in checking for firmware update during this comparison of Nokia PC Suite vs Nokia OVI. It keeps informing me that another application is running which is strange as I'm not using or doing anything with Ovi Suite or with the phone.
Performance of Nokia Ovi Suite (1 out of 5)
Nokia Ovi suite will use huge CPU resources and memory. While it's idle, it is only using 68MB of RAM but once you start using the program, the memory usage is a whopping 200MB of RAM. The culprits are the nokiamserver.exe and NokiaOviSuite.exe. It's not the same performance by Nokia PC Suite which is stable and using acceptable memory.
Connecting a phone using Nokia Ovi suite is somewhat buggy. The one-time passcode will not appear straight away, causing an error that it could not find my phone. It took 3 to 4 tries to connect before the passcode was displayed.
Conclusion
Nokia Ovi Suite is not a recommended upgrade for now. It's buggy and requires a lot of improvement and hopefully better options and UI. Nokia should continue supporting Nokia PC Suite before they decide to dump it. We understand why Nokia Ovi Suite is here, to easily share photos and other media files and for the Nokia software developers to market their products via the Ovi website. The problem is they seem so focused on those areas only (sharing and opening the door to developers) instead of focusing on providing a good PC suite application that will help their customers to manage the data or contents of Nokia devices.