Nokia 2710 Review: Design and Interface
Nokia 2710 Navigation Edition Review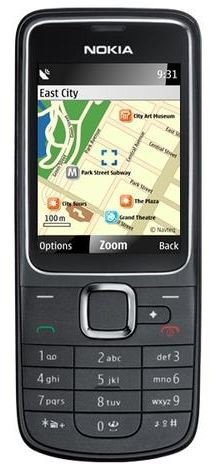 The Nokia 2710 Navigation Edition is a nice featured phone that is priced quite low and aimed at those who need a navigation centric phone without the additional frills. It has nothing spectacular about it, except that it's priced really low and that it does one thing really well, GPS based navigation.
Nokia 2710 Navigation Edition Specifications
Dimensions: 111.2 x 45.7 x 13.7 mm
Weight: 87 gms
Display: 2.2 inch TFT display, 240 x 320 pixels, 256k colors
Memory: 64 MB internal, 2 GB microSD (up to 16 GB supported)
Connectivity: GPRS, EDGE, Bluetooth 2.1 with A2DP, microUSB 2.0
OS: S40 with J2ME MIDP 2.1 support
Camera: 2 MP camera, 1600 x 1200 pixels
Radio: Stereo FM Radio with RDS
GPS: GPS with A-GPS
Battery: Standard Li-ion battery, 1020 mAh
Design (2 out of 5)
The Nokia 2710 Navigation Edition has a pretty standard design. It is a normal candy bar with a 2.2 inch display and the keypad on front, the charger slot and audio jack on top, the microSD slot and the microUSB port on the left, and the dedicated camera key on the right.
The build quality is quite good and the phone is quite compact. It has dimensions of 111.2 x 45.7 x 13.7 mm and weighs around 87 gms.
The display is a 2.2 inch TFT display with a resolution of 240 x 320 pixels and supports 256K colors. The display quality is decent and the sunlight legibility is quite good. However, the size is too small to be considered a good navigation device.
User Interface (2 out of 5)
The Nokia 2710 NE is a typical S40 device with low end hardware. It runs on S40 6th edition. It has a nice usable interface which is easy to understand and use. It has an active standby screen which allows you to add shortcuts.
It doesn't have regular multitasking features, but does have a powered down version of it. It also has a built in email client which can handle POP3, SMTP, and IMAP4 enabled accounts. It has J2ME application support so you can use applications like Opera Mini with it. It has the standard phonebook and messaging features.
It has Ovi Store integration so you can download applications right on your phone. It also supports Ovi contacts integrated with the phone book.
Multimedia (2 out of 5)
It has a refreshed gallery app which is better than the older versions. It allows you to browse through your images in portrait and landscape mode and zoom into them. You can share your multimedia files using Ovi Share.
It also has a music player which can play AAC, MP3, eAAC+, WMA, and AMR files right out of the box. You can also plug in your favorite headset as it has a 3.5 mm standard audio jack. You could also listen to your music on your Bluetooth headset via A2DP. The audio quality is pretty good with great frequency response. The music player also has stereo widening and equalizer presets.
It comes with a video player which can play 3GP and MP4 files. However the small display isn't suited for watching videos. It also has an FM radio with RDS.
It comes with a mediocre 2 MP camera which can take shots at a maximum resolution of 1600 x 1200 pixels. The image capture quality is really poor. It can also capture QVGA videos at 15 FPS.
Connectivity (3 out of 5)
It doesn't offer much in terms of connectivity, just some features like GPRS and EDGE and Bluetooth 2.1 with A2DP. It also supports microUSB 2.0. It skips on 3G and Wi-Fi, but that's expected considering its price. It comes with Opera Mini preinstalled which is one of the best ways to browse the web on your mobile.
Coming to the star feature, it has a GPS transceiver with A-GPS. The GPS reception is very good and gets a lock from a cold start in less than 90 secs. It comes with Maps for S40 which is similar to Ovi Maps.
It has nice signal quality with no reception issues. Despite all that it cannot do, when it comes to taking calls, it can beat the pants off the iPhone 4.
In the box, you get a charger, a data cable, a stereo headset, car holder and charger, and the navigation license. It also comes with the 2 GB microSD card. It is powered by a standard Li-ion 1020 mAh battery which lasts for about a day with moderate usage.
The Verdict (2 out of 5)
The Nokia 2710 Navigation Edition has nothing going for it except the price. It is recommended only if you want an ultra cheap phone for the GPS navigational capabilities. I would rather pay slightly more and get a Nokia C5 or a Nokia 5230.