Google Maps on the N95 from Nokia
Google Maps N95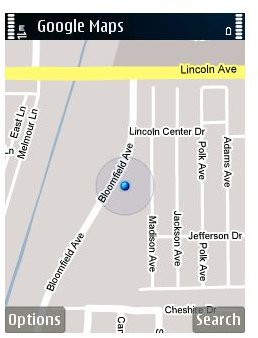 Google Maps for the Nokia N95 is a free download that lets you view maps, street view images and satellite imagery, search for local businesses and get driving and walking directions all from your Nokia N95 mobile phone. The maps on Google Maps are stored on the cloud therefore making the maps current all the time. There is a lot more to Google Maps for the Nokia N95 than can be described in one or two words so let's have a look at what Google Maps for Nokia N95 has to offer.
Search by Voice
This is a feature that has not been available on many other Nokia phones. This feature allows the user of Google Maps for the Nokia N95 to be able to search for whatever they are looking for using search commands. Google Maps for the Nokia N95 supports searching for locations by speaking in the address, or by mentioning the name of the business or establishment. You can also search by speaking the type of product for example, to look for a pizza restaurant you can simply say "Pizza". You can search for an item in a shop. For example you can say something like "Big Mac" to get McDonald's locations.
My Location
By selecting the menu option whether you are indoors or not, Google Maps will be able to zero in to the place where you are located, Google Maps for the Nokia N95 will alert you on how accurate it thinks it is.
Business listings & Reviews
Google Maps for the Nokia N95 allows you to do a search and get business listings. Some of the business listings may include reviews. This service has an advantage over Nokia Maps in that it allows you to have an idea of what to expect of the place you are planning to visit even before you start your journey all through the advice found in the reviews.
Transit, Driving and Walking Directions
Google Maps for the Nokia N95 provides directions in various forms that can enable the visitor in an area to find it easy and convenient to get around. With various forms of directions offered, Google Maps makes it convenient to get driving directions to where you are going and you can even use your current location as a starting point. Taking the bus, subway or going on foot? Google Maps for the Nokia N95 provides easy directions to cover it all.
Latitude and Layers
Using latitude on Google Maps, you can easily check out where your friends are located at any given time as long as your friends have also joined latitude. In addition to that, Google Maps for the Nokia N95 supports additional information from layers or geographical information such as Wikipedia.
Street View and Satellite view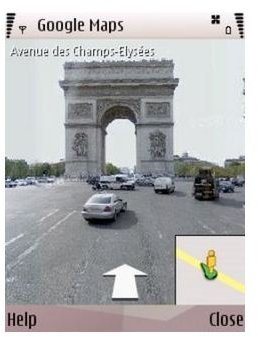 Google Maps for the Nokia N95 offers street-level imagery of businesses, which is handy in confirming the validity of the area you are located in. Also supported by Google Maps is the satellite imagery view which is great for enhancing the quality of the information you are viewing on the map interface.
Traffic and Buzz
Real-time traffic that is offered by Google Maps for mobile on Nokia N95 helps you find the fastest route at all times of the day and night in real-time. In addition to Traffic information, Google Maps offers Buzz which lets the user know what is happening around them. This could be information on an accident ahead on your route on in the general area in which you are located.
Conclusion (4 out of 5)
It would be hard to compare Google Maps for mobile on Nokia N95 with an app like Nokia Maps since Google Maps on Nokia N95 does not have voice guided turn-by-turn navigation and cycling directions. Otherwise as far as being feature rich, I would say Google Maps for mobile on Nokia N95 is much better than Nokia Maps in regards to the fact that you can keep track of your friends, and you can get transit directions and business reviews as opposed to just the hotel and restaurant reviews available on Nokia Maps.